It's been 14 months since Mumbai's school bus staff had a job. The lucky have been absorbed by the BEST, while a majority are struggling even to find temporary gigs as porters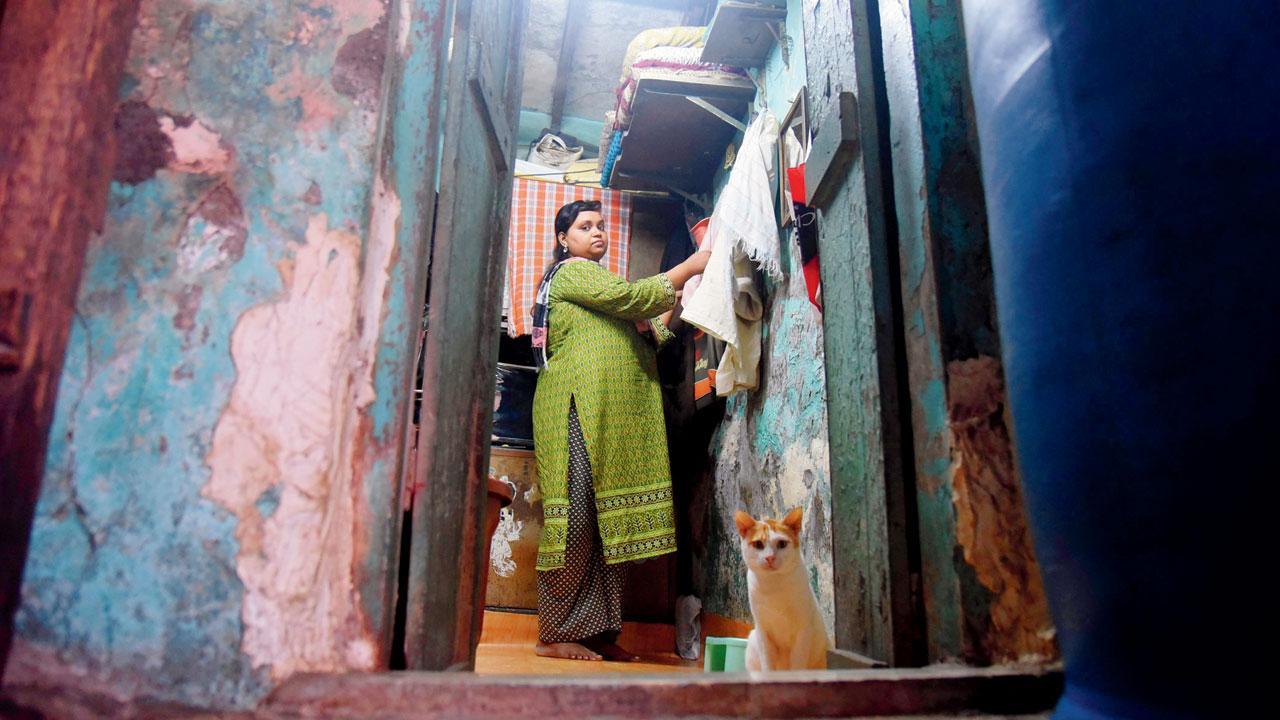 Having had to borrow money to pay for electricity, rent and ration, Shaikh, a bus attendant for 12 years feels it no longer makes sense to be part of the school transportation system. Pic/Sameer Markande
Suresh Saidappa Harijan was barely 21 when he first sat behind the wheel of a school bus. He doesn't remember how the last 15 years went by. But, Harijan, a father of three children, says he saw himself doing this job for the rest of his life. "I was quite content. While I had to put in long hours on weekdays, I had the weekends for my family," says the 36-year-old Andheri resident. "We'd barely manage with the salary. Whatever my wife [a house help] and I would make was spent on our children's education. They have always been our priority. We wanted them to study and find more respectable jobs."
ADVERTISEMENT
The pandemic turned out to be a reality check. "When the lockdown was announced last year, all of us thought that it would last only for a few weeks. We continued to get our salaries till June [2020], after which my employer [bus owner] couldn't pay us." During this time, Harijan tried applying for a job with the BEST, which was hiring drivers, but didn't make the cut due to lack of documents. With his wife also losing her job, Harijan started stationing himself at nakas in the hope that someone would hire him as a driver for outstation trips. When that didn't help, he began working as a porter, carrying sand at under-construction sites.  
Also Read: Mumbai: School bus owners stare at another year of misery
Harijan is among the 24,000 people rendered jobless in Mumbai due to school buses going off the roads, says Anil Garg, president of the School Bus Owners' Association (SBOA). As of last year, Maharashtra had 44,000 school buses and 70,000 vans. Of these, 8,000 buses and 13,000 vans ran in Mumbai, alone. On an average, each bus employs at least three people, including a driver, cleaner, and bus marshal or female attendant (didi), who are tasked with ensuring the children's safety. "The situation has gone from bad to worse," says Garg, who runs 180 buses across schools. While around 70 drivers have managed to find a job with BEST, and a few in the private sector, a majority of those employed with the school transportation system are drowning in loans and debts. He claims that nine school bus owners have died by suicide in the last 14 months.

Bus driver Suresh Saidappa Harijan (left) has been working as a porter, carrying sand at under-construction sites, so that he can bring food to the table. Niyaz Attar, 45, has tried his hand at everything, from selling vada pav to vegetables in the last year, but none of it helped bring income home. Pics/Sameer Markande, Satej Shinde and Bipin Kokate
Shabana Hasan Shaikh started working as a bus didi 12 years ago. Employed by a bus contractor with the Bombay Scottish School, Mahim, Shaikh says when she took up the job she didn't think she'd last even six months. "I wanted to study after Class XII," says Shaikh. "But, the situation at home was dire, and I had to start working immediately." The affection she received from the children was reason enough to stay put. Unemployed for the last 14 months, Shaikh says her family has been living off the goodwill of others. The 32-year-old, who resides in a slum in Kurla, has recently applied for data entry jobs. "Though my knowledge in computers is poor, I am a fast-learner and I think I'll be able to pick it up quickly. It's important for me to learn a skill right now, or else I won't get a decent job," says Shaikh, who lives with her mother, brother and uncle. While the brother works as a loader at the airport, he too, has been on unpaid leave for nearly 15 days. The family has been managing with an income of Rs 5,000 each month. "A major part of the money goes into paying rent, the electricity and water bill.  I haven't ever relied on free ration. But, these days, the moment someone tells me that there's ration being made available somewhere, I rush to get it." With a loan on her head, Shaikh says if the situation continues, her family will be pushed over the edge.
Like her, Harijan too has had to beg and borrow to make ends meet. While Garg of SBOA helped families like his with ration, Harijan says having three young children at home, meant ensuring at least their basic needs were met. "I would take biscuits [for the kids]  from a local kirana store on credit, but when I was unable to pay the sum, even the kiranawala stopped giving me supplies."

Sunil Karnad
Another school bus driver, Niyaz Attar, 45, has tried his hands at everything from selling vada pav to vegetables in the last one year. "All I want is a driving job; that's the only thing I know well. But, apart from getting a few outstation trips, I haven't managed anything."
Earlier this week, students of Bombay Scottish School in Mahim raised over R51 lakh through a fundraiser hosted on crowdfunding platform ImpactGuru.com. The money will be distributed among nearly 150 school transport staff associated with the school. Sunil Karnad, the bus contractor appointed by the school, says he is grateful to the parents and students who thought of them, and feels that similar initiatives should be undertaken by other schools as well. "The state government should have intervened. We haven't received any help," says Karnad, who took a Micro, Small and Medium Enterprises (MSME) loan from the bank to pay his staff for a few months.
Garg has sent nearly 24 letters to the Central and state governments in the last one year, requesting for some immediate relief for transport owners. As per the current policy, all school buses are expected to be scrapped after a period of eight years. "All that we have requested for is that the government extend the scrap-age of the bus. We have been paying the annual insurance and EMIs, despite no income in the pandemic," says Garg. He says that he even suggested to state  authorities that the BEST and MSRTC use their buses, all of which are in mint condition, to ply on the streets, until the schools reopen, but no one has come forward. 

Anil Garg, president, SBOA
The BEST currently operates several wet-lease buses, owned by private contractors, across the city.  
Over the last few months, Garg has sought help from NGOs to provide free ration and at least one free meal to the 2,000-odd staff employed in the school transportation sector. "You don't get help, until you ask for it. Everyone has conveniently forgotten us."
8,000
No. of school buses plying in Mumbai pre-pandemic, besides 13,000 vans