Mumbai isn't free from greed or irony. A theft at Fort's century-old BH Wadia clock tower throws up uncomfortable questions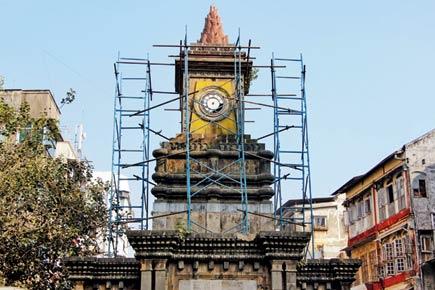 Mumbai isn't free from greed or irony. In an incident that occurred nearly six months ago, vandals have stolen the hands of a clock that sits within the BH Wadia clock tower at the bustling junction of Bazaar Gate Road and Nariman Perin Street in Fort. And they were able to access it, say observers, because of a scaffolding built around it for a much-need facelift meant to kick off next month.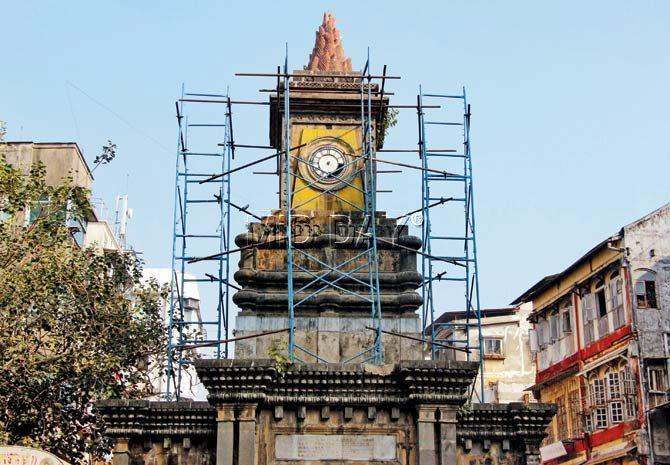 The 1882 built Bomanjee Hormusjee Wadia clock tower's restoration will kick off next month. Pics/Onkar Devlekar
ADVERTISEMENT
The BH Clock tower, erected in 1882 to honour former sheriff and philanthropist Bomanjee Hormusjee Wadia, is a heritage structure with a magnificent façade that's now crumbling. Years of neglect had left little of the clock except a stub at the centre and Roman numbering around a shattered clock face. The vandals took away a large chunk of the glass pane and the clock's hands. "A few days ago, I had discovered an old gas light inside the tower, which I thought would make for a great piece of history. That too has disappeared," said Kayomi Engineer, administrative director of the Kala Ghoda Association (KGA), a non-profit that works to maintain and preserve the heritage and art district of South Mumbai.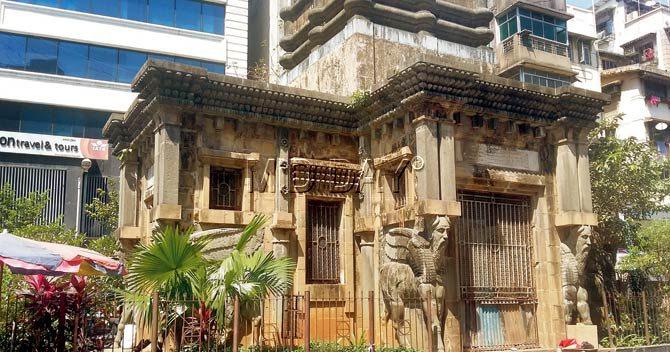 The tower's entrance has two Lamassus, an Assyrian deity with the body of an ox or lion, human head and bird wings
It is impossible, says conservation architect Vikas Dilawari, to replace these, but suitable substitutes will be made during the restoration which he will helm with backing from KGA.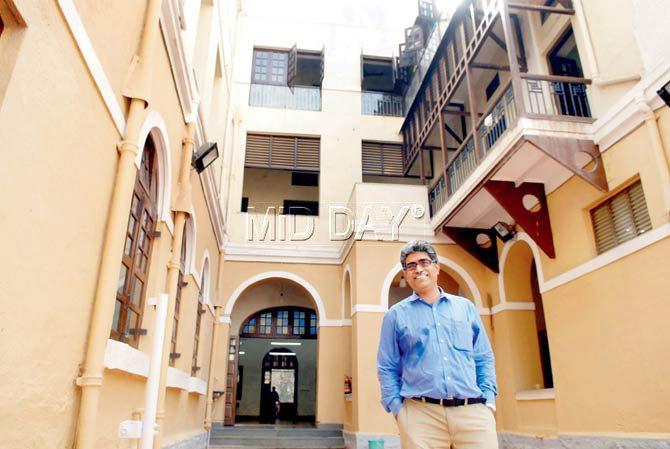 Vikas Dilawari. Pic/Sayed Sameer Abedi
When mid-day visited the site on Wednesday, the tower was sheathed in tin sheets to keep vandals out. "The stone structure needs a lot of work," said Engineer, adding that Dilawari's team will kick off in February in an effort that is expected to cost R65 lakh and be completed by early next year.
"The top portion of the tower is in terrible condition. Cracks have developed due to vegetation growth. The slab of the structure is susceptible to collapse. Strengthening it is going to be difficult since the wooden joist on which the slab rests has been destroyed due to rain and neglect," Dilawari explained.
One of the objects that he is going to have to turn his attention to is a fading, marble plaque that stands at the entrance of the tower, carrying engraved inscriptions in the Pahlavi script, the written form of middle Iranian languages.
Meherangiz Parvarish, 70, is a resident of the neighbourhood and member of the Zoroastrian community to which Wadia belonged. She claimed she wrote umpteen letters and made phone calls to officials in the heritage department of the BMC, drawing attention to the tower's neglect. Part of a commemorative fountain, it incorporates elements of the Zoroastrian faith, including the flames that sit atop its pinnacle, considered holy by the community that believes fire is sacred.
"This structure is a landmark and a magnificent one. After incessant follow ups, all the corporation did was paint the tower a horrible yellow and orange," she said, referring to a common gaffe that the civic department is known to make as previously seen in Fort landmark, Flora Fountain. Stone, conservationists say, needs to breathe. Painting it over, chokes it, reducing the life of the structure by years.
"Exciting news! Mid-day is now on WhatsApp Channels

Subscribe today by clicking the link and stay updated with the latest news!"
Click here!