Out on bail, beaming Indrani says she's overwhelmed to have found freedom again; will speak to daughter Vidhie after following legal requirements
Indrani Mukerjea over the past few years till her release on Friday. Pic/PTI
Sporting a spotless white kurti-churidar, her hair dyed jet black, a beaming Indrani Mukerjea stepped out of the Byculla women's prison on Friday evening. "Today I just want to look at the sky at night. I haven't seen the night sky for the past 6.5 years," said the former media executive at her Worli home, two days after the Supreme Court granted her bail in the Sheen Bora murder case.
Her legal team dropped the release order at 3 pm and it was opened at 3.30 pm by the prison officials. Before stepping out of the jail, she spent some time at the beauty parlour at the prison. The moment she stepped out of the prison, she waved to the posse of journalists waiting for her. "I am very happy today," she said.
Indrani reached her home at Marlow CHS, Worli, around 6.20 pm. She consulted her lawyers Sana Raees Khan and advocate Edith Dey before walking up to the entrance of the building to speak to the media.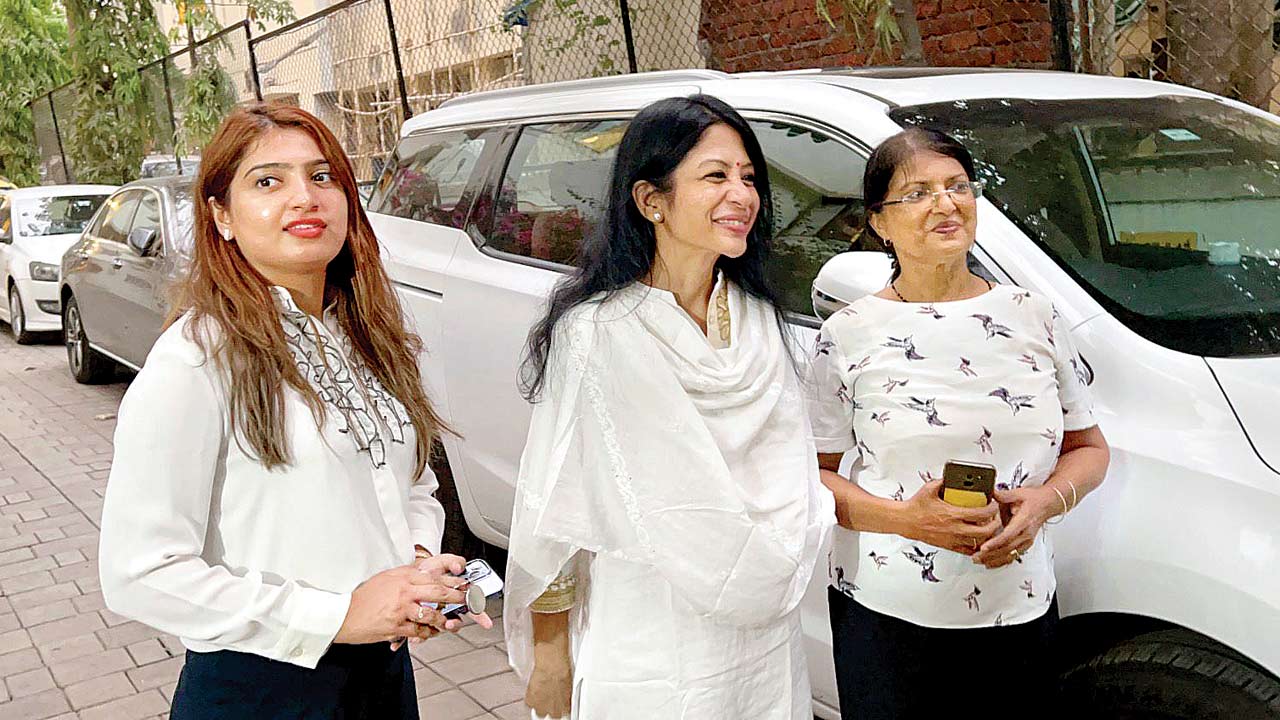 Indrani with lawyer Sana Raees Khan (left) and advocate Edith Dey at her Worli home. Pic/Faizan Khan
"I just want to look at the sky at night…For the moment, I'm just overwhelmed, it's freedom found again. I am thankful to the my lawyer and Indian judiciary, this has restored my faith in Indian judiciary and I can tell you there is delay but there is justice,"  Asked about the case and her claim of her daughter Sheena Bora being alive, she said, "I will not speak much about the case as the matter is subjudice, my lawyers are there to talk to you all about the case." 
"I have seen life from different lens because I have met people from all walks of life. I have learnt to be more patient, empathetic. I have forgiven all those people who have hurt me during this process and I would say that one must learn how to forget people," said the 50-year-old, who is accused of killing her daughter in 2013. She was in jail since 2015.
Sharing a nugget of her jail life, she said, "I have met a lot of people inside the jail. Maybe they are innocent and maybe they are not, but I have seen the hardest accused who have come there but there is some goodness in every human being." To a question about how her family disintegrated due to the case, she laughed and said, "Jail jane se sabka aise hi hota hai. But now I have forgiven and moved on. Once you forgive, you free yourself." Her divorce with Peter Mukerjea? "That was my choice and I made it."
As per the bail conditions, Indrani is not allowed to meet her family members as all of them are witnesses in the case, including her daughter Vidhie Mukerjea. "I will certainly speak to her after she deposes before the court. I will also move the court to take permission to meet her as per the legal remedies available in the law," she said. She also talked about the book she is writing. "It will take next 5-6 months to complete."