"We could achieve 98 per cent immunization due to consistent efforts even during the Covid time. When physical distancing was absolute necessary, we ensure to carry the immunization drive through mobile vans," says Dr Ganesh Doiphode, RCH officer from Kalyan-Dombivali Municipal Corporation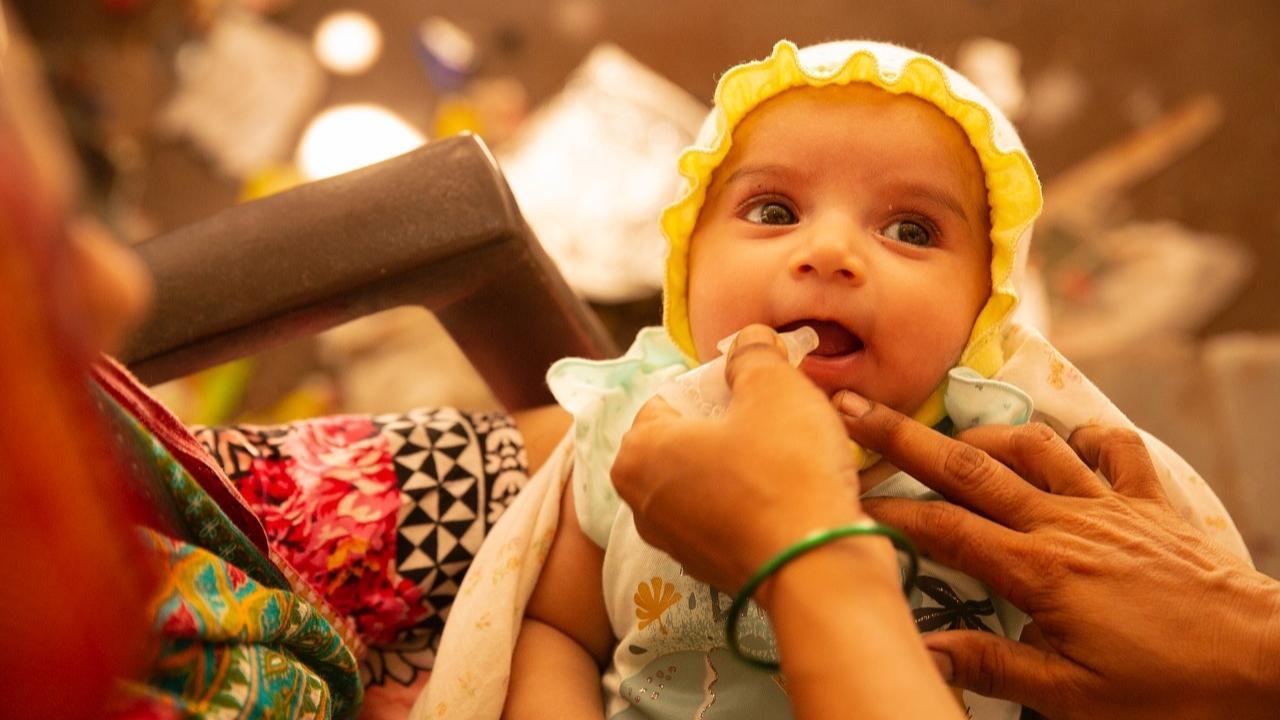 The target beneficiaries for the mission are unvaccinated/partially vaccinated pregnant women and children up to 2 years of age. Pic/UNICEF
Kalyan-Dombivali Municipal Corporation (KDMC) has achieved 98 per cent of immunization under Intensified Mission Indradhanush 4.0 programme initiated by the Government of India. In the backdrop of Covid 19 pandemic, GoI, intensified its immunization programme under IMI 4.0 to achieve full immunization coverage for all children and pregnant women at a rapid pace.
The target beneficiaries for the mission are unvaccinated/partially vaccinated pregnant women and children up to 2 years of age (0 – 23 months). The medical staffs were targeting migrant workers, daily wage workers, brick kiln staff in every district to achieve maximum target. Three rounds on IMI were conducted on March 7, April 3 and May 2.
"We could achieve 98 per cent immunization due to consistent efforts even during the Covid time. When physical distancing was absolute necessary, we ensure to carry the immunization drive through mobile vans. The area has a vast floating population, migration is more in a few areas, there are brick kiln workers. But we targeted every area by conducting additional rounds of immunization to achieve the maximum," says Dr Ganesh Doiphode, RCH officer from Kalyan-Dombivali Municipal Corporation.
In the suburban Thane district, densely populated Mumbra was the focus area for vaccination.
"There is a lack of awareness and fear about vaccine among a few people in the area. We ensure to make repeated attempts to convince them. We also seek help from local corporators, politicians, Maulana, make announcements from Masjid during prayer time to clear misconception about immunization and encourage people to come forward," says Dr Hemangi Ghode, Medical Officer of Mumbra- Kausa Health Centre. Overall, Thane district has 1.10 crore population and the immunization rate in 2019-20 was 74 per cent. It lacks medical staff as one Auxiliary Nurse Midwife (ANM) is serving to 30,000 population double than its capacity.  
The initiative was recently conducted in Mumbai, Thane, Pune, Nashik, Bhiwandi, Mira Bhayander, Navi Mumbai, Ahmednagar, Aurangabad, Buldana, Jalgaon, Parbhani, Pimpri-Chinchwad and Ulhasnagar areas.
In Pune district's Pimpri-Chinchwad area is an industrial belt having a huge population of migrant workers. The medical staff went door-to-door to identify the eligible children and pregnant women.
"A lot of people have migrated in the last two years. Many people who came here from Marathwada for employment went back to their respective villages during the lockout period. Some of them returned, but not all of them returned. Since these people live in permanent slums, 80 per cent of the population is vaccinated at regular vaccination sessions. There are two regular sessions each month," says Dr Haridas Shende, Medical Officer of Sambhajinagar Hospital.
UNICEF is partnering with the Government of India to support continuity of essential health and immunization services through planning, implementation, and monitoring of various strategies.