Ansari's inner circle from his journalism days, friends from the Mumbai clubs he frequents, cricketers and sports writers, colleagues and several others, were present at the function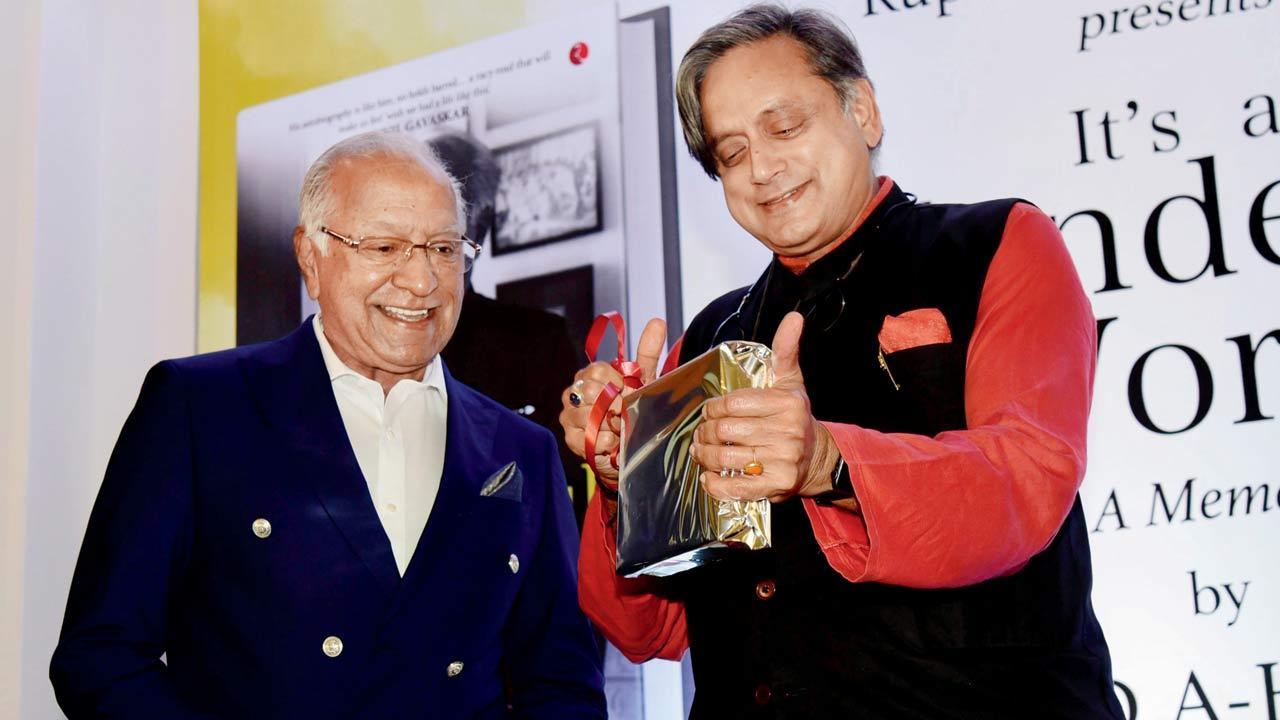 Khalid A-H Ansari with MP Shashi Tharoor at Trident on Monday. Pic/Suresh Karkera
Khalid A-H Ansari, founder of the mid-day newspaper, writer and sports journalist whose life has been centred around the pen, found himself on the other side of the page recently. This time, Ansari was not interviewing a sports star, or writing a piece about an event. This was about him. The launch of the book, 'It's a Wonderful World: A Memoir' written by him, at the rooftop of the Trident, on Monday evening was a mix of nostalgia with the no-holds barred.
Ansari's inner circle from his journalism days, friends from the Mumbai clubs he frequents, cricketers and sports writers, colleagues and several others, were present at the function. The late afternoon began with host Cyrus Broacha opening proceedings or in this case, it may very well be innings as the launch was replete with a 'sporty' twist.
Congratulatory messages from friends and colleagues not present were read out by Broacha, with several former cricketers underlining how they could trust Ansari because even though a journalist, he never compromised the confidence someone had reposed in him. Vitusha Oberoi, former editor, Delhi mid-day, recalling Ansari's reporting from Kargil, had a message from Canada, which said, "he was and is, one of us. A journalist first." Former India cricket captain Sunil Gavaskar recalled how his association with Ansari changed from a professional one to that of being friends. He also acknowledged how Khalid Ansari had asked him to come onboard as editor of Sportsweek, a magazine Ansari had started before he started mid-day.
From the mutual respect one can now guess how Mr Ansari likes his breakfast eggs – always sunny side up! That may not be strictly true, simply a light aside, of a frothy evening. The memoir as the writer himself said is a, "cocktail of gyaan (wisdom), dollops of unserious but hopefully enlightening personal anecdotes, frothy bon-mots, gup-shup (natter) and news.
Readings
Then, Malavika Sanghvi, Sabira Merchant and Dolly Thakore read from the book. Cricket writer and former mid-day editor, Ayaz Memon had a quick 10 questions, with Khalid Ansari. Memon asked Ansari, which city do you prefer: Delhi, Mumbai, Sydney, Dubai… to which Ansari replied, "Mumbai" to applause. Asked whether he would like to start a paper again he said, "No, the game has changed so much, I do not think I could do it." Guest of Honour Dr Shashi Tharoor said, "this is a vast book that covers so much ground. There is modesty and humility through the book, sustained and genuine."
Tharoor brought a note of sobriety into the evening pointing to "painful and strong points made in the book, where Ansari has written about misadventures about house hunting in Mumbai. The difficulty about a family with a Muslim name, finding a home here, should make us feel ashamed." Tharoor also pointed to Ansari writing about, "the community having to endure increasing hatred on social media, how they need to keep proving their loyalty to the country and some friends who turned out to be wolves in sheep's clothing, who showed their true colours."
That though was Tharoor highlighting the no-holds-barred aspect of the book, uncomfortable truths that must be told. Yet, as Ansari himself closed the evening before the national anthem was played, it was evident that a wonderful life with remarkable breadth and depth, is the focus of this book. The gentleman who retired as founder-chairman of Mid-Day Multimedia Ltd in 2012, has a Memoir of wit spiked with wisdom, inviting readers into his Wonderful World.