Investigation has revealed that after Mohsin Khan, mastermind of the group Ummat-e-Mohammadia, added a new member, Talha would tell the person what to do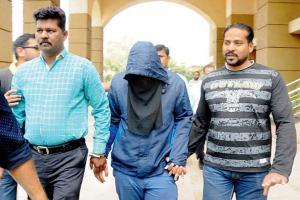 Talah alias Abubakar Potrekar was produced in court in Aurangabad on Sunday. Pic/Abdul Basit
Talha alias Abubakar Potrekar, recently arrested for allegedly being part of the group with connections to banned organisation IS, appears to be its 'HR manager'. Investigation has revealed that after Mohsin Khan, mastermind of the group Ummat-e-Mohammadia, added a new member, Talha would tell the person what to do.
A management student, not an engineering graduate as reported earlier, he is also a trained scuba diver and encouraged the group members to start physical training to get fit for the forthcoming 'war', said Anti-Terrorism Squad (ATS) sources.
Talha was allegedly part of a larger conspiracy busted by the ATS last week with the arrest of nine youths. The 24-year-old was arrested by ATS Maharashtra from Mumbra. Talha is the 10th accused to be arrested in the alleged plan of chemical attacks in India. "The first meeting of this group took place in August 2018.