The Marathas, it seems, have got their way. Following their unprecedented silent march here yesterday, the community called off the protest after being promised a series of sops by the state government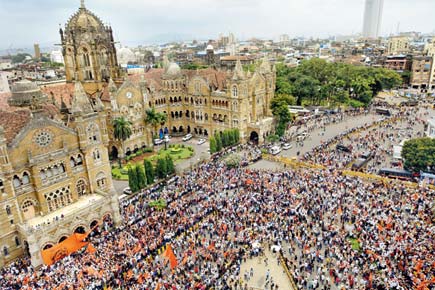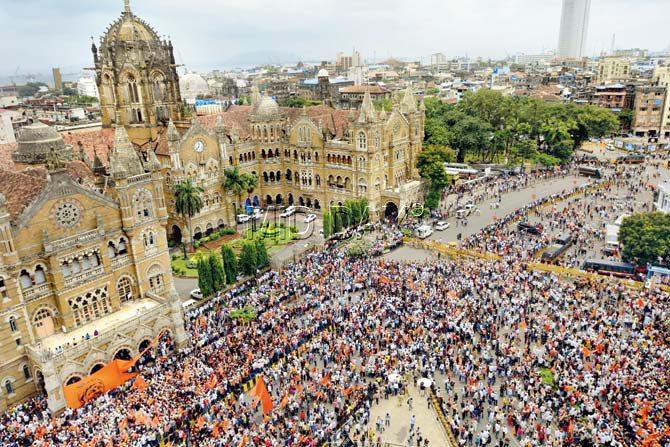 Participants pass CST on their way to Azad Maidan, during the silent protest march yesterday. Pic/Bipin Kokate
The Marathas, it seems, have got their way. Following their unprecedented silent march here yesterday, the community called off the protest after being promised a series of sops by the state government. It, however, remained sceptical over its main demand of reservations in jobs and education, members said.
ADVERTISEMENT
CM Devendra Fadnavis told the state legislature that Maratha students would get concession at par with those from Other Backward Classes (OBC).
It's raining sops
Since the government is fighting a case related to quota for Marathas in jobs and education and a backward class commission is working on a module to get reservations finalised, Fadnavis said, the Marathas should understand that the BJP government was positive towards their prime demand.
"We are following up on the demand with the commission and have asked for its report as early as possible," he said, adding that the previous government had promulgated an ordinance, which was later made into law by the BJP government. The high court had stayed the law and referred the matter back to the commission.
Most importantly, the condition of securing at least 60 per cent marks for getting scholarships has been removed now. Three lakh Maratha students would be trained in various skills to increase their chances of getting jobs.
Other demands
The demands were discussed in a meeting with a delegation of Maratha Kranti Morcha and all-party Maratha legislators who participated in the silent march before heading to the legislature for putting forth their demands.
Earlier in the day, protesters had opposed some Maratha leaders' presence on the dais at Azad Maidan. As a rule, strictly followed by the community in its past 57 marches, no political leaders were allowed to interfere in its activities or address participants at rallies.
One of the prime demands of the community was that the accused in the Maratha minor gang rape in Kopardi be punished. The CM said the ongoing trial would be expedited and the state would argue in such a manner that the accused get the death penalty.
"In the past five months, the government pleader has cross-examined 31 witnesses. But the accused have delayed the trial. Defence lawyers remained absent, pushing the special court to fine them. Now, just one witness, who was allowed by the high court, will be examined. And the proceedings will start," the CM explained to the House.
A group of ministers will be set up to interact regularly with the Maratha community over the reservation issue.
An institute - Sarathi - will be set up to do Maratha-specific research, said the CM.
---
Also see - Photos: 'Maratha Kranti Morcha' protest rally in Mumbai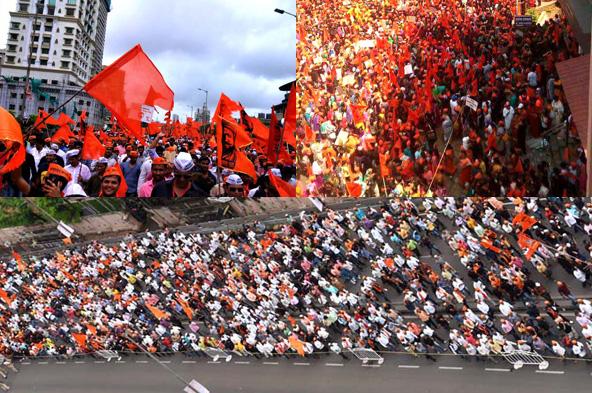 "Exciting news! Mid-day is now on WhatsApp Channels

Subscribe today by clicking the link and stay updated with the latest news!"
Click here!