Amid growing cases of the disease in different countries, health experts tell mid-day about when the virus started and ways to prevent it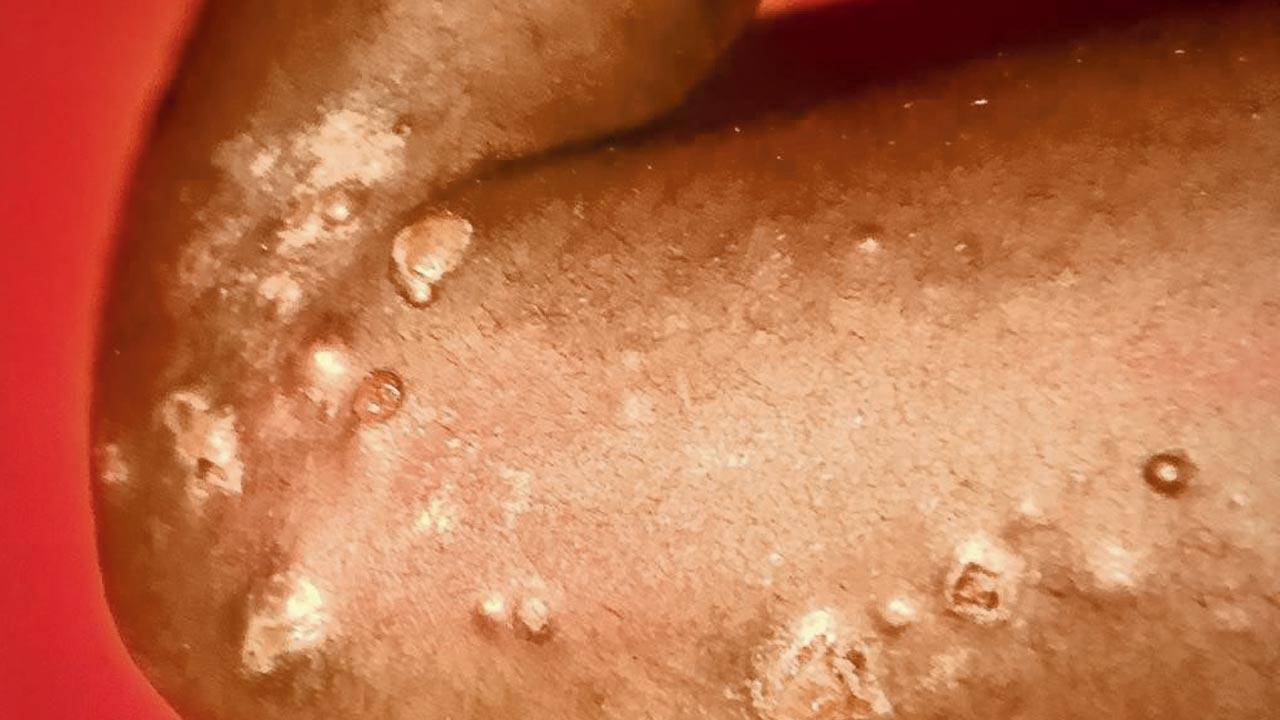 Monkeypox rashes on a patient's arm. Pic/Dr Subhash Hira
In view of monkeypox cases being reported from across the world and the subsequent alert by WHO, the Centre has directed premier health institutes like National Centre for Disease Control (NCDC) and Indian Council for Medical Research (ICMR) to monitor the situation. Airports are on alert for any symptomatic flyers from affected countries even as health experts are concerned that staff may not be trained for physical detection of monkeypox rashes. 
While cases of monkeypox have not been reported in India yet, but India has a large number of international flyers from Africa and Europe daily, and the health staff screening travellers at the airports are not trained to identify monkeypox rash through physical checks," said Dr Subhash Hira, professor of Global Health at the University of Washington-Seattle and advisor to WHO-TDR-Geneva.
ADVERTISEMENT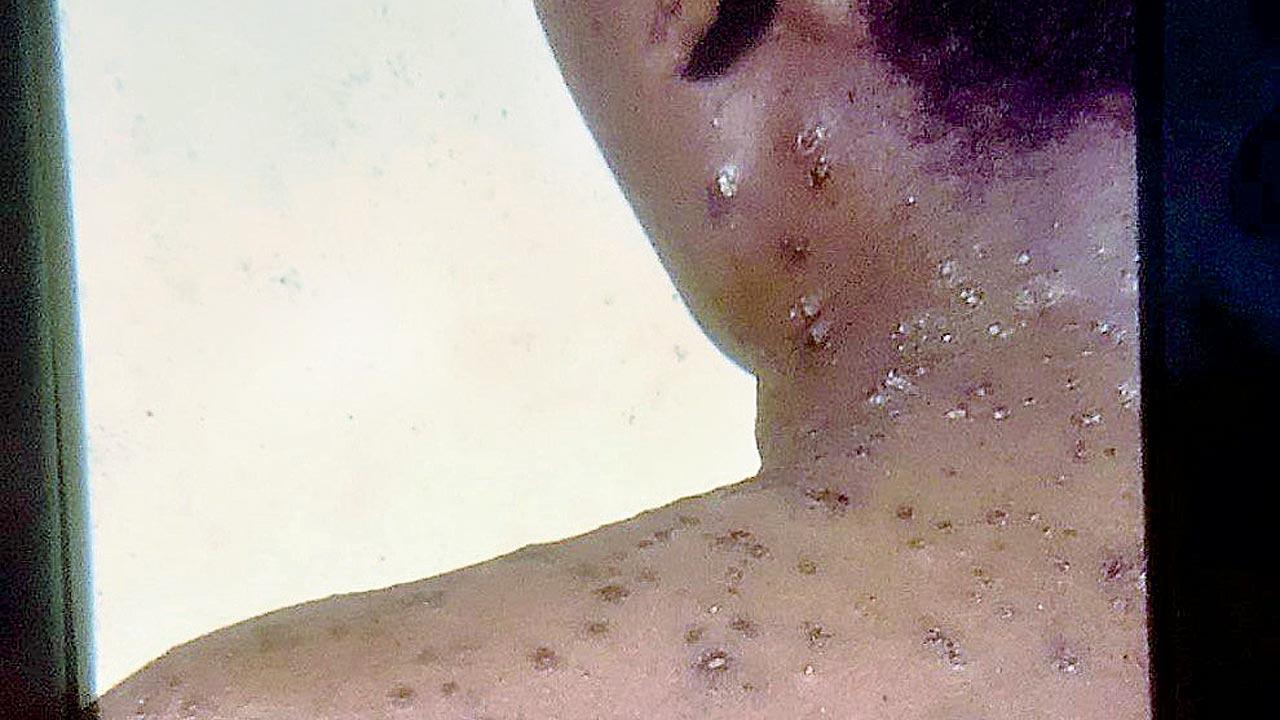 Monkeypox rashes on the body of a patient. Pic/Dr Subhash Hira
"I used to clinically diagnose and treat hundreds of monkeypox cases while I worked at the University Teaching Hospital in central Africa in the 1980s and 1990s. These cases used to appear in clusters during every hot-humid season and rarely required any hospitalisation; possibly because most of the population then was already vaccinated with smallpox virus. The smallpox vaccine injection global campaign ended in 1980. But sudden appearance of atypical monkeypox virus in Europe, etc. has set alarm bells ringing because populations below 40 years of age globally may not have received any smallpox vaccines. And for the public health humanitarian cause, I am releasing 1980-1990 pictures /images of monkeypox rash from my personal archives," said Dr Hira.
He added, "Over 800 million Indians under the age of below 40 years are not vaccinated for smallpox and hence will be vulnerable to monekypox, if they are not taking adequate care and precautions."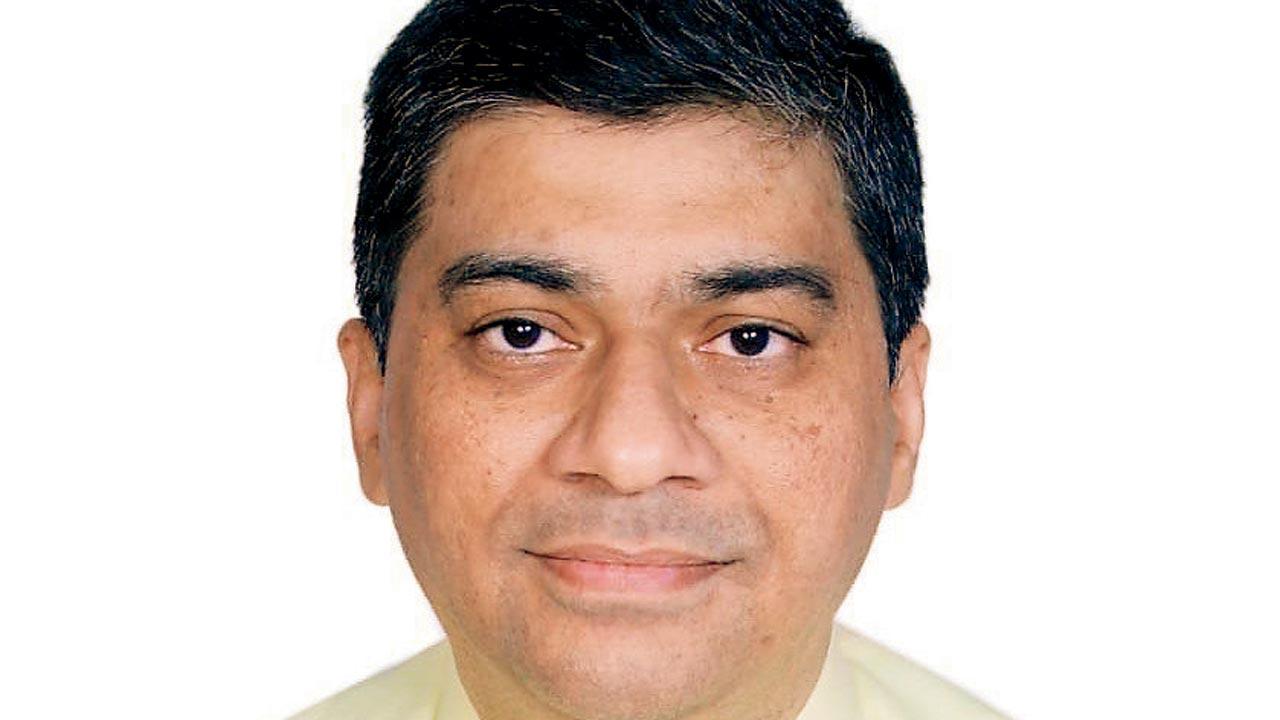 Dr Ketan Vagholkar, DY Patil Medical College
About the virus
Dr Wiqar Shaikh, professor of Medicine at Grant Medical College and Sir J J Group of Hospitals, said, "Monkeypox is caused by a virus which is a cousin of the now eradicated smallpox virus from Poxviridae family of viruses. It is transmitted from wild animals to human beings, though human to human transmission through respiratory droplets is also known."
When asked what could have caused the current surge in monkeypox cases, Dr Shaikh explained that the smallpox vaccine kept the monkey pox at bay, but as smallpox vaccines are no longer used, the world population has weakened immunity or no immunity against these viruses. 
"The illness begins with fever with chills, headaches, myalgia, and swollen lymph nodes. Within the next 3 to 4 days a rash appears which spreads over the body affecting particularly the face, hands and feet. Lesions progress through various stages such as macules, papules, vesicles, pustules and finally fall off as scabs. The illness lasts from 2 to 4 weeks" said Dr Ketan Vagholkar, Professor of Surgery at DY Patil Medical College.
Spread can be controlled
"More than 120 confirmed or suspected cases of monkeypox were detected outside of Africa in at least 11 non-African countries which is rare. Sudden increase of such cases in a week is unusual. Monkeypox is like smallpox but it shows mild symptoms. It spreads through very close contacts with bodily fluids such as saliva from coughing, which means it will infect fewer people than SARS-CoV-2. Since it is related to smallpox virus, there are already treatments and vaccines available to stop spread," said Dr Santosh Bansode, Head of the Department, Emergency Medicine, Wockhardt Hospitals, Mumbai Central. 
2-4 
Weeks that the disease lasts
800mn
Approx. no. of Indians who are vulnerable to the infection
Preventive measures
. Avoid contact with animals that could harbour the virus (including animals that are sick or that have been found dead in areas where monkeypox occurs)
. Avoid contact with any materials, such as bedding, that has been in contact with a sick person
. Isolate infected patients from others 
. Practise good hand hygiene after contact with infected animals or humans
. Use of personal protective equipment when caring for patients
As stated by Dr Ketan Vagholkar