Mumbai Heritage Conservation Committee shoots off letter to CR, saying multi-coloured lights at UNESCO World Heritage site are ruining its look; it has also issued stop-work notice for other renovation work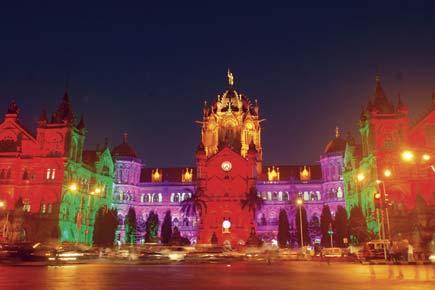 Many people have been flocking to Chhatrapati Shivaji Terminus (CST) to catch a glimpse of the brightly-lit structure after sunset. But what seems good enough to woo tourists has not cut much ice with the heritage experts, with the Mumbai Heritage Conservation Committee (MHCC) now raising hackles over the recently renovated 'garish' multi-coloured façade of the station.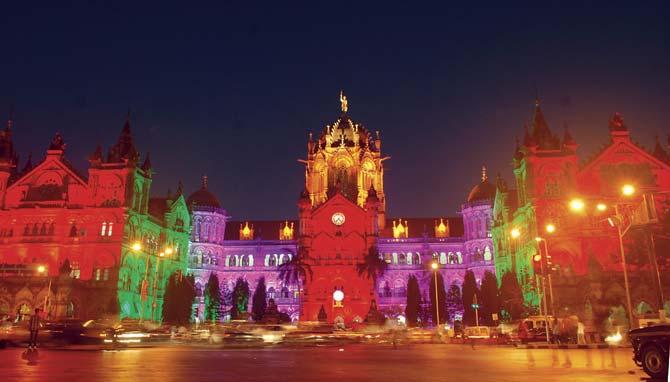 A heritage committee member said the earlier lighting was soft and elegant, and these multi-coloured lights are "horrendously garish." File pic for representation
They warned the Central Railway that the lights are having an 'adverse impact' on the history of the landmark station. The illuminated face of the UNESCO World Heritage site has been declared unaesthetic by the committee, which has now served a notice to the Central Railway for illegal and unaesthetic illuminations, renovation, and repair of the station.
The MHCC has also served a stop-work notice and raised objections to the use of LED light fixtures on the façade of the building. "The station was aesthetically pleasing with its earlier soft and elegant lighting. But even as the regular tourist is finding CST colourful, we feel that the illumination is horrendously garish in nature," said an MHCC member, who helped draft the show cause notice.
'Ad-hoc work'
In its notice served to Central Railway earlier this month, the MHCC has raised alarms over the 'ad-hoc' nature of work being carried out on the structure, including repair, addition and alterations carried out by the railways.
The notice states that many of these works are being carried without taking any permissions, and supervision of the experts. "Needless to say, any irreversible intervention carried out at this site would have adverse impact on the heritage character of the structure and also be a threat to the World Heritage tag bestowed by UNESCO.
The railways is a responsible organisation and we are sure it understands the gravity of the situation that would arise by carrying out such haphazard and ad-hoc works without any comprehensive planning and approvals from the appropriate authorities," reads the MHCC letter, which was addressed to the general manager of Central Railway.
Under the provisions of the development control rules (DCR)-67, it is obligatory for any government agency to take permission from the heritage conservation committee before altering a heritage structure. "Until the time you submit a detailed proposal of alteration, additional, renovation, no such work must be carried out on the façade of the structure or the building," reads the notice.