The city's Parsi community came out in huge numbers for the Bombay Parsi Punchayet Trustee elections, despite the sweltering heat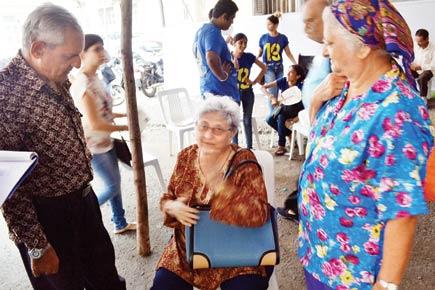 Hordes of senior citizens from Parukh Dharamshala, a home for the elderly in Khareghat Colony on Hughes Road, were seen making a beeline for the polling booths in their wheelchairs, in the sweltering afternoon heat on Sunday.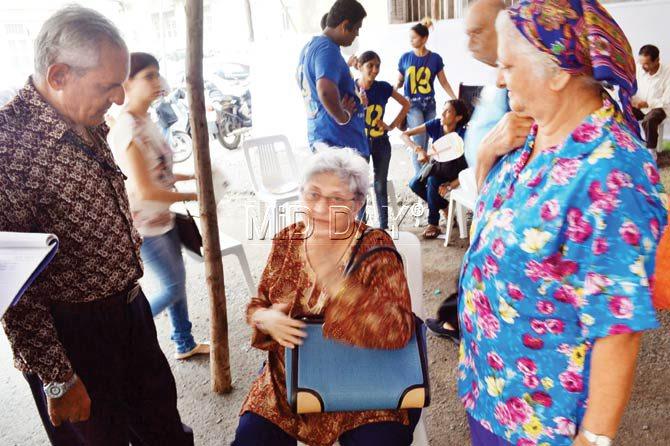 Dumasia Themtan, took a temporary discharge from the BD Petit Parsee General Hospital to cast her vote
These elderly denizens were among several others present to cast their vote for the 2015 Bombay Parsi Punchayet Trustee elections, also bearing testimony to the enthusiasm of the vibrant community.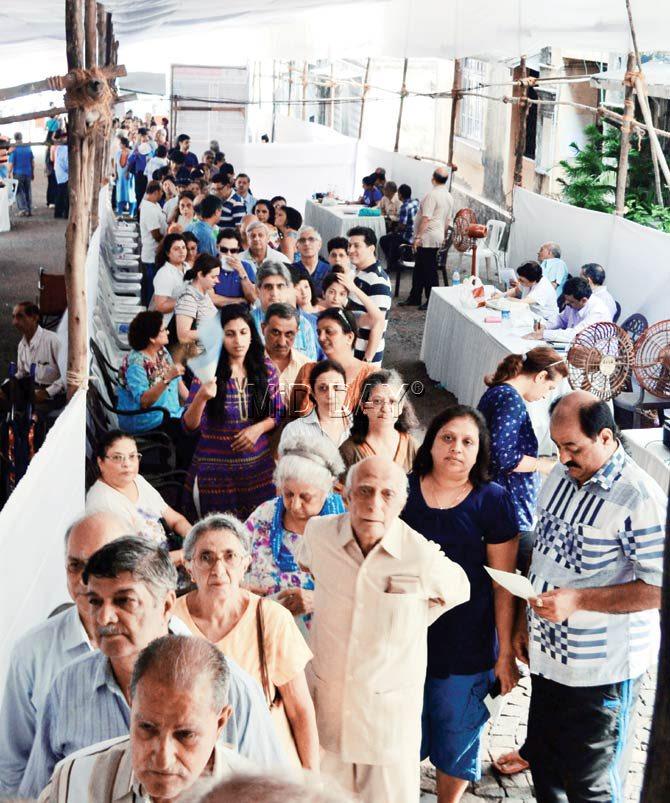 Several senior citizens were bothered by the long queues and lack of toilets. Pics/Datta Kumbhar
Many have deemed these elections as the first of its kind, owing to the fact that tamper-proof Electronic Voting Machines (EVM) were used. A total of 9,825 votes were cast in a single day, before the booths shut down at 7 pm, giving way to the initiation of the counting process.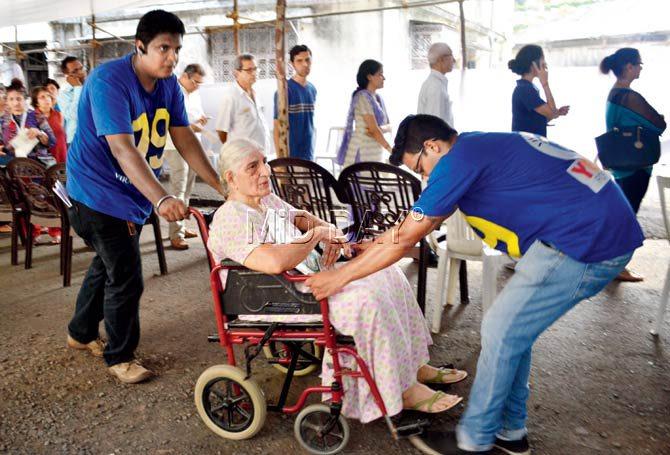 Unprecedented turnout
Dumasia Themtan, a retired professor in her 80s who was admitted at the BD Petit Parsee General Hospital, went to the extent of taking a temporary discharge so she could be present for the elections.
Cyrus Guzder, one of the senior-most volunteers, who has supervised five elections so far, said the turnout this year was unprecedented, especially considering that a major crowd-puller was missing – no lunch or snacks were served this year, due to an amendment in the election code of conduct.
mid-day witnessed that many senior citizens spent over an hour in serpentine queues under the blazing sun at the four polling centres — Sir Shapurji Bharucha Baug (Andheri West), Cusrow Baug (Colaba), Dadar Parsee Gymkhana and Rustam Baug (Byculla).
Many lamented the lack of lack of basic facilities like toilets or separate queues for the elderly at the Andheri centre. Soli Daruwala (85) and Homi Randelia (84) who had come to cast their vote at the Colaba centre were also irked that they were made to wait for over an hour to cast their vote, insisted that they would not leave before the deed at hand was done.
According to polling officer Jehangir Patel, BPPT elections are significant for two major reasons — not only is this one of the richest trusts in the nation, it is responsible for allotting over 5,500 flats and the upkeep of other properties, such as the 55-acre Tower of Silence in Kemps Corner (known as Parsi Dungarwadi).
"The elections are being held since five trustees have finished their term, and one of them has resigned. We are in the process of filling up these vacancies," Patel informed. He added, "As per our census there were 1.14 lakh Parsis in India in the year 1940. The figure dropped down to 69,601 in 2001. Currently, there are 40,000 or less in the country.
Kerssie Wadia, another polling officer opined, "Keeping in mind our shrinking community, where 800 deaths were recorded in 2014 against 146 births, it is vital that the Parsis have strong policy makers in the Punchayet, which can lead them in a positive direction. The large number of people who have turned up today are here for that much-needed change in our society."