Mihir Chitre has written a book of poems, published by the Sahitya Akademi titled, Hyphenated. One of the poems featured in the book, called, Ham Sandwich, includes the 'F' word as well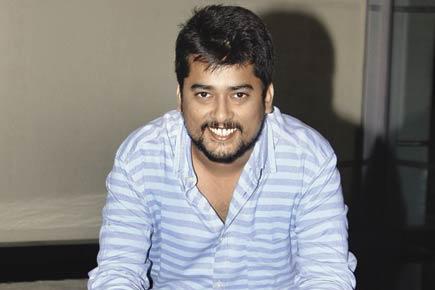 27-year-old, advertising professional, Mihir Chitre, who has been writing poems and short stories for nearly nine years now, recently created a buzz on Twitter. The poet has written a book of poems, published by the Sahitya Akademi titled, Hyphenated. One of the poems featured in the book, called, Ham Sandwich, includes the 'F' word as well.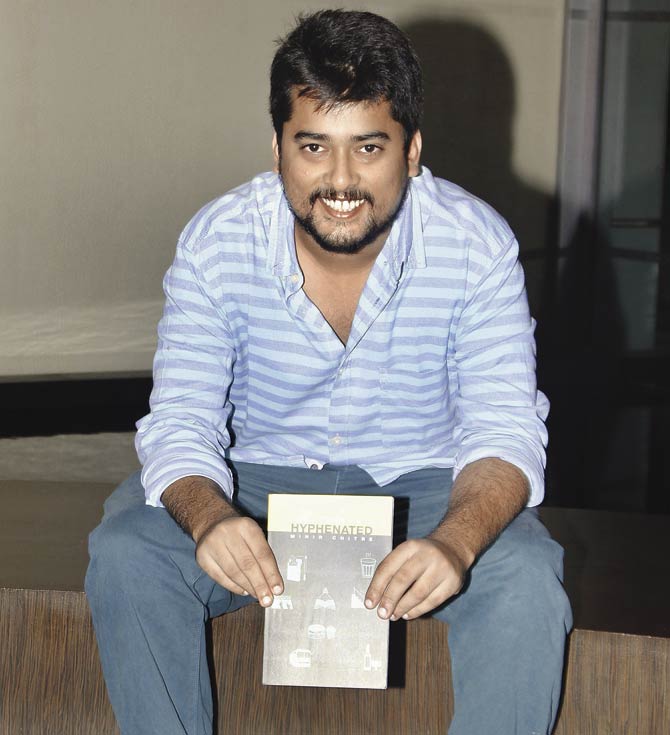 Poet Mihir Chitre poses with his book of poems Hyphenated that was published by the Sahitya Akademi. Pic/Tushar Satam
What started with a comment by poet Jeet Thayil, saying 'Breaking news: Sahitya Akademi publishes poetry book with the word F*** in it,' soon turned into a heated debate about the quality of poems that the Akademi is publishing. At the time of going to press, the last tweet from Chitre read: 'If nobody hates you, you've been rather ordinary.'
He told us that his manuscript was reviewed by eminent poet Ranjit Hoskote and contains a blurb by Malayali poet K Satchidanandan. "I don't think there is anything wrong with it. It is also not new for poetry in India to use expletives," Chitre tells us. 'There are many poems from the 1960s, 70s and 80s including famous works by poet Arun Kolatkar which have used abusive words," he explains.
When we contacted the Sahitya Akademi in Delhi for a comment, an official at the Akademi stated, "When Sahitya Akademi publishes a book a committee is set up to review the manuscripts that we have received. It is only after discussion and debate that the decision to publish or not is taken. We haven't received any email or official complaint regarding the content of the mentioned book, if we do we will take a look at it."
Celebrated poet Arundhati Subramaniam believes that though what gets published and what doesn't still remains a mystery to her, use of expletives shouldn't be much of a bother. "It depends on how the word is used. It can make for either good poetry or bad poetry and that is all that should matter. So many of our Dalit poets use expletive language and so do many others, their poetry is extremely powerful.
How can we get offended," she exclaims, refraining from passing judgment on the content itself, as we read it out to her. Raghavendra Madhu, poet and founder of Poetry Couture, a pro-bono initiative running across Delhi, Mumbai, Chennai and Kolkata that engages the young artists in poetry recitations and dramatic couldn't agree more.
"Things need to evolve. A lot of my poems use words like 'email', 'inbox' and other modern-day language. Poetry isn't about rain, water and tears anymore. Similarly, one doesn't use certain words because they are profane. You use them because they express what you are trying to say. Having said that kids today are more attracted to slam poetry and find it cool to use expletives."
Rochelle Potkar whose first book of stories, The Arithmetic of breasts and other stories was shortlisted for The Digital Book of the Year Award 2014 echoes a similar sentiment, "Poetry comes from the street and goes to the street.
This poem is seductive and witty and the word is almost invisible, and suits the tone of the poem. I'm glad the Sahitya Akademi decided to publish this. It gives hope to a lot of contemporary poets like me," she concludes.
Ham Sandwich
by Mihir Chitre
I have a ham sandwich in my fridge.
Deep-fried ham. Wheat Bread.
But that won't suffice, will it?
I can get you some sauce.
Would that do?
How about some sausages as well?
And I'll spread some butter over the bread.
Would that be good enough?
Hey, listen! Or do you want something completely else?
I could get you Poha or Parathas from the next lane
I am just wondering what, what the f***,
will make you have breakfast with me again.