'During the survey, we found 12.5 per cent of girls think periods are not good for their health, and  21.4 per cent of girls said that they don't know whether periods are good or not for their menstrual health. The awareness level among them is a serious concern because teenagers don't have proper knowledge about menstrual hygiene management'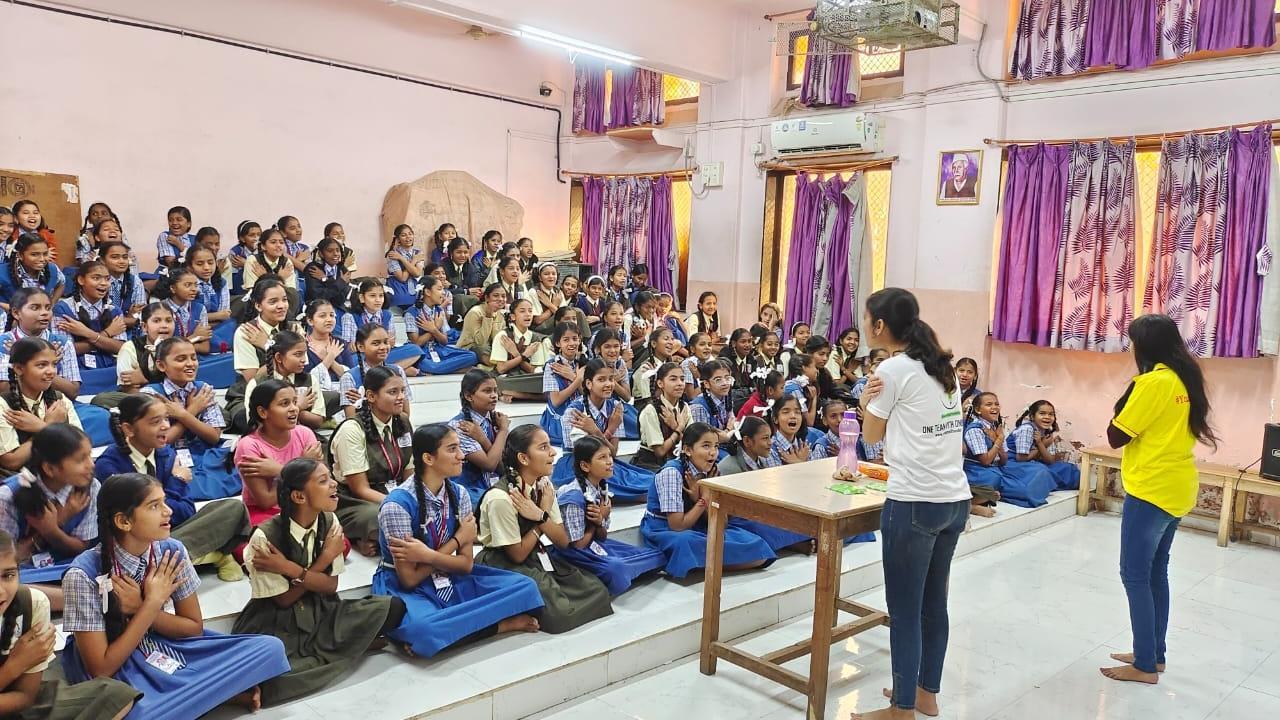 Awareness campaign done in Ulhasnagar-based school
Out of 100 girls, around 39 don't know how to use sanitary pads and are hesitant to talk about it openly, reveals a general survey by a social organisation.
A survey and awareness campaign on menstrual hygiene among 100 students in Mumbai highlighted why it is important that students should be taught about periods and menstrual health at an early stage.
ADVERTISEMENT
Green Pencil Foundation organised a survey cum awareness campaign on menstrual hygiene in an Ulhasnagar-based school with the aim to understand the gap in awareness about menstrual hygiene among teenagers.
The survey data found that out of 100 girls, 39 don't know how to use sanitary pads. "This is a very important topic of attention for our society, where on one side we are talking about women empowerment and on another side we are not open to talking about menstruation in an open environment," said Sandy Khanda, founder of Green Pencil Foundation.
Social activist, Rakshita Manglani said, "During the survey, we found 12.5 per cent of girls think periods are not good for their health and  21.4 per cent of girls said that they don't know whether periods are good or not for their menstrual health. The awareness level among them is a serious concern because teenagers don't have proper knowledge about menstrual hygiene management."
Also Read: Mumbai: State owes BMC Rs 7,000 cr, most in education aid
Further, the survey also revealed that around 51.8 per cent of them are not able to talk openly about periods with their family members, since they consider it a taboo from old times.
Manglani, "We all should pledge to break the taboo and make girls feel safe to discuss their menstruation issues. During the survey, we found out that 51.8 per cent of girls don't know about the complete period cycle. A basic understanding of the menstruation health issue should be provided in the early stage to students so that teenage girls will be well aware of menstruation and better manage their menstrual health."
She added, "Not just in the rural areas, but in urban cities too, even today the girls are hesitant to speak about periods openly. If this is the situation in urban areas, then what we can predict about the rural regions."
During the survey, around 57.3 per cent of girls answered that they use newspapers to wrap used pads for disposal purposes. Khanda added, "Nowadays good cloth pads are available which are reusable. It will help you to save money and it's a better solution to overcome waste management. Understanding of using reusable products to save the environment as well as money should also be included in the learning so that they take wise decisions"
In the past, the organisation had conducted a similar survey in Dharavi where around 50 girls participated under the initiative 'Periods Of Pride'.
Speaking about the similarities they found in both surveys, Khanda, added, "In Dharavi too we got a mixed response about the disposal of sanitary pads. In Dharavi, 20 out of 50 girls mentioned that they don't hesitate o dispose of sanitary pads openly. But, the important highlight was 30 of them were not aware of menstruation before their first periods." Do you think Budget 2023 will meet aspirations of common man?