Sena leader says officers who do not want to find better alternatives should leave, a day after MMRCL boss Ashwini Bhide said there were no other options for Metro III car shed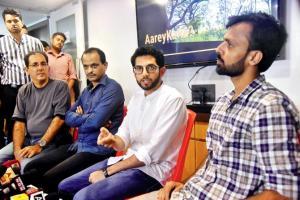 Aaditya Thackeray addressed the media on Aarey tree hacking along with wildlife photographer Nayan Khanolkar (in blue) and wildlife researcher Rajesh Sanap (right) at Sena Bhavan, Dadar. Pics/Pradeep Dhivar
Joining the chorus against Mumbai Metro Rail Corporation (MMRCL) over the hacking of 2,646 trees in Aarey Milk Colony was Yuva Sena chief Aaditya Thackeray on Tuesday. He demanded a probe against the consultant who suggested a car shed inside Aarey in the first place. Hinting at MMRCL managing director Ashwini Bhide, Thackeray said the officer who was not listening to the people should be transferred.
Wildlife photographer Nayan Khanolkar and wildlife researcher Rajesh Sanap, who were present at Thackeray's press conference, also punctured the claims of 'No Wildlife' in the area by displaying pictures of wild animals close to the Metro III car depot site. Speaking at Shiv Sena Bhavan in Dadar, Thackeray said, "The officer is not just ignoring people and public representatives who are against the tree cutting but her recent statements seem to be an effort to threaten the courts as well."
Also Read: Cut trees only when project development is affected: Gadkari.