Such massive embezzlement not possible without the blessings of the incumbent Chief Minister Eknath Shinde since he was the Urban Development Minister of the state since 2014, AAP claims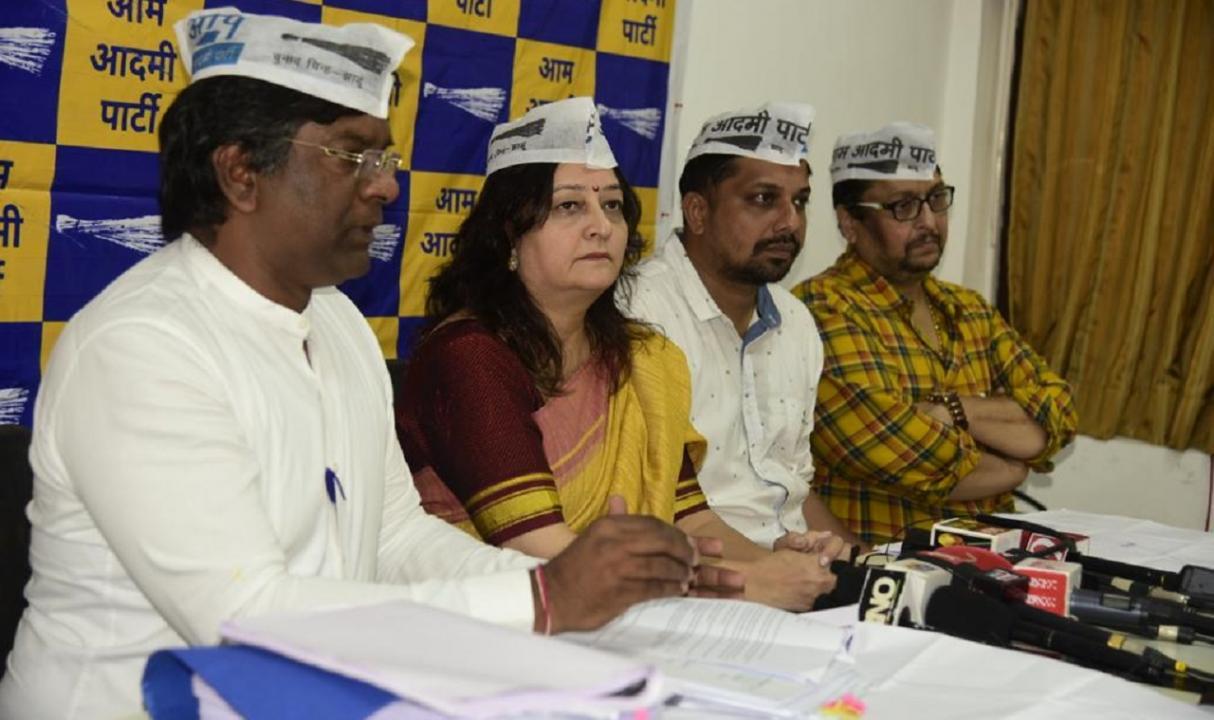 AAP Mumbai's President Preeti Sharma Menon addresses press conference. Pic/Atul Kamble
The Aam Aadmi Party (AAP) on Wednesday alleged a Rs 1,000 crore scam in Mumbai Metropolitan Region Development Authority's (MMRDA) Project Affected People (PAP) Unit allotments for the Mumbai Metro 6 project.
Alleging that the massive embezzlement was not possible without the blessings of the incumbent Chief Minister Eknath Shinde since he was the Urban Development Minister of the state since 2014, AAP said that the RTI applications filed by the Party and pursued with meticulous research, an unmissable pattern has emerged in PAP allotments.
ADVERTISEMENT
The party alleged that "the mastermind behind the PAP scam", Rachana Indurkar, Deputy Collector and Chief of the Social Development Cell - MMRDA, is backed by Chief Minister Shinde and has been occupying the position for the last 10 years without promotion when the term for Dy Collector is three to five years. 
According to the party, the procedure for the allotment of Project Affected People (PAP) units includes eligibility criteria, based on which a survey was undertaken of existing standing structures on Metro 6 project land. For Metro 6, a survey was undertaken by Rachana Indurkar and the survey was executed by EQMS Pvt Ltd.
The party's Mumbai's President Preeti Sharma Menon said that in just one Metro-6 project, a total of 114 fake 'ghost structures' were added to the list of eligible structures. She said Indurkar has been conspicuously occupying the same position for the last 10 years.
Also Read: AAP attacks Maha coalition govt, says no party serious in addressing issues of people
"This is a mafia syndicate whose patronage goes all the way to our present CM Eknath Shinde. Shinde has been Maharashtra's Urban Development Minister since 2014 and MMRDA directly reports to him. Even in his home constituency in Thane's Vartak Nagar Metro Line, approximately 85 bogus allotments have been made using the same modus operandi," Menon said.
Demanding that a court-monitored probe be launched to unearth the large-scale corruption, Menon said that till date, approximately 65,000 PAP Units have been allotted by the MMRDA for various infrastructure projects. Approximately, more than 2,000 of these PAP Units are bogus, she claimed, "this is a Rs 1,000 crore scam, which has been undertaken with the blessings of CM Eknath Shinde himself."
The party's Mumbai Vice President Advocate Sandeep Katke said that the replies to the party's RTI application reveals that "this crime syndicate" includes Dy Collector Sangle, and EQMS Coordinator Deepak Dhopat. "It also prima facie points to the involvement of several agents and brokers affiliated with the Bharatiya Janata Party including Ajay Badgujar, who is a close aide of Poonam Mahajan and Devendra Fadnavis and Popat Tiwari, Pappu Turner, Vijay Shukla, Ramesh Yadav, Ravi Pawar and Vijay More, who are all close associates of Rachana Indurkar," he said.