A city-based Puneri dhol tasha group, Swargandhar, will perform at an international folk music festival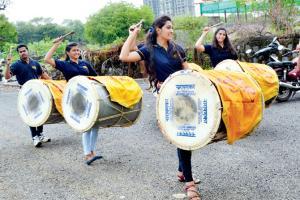 The group, which comprises of students and professionals, will put up a 20-minute performance in Spain
The fervour of Gudi Padva or Ganesh Chaturthi is incomplete without the resounding beats of dhols. Now, Swargandhar, a city-based Puneri dhol tasha group is set to give a thumping performance at the IX International Festival Of Folklore in Lloret de Mar (June 25 to 30), a UNESCO-partnered folk music festival.
The 'pathak' or the group was founded in 2014 by Prasad Pimpale who works at a logistics firm. The group comprises students and professionals from various industries such as hospitality, banking and music, aged eight to 40. In addition to playing for festivals such as Gudi Padva and Ganesh Chaturthi, the group also performs at corporate events and college festivals. The group, which has departed for Spain, will give a 20-minute performance comprising traditional beats of the Powada, Puneri and yuva dhol, on two days at the festival this week. The strength of the group is 140 members, of which 30 will be performing in Spain. The group had applied to perform at this festival (they were selected for other European folk festivals too) via their website, and successfully received an invite.
"Most of us joined Swargandhar to pursue a passionate hobby and to do something different, but we never thought a hobby would take us to Spain. We have been practicing from 5 pm to 10 pm every day now as we can't afford to make even a small mistake," says Ankita Inamdar, who was the first female member of the group. Ask her where do they find the energy to practice for long hours post their eight-hour jobs, she tells us that it's the drumming that gives them the energy, and however tired, they get charged when they play together. The women in the group play dhols weighing almost 14 kg.
The youngest members to go on this trip are Asmi Tawde, 10, and Vainavi Mohite, 12, who tell us that their school friends are very excited about their trip, "They have asked us to bring back chocolates for all," giggles Tawde.
All the money that the group earns is used for the upkeep of the instruments and for charity drives, such as tree plantation, blood donation, beach clean-up, and they also financially support 20 girls from Ashti village in Beed district which is drought affected. The cost of the trip, which is close to Rs 30 lakh is being borne by Pimpale and the group, which has raised funds with the help of their friends and families. The biggest challenge, however, that the group faces is finding a spot for practice.
Since all of them are based around the suburb of Dahisar, they currently practice under a bridge near the Dahisar river, which is often disrupted due to the rains and complains from locals. "All we hope for now is that people like our performance there and this brings us more opportunities in the future," says Himangi Haldankar.
Catch up on all the latest Mumbai news, crime news, current affairs, and also a complete guide on Mumbai from food to things to do and events across the city here. Also download the new mid-day Android and iOS apps to get latest updates