Every evening, hundreds of drinkers descend on footpath outside Asiatic Department Store in Churchgate, followed by a mini food court vending them snacks and other paraphernalia, making the stretch unusable for walkers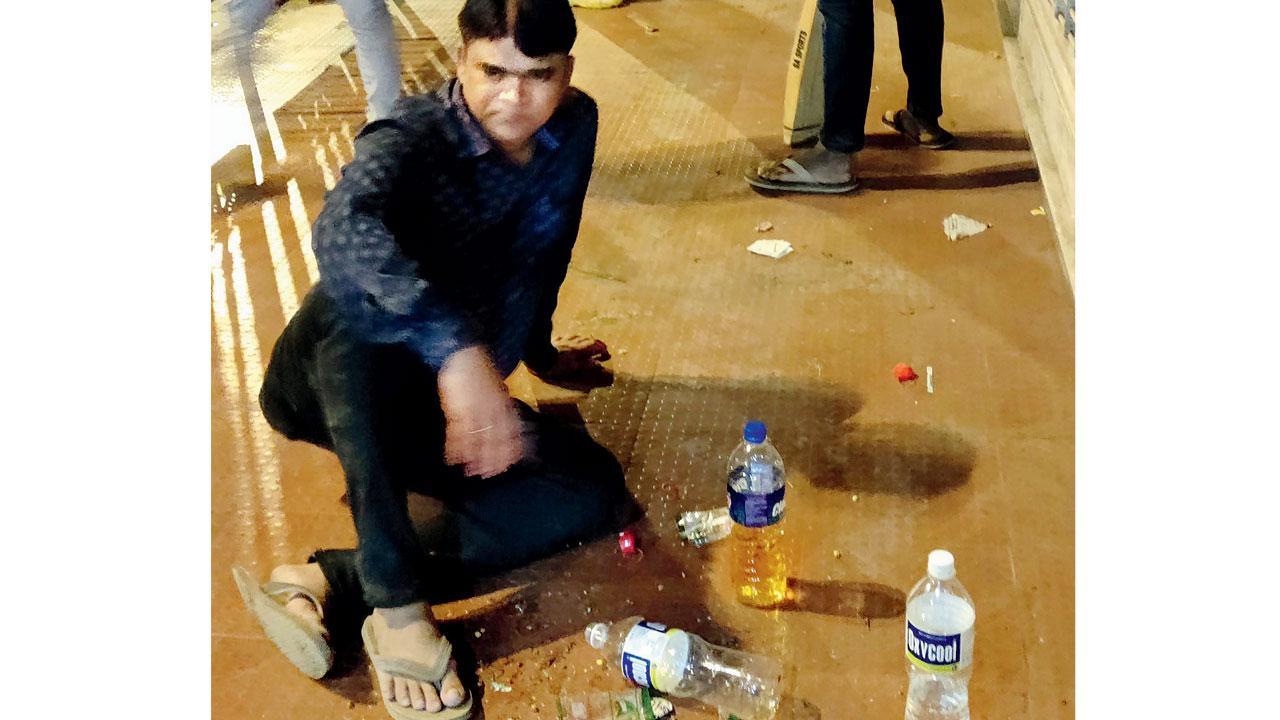 Liquor is openly consumed on the footpath outside Asiatic Dept Store outside Churchgate station, on Sunday. Pic/Sameer Markande
The footpath outside Asiatic Department Store, the oldest such establishment in the city, turns into an open bar every evening with large groups drinking in the open till late at night. Due to the popularity of the spot, nearby stalls and hawkers have started supplying fried snacks and boiled eggs to those partying.
When mid-day visited the spot, near Churchgate railway station, around 7.30 pm on Sunday, more than 30 people including minors were seen consuming alcohol. The crowd gradually increased with every passing hour.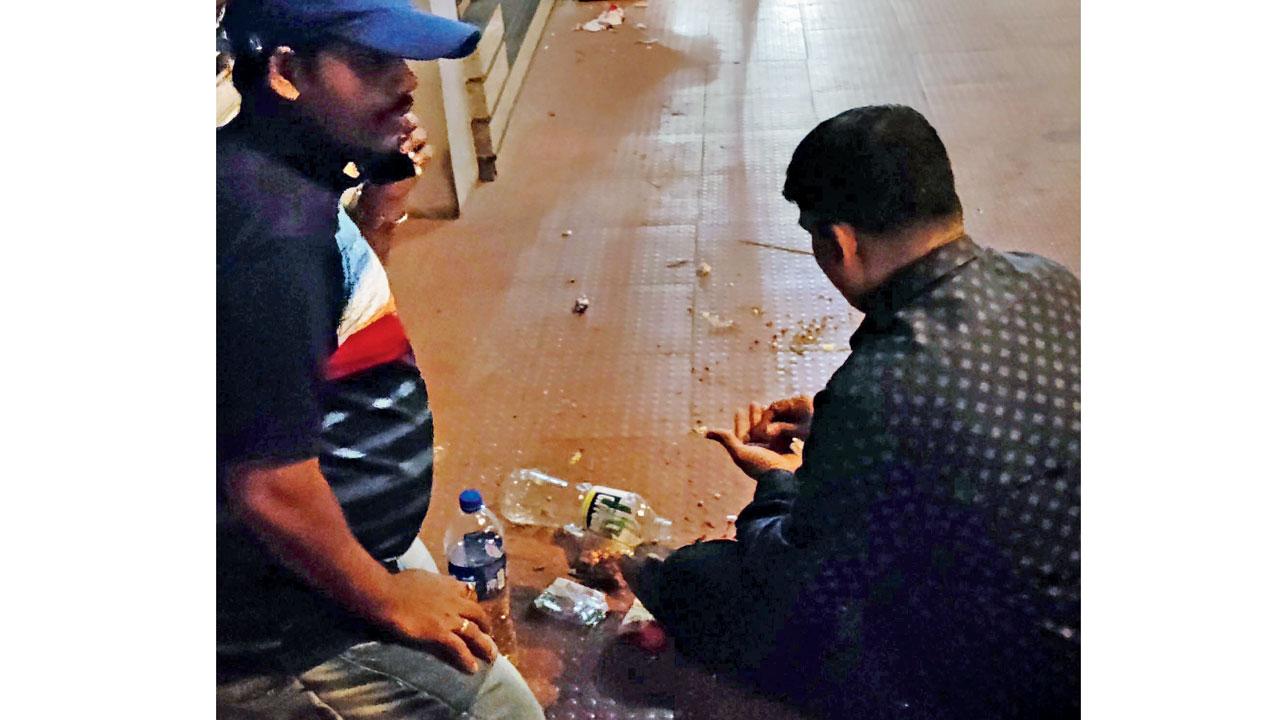 This reporter spotted people buying alcohol from Nita Wines at the Industrial Association Building on Veer Nariman Road. They also bought plastic cups and snacks from a stall next to the department store. Most of the youth present had come to play cricket at Azad Maidan or Oval Maidan near Churchgate station.
In fact, three to four groups were apparently celebrating a victory with a trophy in tow. Two friends were also seen shaking a leg. Though mid-day was present there till 9.30 pm, there was no police officer or BMC official in sight.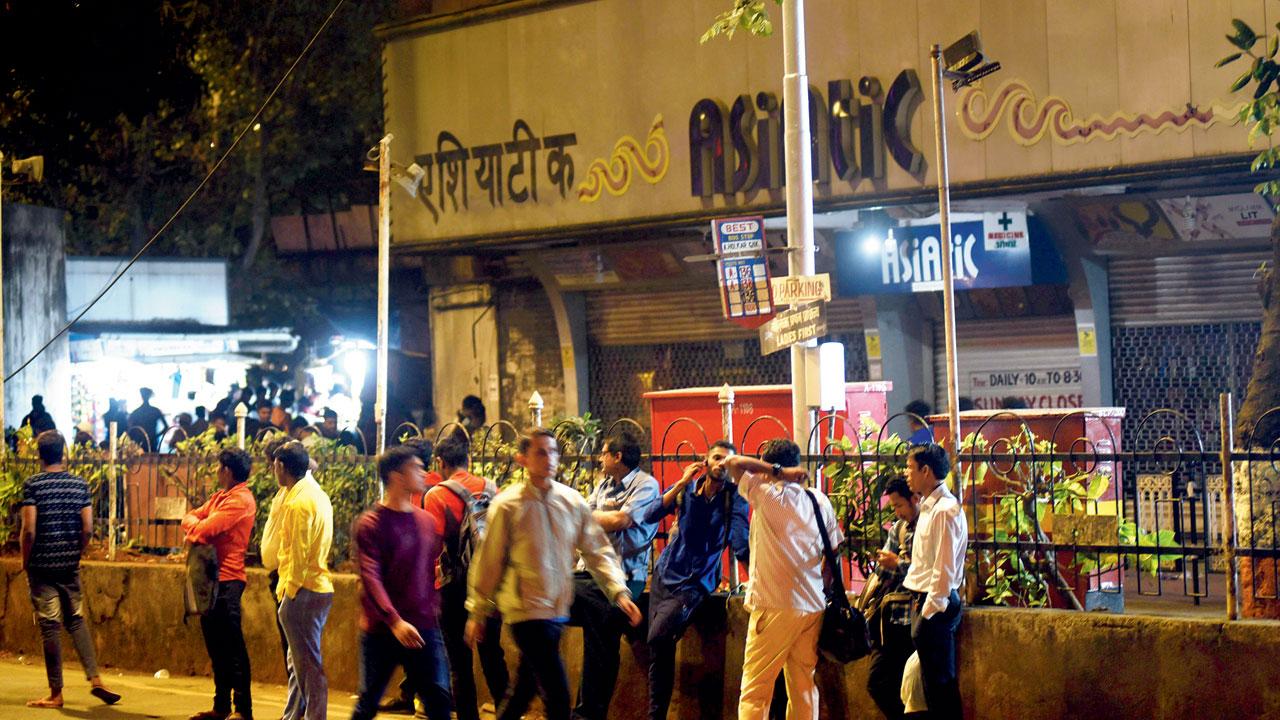 A  stall owner told mid-day, "My shop depends on these drinkers because I provide them with glasses and chakna, which are a basic requirement for them. I have different types of glasses for beer and wine and various kinds of chakna."
Also Read: Ek footpath ki keemat tum kya jaano babu...
Asked whether the civic body took cognisance of the goings-on in the area, he replied, "The BMC never takes action after 7 pm and business starts in the evening." The owner of a pan-beedi stall located near Asiatic Department Store said, "Many people prefer to smoke after drinking and customers come to this spot to booze."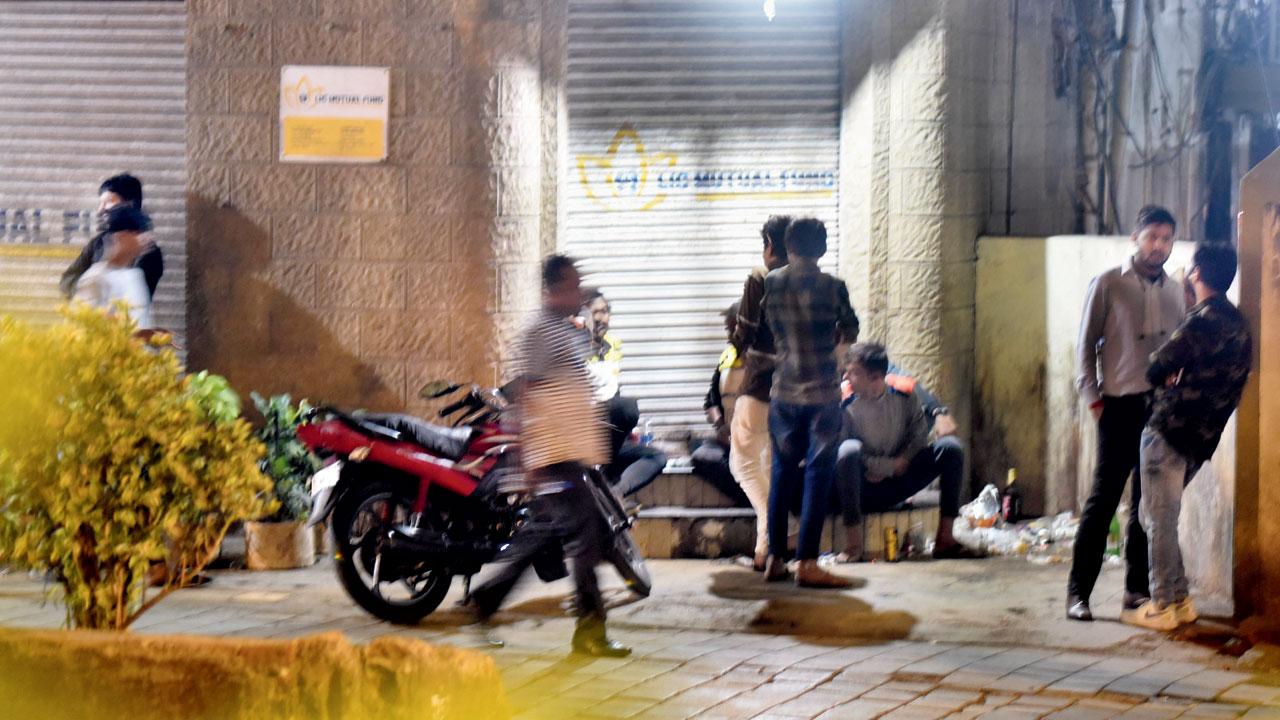 The person manning the boiled eggs stall said, "I come here with 500 boiled eggs every day and they are all sold out by late night. Some drinkers prefer eggs as they are healthy." Senior Inspector Nilesh Bagul of Marine Drive police station said, "My team will personally visit at this spot and take action. Drinking in public is an offence. We will stop this nuisance."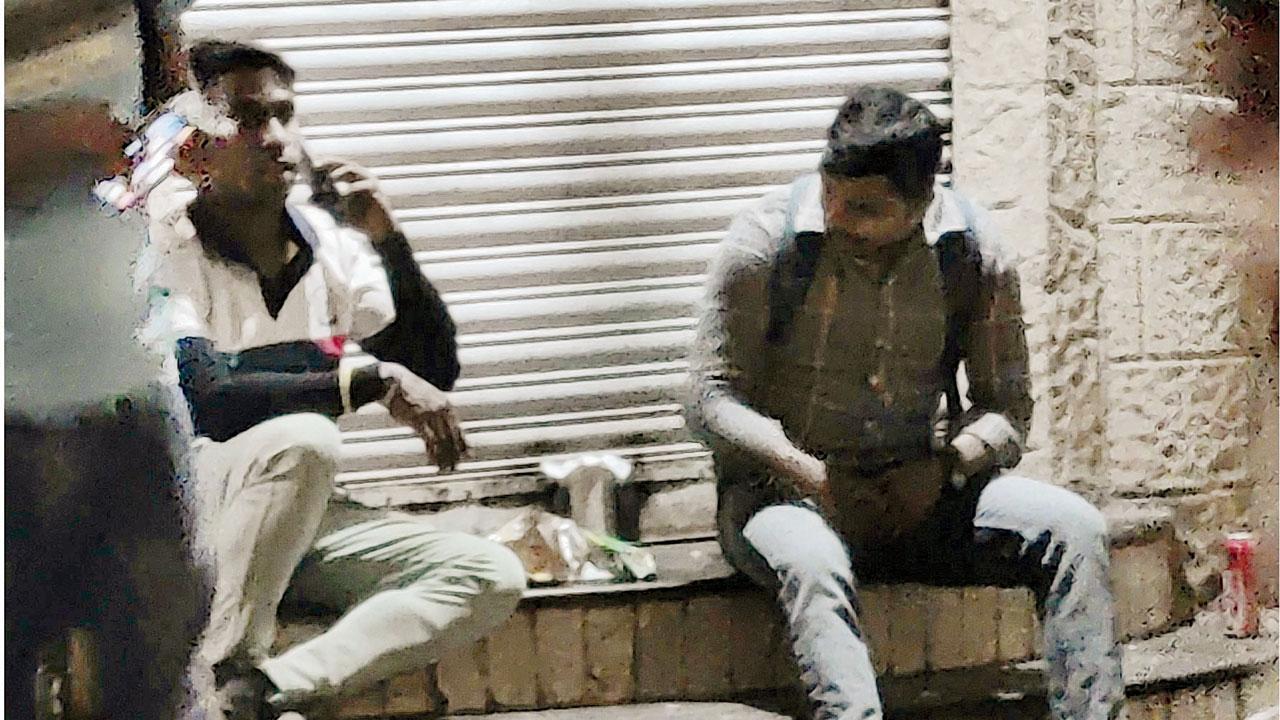 People consume alcohol outside Asiatic Department Store near Churchgate on Sunday. Pics/Sameer Markande
The Asiatic Store manager told mid-day, "They are not partying in front of our shop but in a dark place next to it. It doesn't cause a nuisance to us. Until the shop is open, we don't allow anyone to stand there."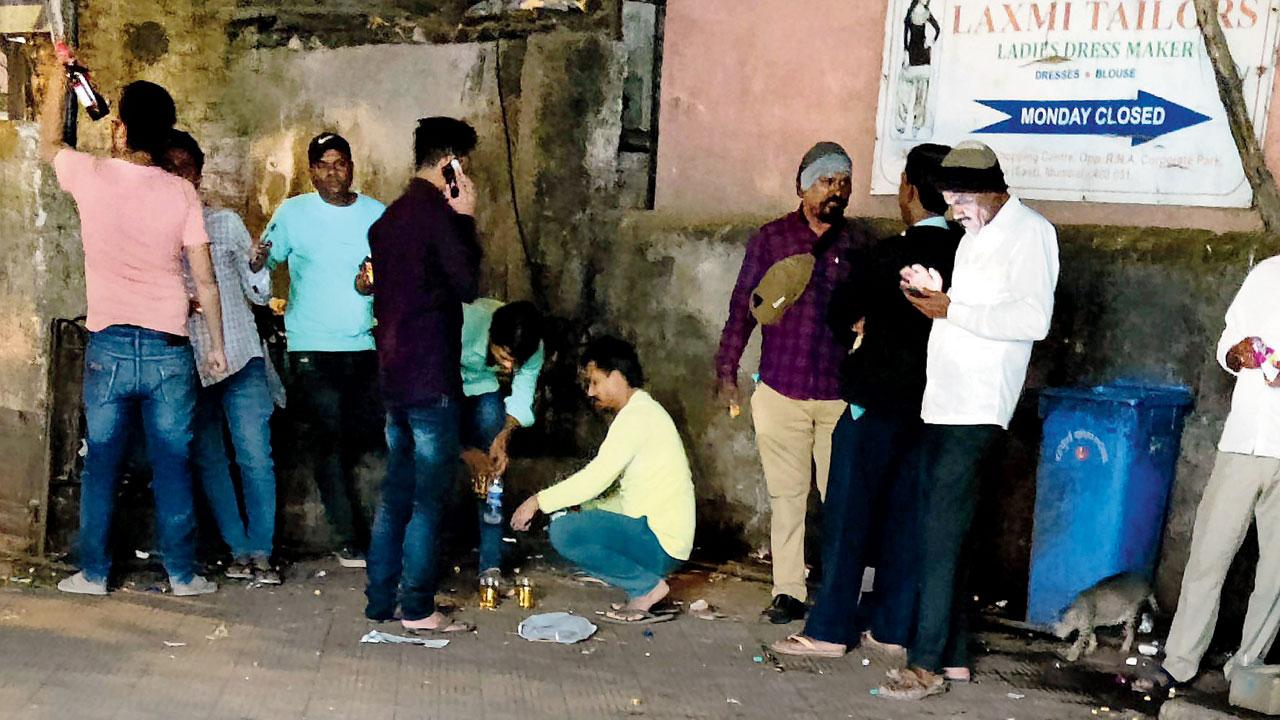 People drink liquor openly near the collector's office at Kala Nagar in Bandra East on Sunday. Pics/Nimesh Dave
Another public drinker's paradise
mid-day also visited another spot, outside RNA Park near the collector's office at Kalanagar in Bandra East, which also turns into an open bar after sunset daily. Many people were seen drinking alcohol in parked cars and auto rickshaws as well as the corner of the road. Outside the collector's office, many illegal stalls have sprung up to provide drinkers with bhel, chana, chakna and eggs. A mid-day photographer visited this spot around 7.30 pm on Sunday and found around 40 to 50 people imbibing.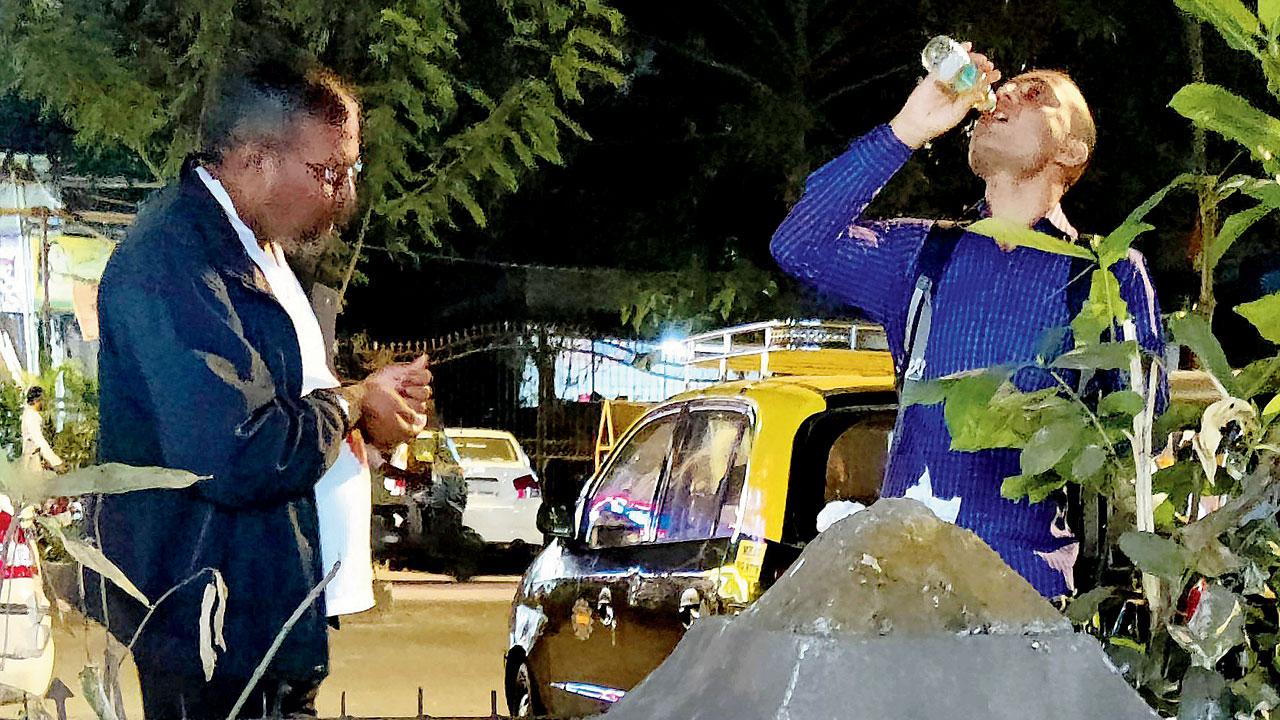 What the law says
Drinking in public is an offence under Section 510 of the Indian Penal Code. According to the section, "Whoever, in a state of intoxication, appears in any public place, or in any place which it is a trespass in him to enter, and there conducts himself in such a manner as to cause annoyance to any person, shall be punished with simple imprisonment for a term which may extend to 24 hours, or with fine which may extend to ten rupees, or with both (sic)."
30
No of men spotted drinking in public on Sunday