According to an official of the solid waste management transport department, which will implement the move, the BMC has decided to buy its own tankers to sprinkle water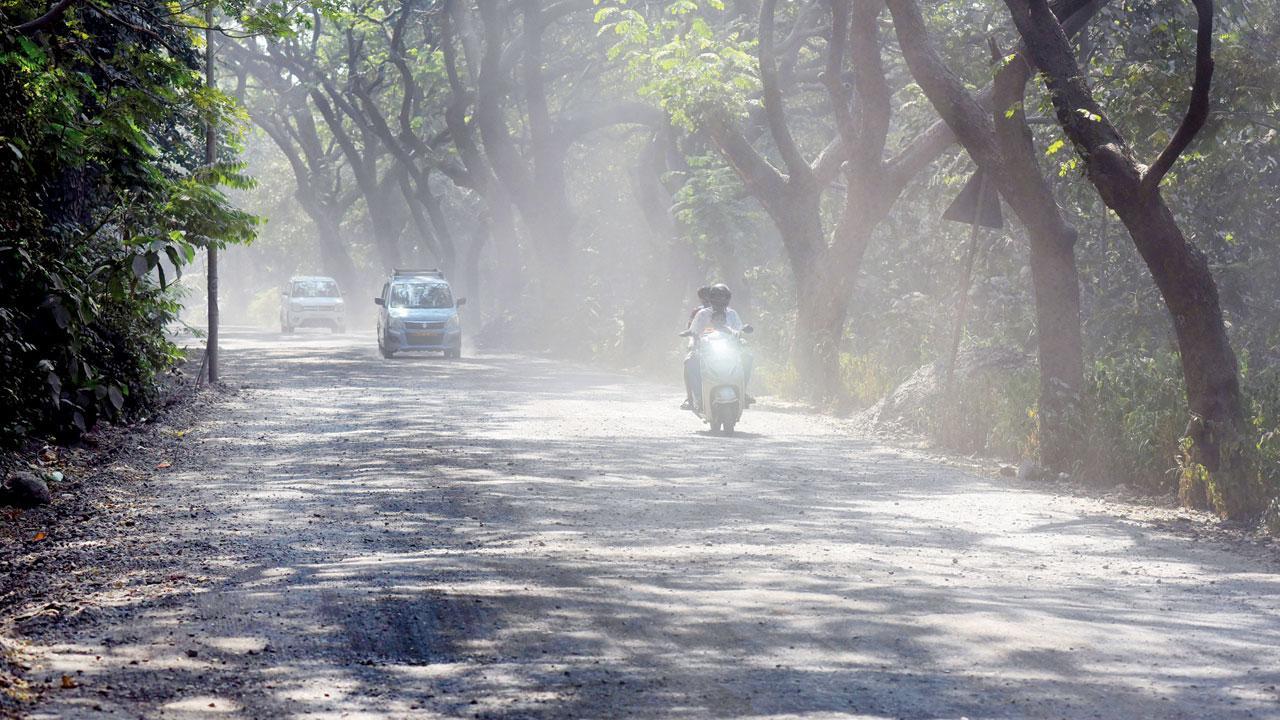 Dust caused by construction work is visible at Aarey Colony in Goregaon. The BMC will target such areas. File pic
The Brihanmumbai Municipal Corporation (BMC) has decided to sprinkle water on certain streets to cleanse the city roads of dust. Initially, the BMC will pick two roads from each of Mumbai's 24 administrative wards. The initiative will take place after the monsoon season. Civic chief I S Chahal had mentioned the initiative in his budget speech this year.
In his 2023-24 civic budget speech, Municipal Commissioner I S Chahal stated, "The contribution of road dust to the city's overall pollution load has more than doubled. The BMC has decided to sprinkle water to settle the dust on roads and footpaths."
ADVERTISEMENT
According to an official of the solid waste management transport department, which will implement the move, the BMC has decided to buy its own tankers to sprinkle water. "We buy at least two tankers for each ward. In the first stage, we will focus on cleaning at least two roads. We will choose areas where construction is going on and roads that see heavy traffic," he said.
Also Read: BMC is breaking things that aren't broken and making life difficult for walkers across Mumbai
The official added, "We will invite bids for procuring tankers after April 2023 as this budget will be implemented from April. But there is no need to sprinkle water on roads during the monsoon. "A mechanism will be fashioned for the tanker so that water is sprinkled on the road. After this,  the roads will be swept. We will start with 48 roads and will extend operations as per the needs of locals," said an official. Procuring 48 tankers can cost more than Rs 10 crore. We will prepare the estimate for this work soon," he added.
During then-US President Barack Obama's visit in city, the BMC cleaned a few roads with water in 2010. At the time, there was a discussions in the BMC general body about washing roads. In December 2020, the National Green Tribunal directed all municipal bodies with "poor" air quality index to take necessary steps to ensure the sprinkling of water before sweeping roads. The civic body also washed some roads in December 2022 during the G20 summit.
In the past, when the primary mode of transport was bullock and horse carts, the BMC regularly cleaned the roads with water. "It was a necessity back then due to animal dung. But later, this method was stopped. We will not use potable water, but treated sewage water. We have seven sewage treatment plants in various locations across the city so transportation will not be an issue," the official stated.
Rs 10cr
Rough cost of procuring 48 tankers for the job