BMC planned to lay cement concrete roads to make city pothole-free, but its decision to lay cable ducts underneath is delaying the project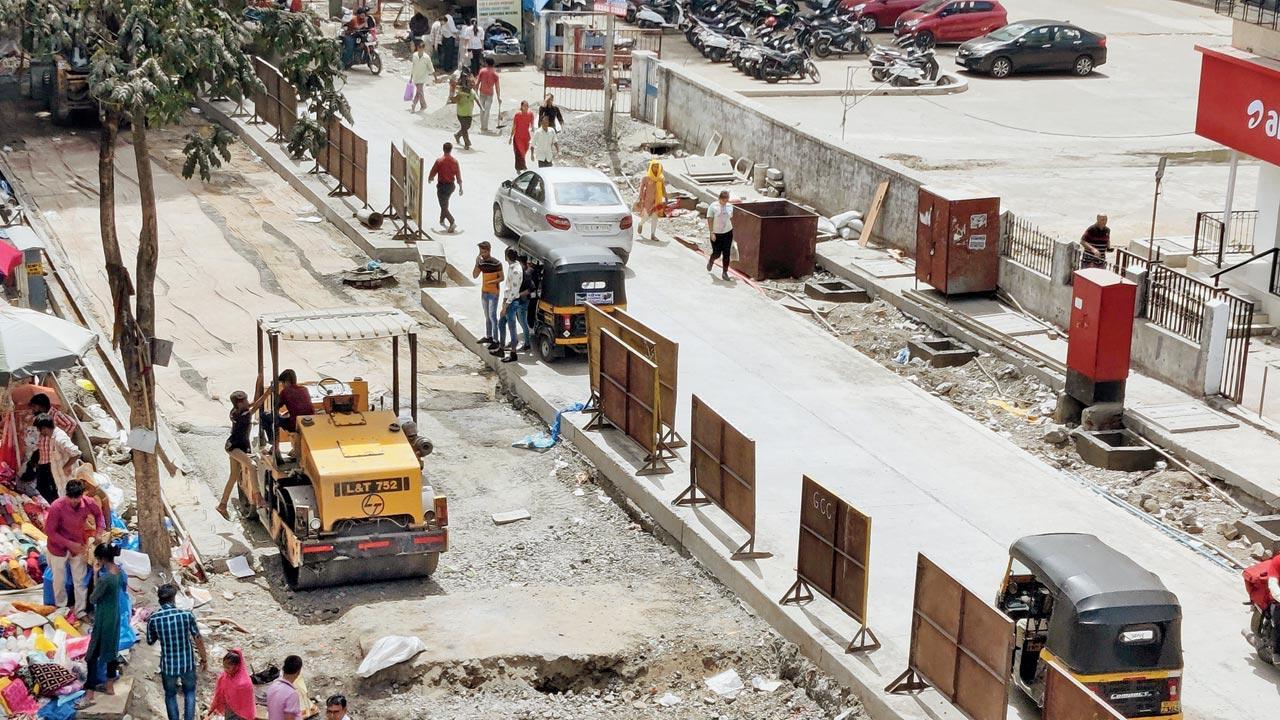 A concrete cement road is being laid at Jambli Galli in Borivli West, on Sunday. Pic/Nimesh Dave
The civic body's project to convert 295 asphalt roads in the city into cement concrete ones is stuck because of lack of coordination at multiple levels. While top BMC officials are firm on their decision about laying the ducts, executive engineers find the idea impractical.
The BMC approved work on 505 roads in January and traffic permissions were issued for 295 roads. However, work on a very few of the 295 roads has begun. There are around 40 types of utility wire underneath the city roads, like water, sewer, gas, electricity, internet. It is a well-known fact that trenches for laying and repairing these cables damage the structure of roads and lead to potholes. So this time, it was decided to lay cable ducts under the roads.
However, road engineers cited multiple issues, like the small width of roads, shifting existing utility lines and difficulties with laying gas, electricity and water pipelines together. However, as the BMC officials remain firm with their decision to lay the ducts, the work started slowly, but without much planning, and keeping existing lines as it is. The issues of lack of coordination between departments and authorities, narrow roads and apathy have delayed the work.
'Practical issues'
"Work on at least five roads has been started in my ward and most of the work is near completion. Earlier there was an issue with laying cable ducts but then they just put it in without much planning and kept most of the existing lines as it is. The roads are narrow and there are practical issues like putting gas, electricity, and water lines together without keeping a safe distance," said Asif Zakaria, former corporator from Bandra West. The work of St. Dominic Road, D'monte Park Road, Bambardekar Marg and Veronica streets have been taken under the new contracts. "These are all now made of cement concrete. Maintaining these roads with utility wires will be difficult and breaking them will be a terrible idea," Zakaria added.
'Not much progress'
Prabhakar Shinde, former corporator from Mulund, said, "The work to construct two roads in my constituency--Mithagar Marg and Mhada road--started on March 8, but there isn't much progress despite continuous follow-ups. After two months they laid a water pipeline, but the shifting  of a sewer line hasn't started yet. There is no coordination, and both the roads are dug up. The pre-monsoon showers will start any day now. Such delays in development works can be seen across the city. If they wanted to lay ducts, the planning should have been before awarding the contracts, not now."
Congress's Ravi Raja, former BMC Opposition leader, said construction of Hemant Manjrekar and Jai Shankar Yagnik roads in his constituency, at Antop Hill, has not begun even after three months. "The roads are not dug up and now the work may start only after the monsoon. Citizens are constantly asking about the roads, but the administration says that the work will begin only after laying utility ducts," added Ravi Raja.
"There isn't any fixed diameter for ducts for utility wires. It depends on the width of the road, number and type of cables underneath it. We are trying to provide existing cables from the duct whenever possible. Wherever it is not possible, the existing cables will stay as it is," said Ulhas Mahale, deputy municipal commissioner of projects including roads.
"Almost 50 per cent of Mumbai roads are already constructed in cement concrete. Trenches for laying and repairing utility wires damage roads. So, we have decided to build every road with utility ducts. There are issues involving multiple departments, but it has to be done now," said P Velrasu, additional commissioner of the BMC.