Threatening to reveal to the man's family that he was gay, the accused took away his laptop, iPad and Rs 20,000 in cash; asked for another Rs 1 lakh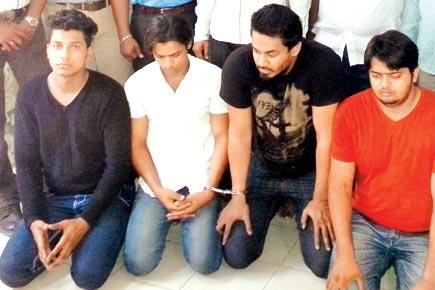 A gang of four men was arrested for blackmailing a senior executive of a city-based five star hotel. The four had threatened to tell the complainant's family that he was gay. The Vakola police laid a trap and nabbed the four men.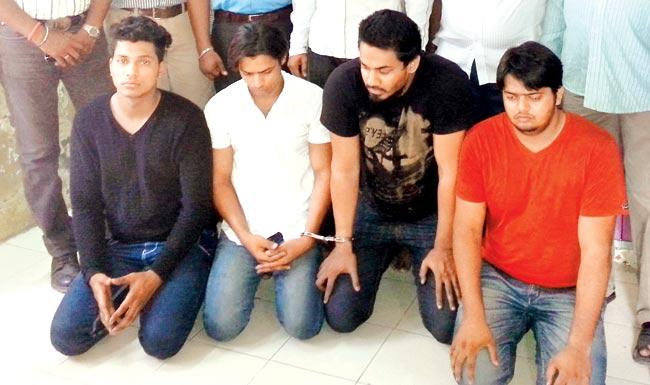 Trapped: The four men were nabbed when they came to collect the cash from the complainant's Kalina residence

According to the police, they received a complaint on Saturday, following which a trap was laid and all the four accused — Rais Riaz Shaikh (35), Avdhoot Vijay Hatankar (27), Salim alias Sahil Abdul Shaikh (21), and Ambadas Vitthaldas Buddhivanta (26) — were caught.

Online chat gone bad
The complainant is the assistant director of a five star hotel in the city. On Friday, he met the accused Sahil on a social network for homosexuals. Sahil and the complainant chatted on the website and soon became friends.

The next day, while the victim's roommate was out of town, he invited Sahil to his Kalina residence. "An hour after Sahil arrived, someone knocked at the door.

The man with a beard identified himself as Sahil's brother. He accused me of turning his brother gay and having a physical relationship with him. The man forcibly entered my house and began searching for Sahil. When Sahil emerged from the bathroom semi-nude, all hell broke loose," said the victim.

In the middle of the chaos, two more men entered and claimed that they, too, were Sahil's relatives. The accused then threatened the victim that they would tell everyone about his sexual orientation.

"I belong to a conservative UP-based family, who are unaware of my status. Fearing that word would spread in the locality and my family, I didn't put up a fight when they snatched my laptop and iPad," recalled the 37-year-old.

He further borrowed Rs 20,000 from his friend and gave it to the four. Police said the accused left the place after an hour, informing the victim they would return the next day to collect Rs 1 lakh from the victim. The victim then registered a complaint with the Vakola police.