State reports 5,455 cases and 63 deaths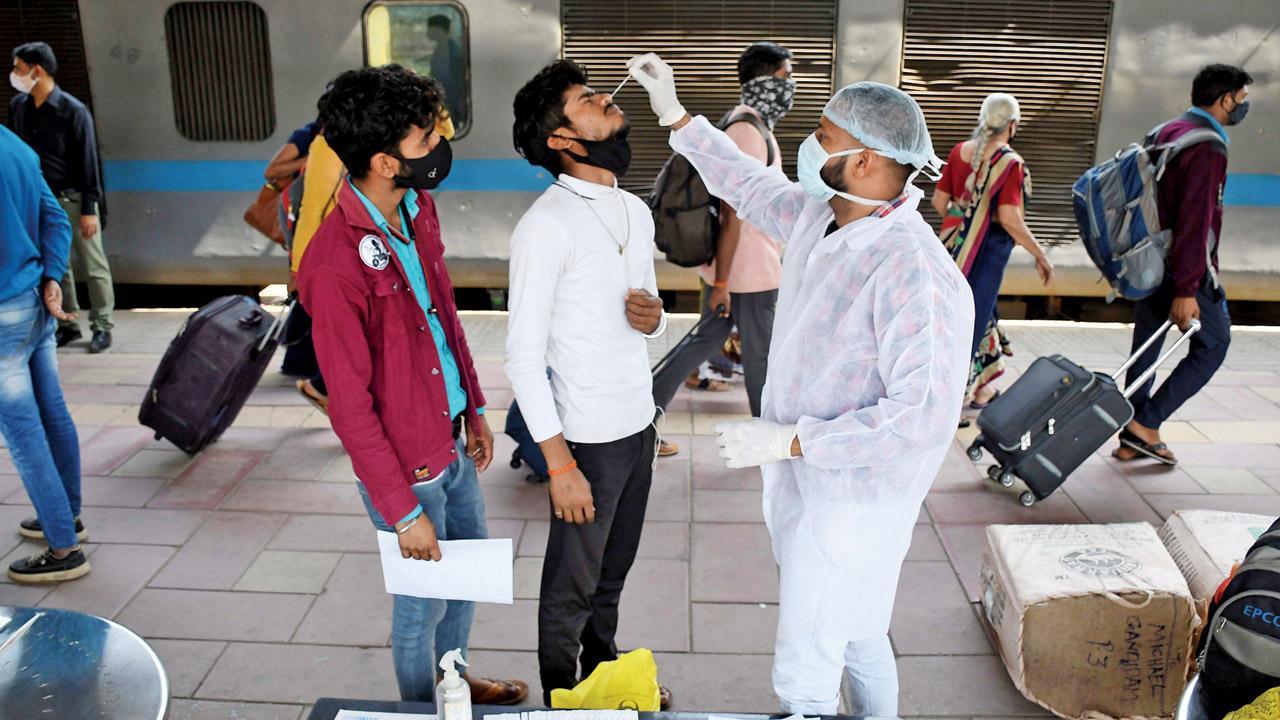 A passenger gets tested at Dadar station on Friday. Pic/Ashish Raje
Mumbai reported 367 Covid-19 cases, the fifth consecutive day when the daily caseload was less than 500, and one death on Friday, pushing the tally to 10,53,413 and toll to 16,679, a civic official said. Doubling rate increased to 1,055 days on Friday from 949 days on Thursday and the test positivity rate was 1.06 per cent with 34,443 tests, around 6,000 less than the previous day. The city was also clear of containment zones and sealed buildings for the second day.
The report added that 316 of the 367 new patients or 86 per cent were asymptomatic. Only 50 patients were hospitalised and 14 needed oxygen support. The patients who died on Friday had comorbidity and was aged above 60 years. The discharge of 841 people took the recovery count to 10,30,669 and rate to 98 per cent. There were 3,219 active cases in the city on Friday, the civic official added.
Meanwhile, Maharashtra reported 5,455 new infections on Friday, about 700 less than the day before, the state health department said. Pune reported the most cases for the day. There were 63 fatalities across the state, taking the toll to 1,43,355. TPR stood at 10.29 per cent, the state report said. The case fatality rate fell marginally from 1.83 per cent to 1.82 per cent while recovery rate improved to 97.34 per cent from 97.22 per cent. A total of 14,635 patients were discharged. There are now 60,902 active patients in the state.
The Mumbai Metropolitan Region, including Mumbai, reported a total of 738 new infections on Friday. Raigad reported the highest cases after Mumbai at 107.  The state reported five fatalities—one each at Mumbai, Thane city, Navi Mumbai, Panvel and Palghar.
78,35,088
Total no. of cases in Maharashtra
738
Total no. of cases reported in MMR in the last 24 hours
1
No. of death in city on Friday (The deceased had comorbidity and was above the age of 60 years)
841
Patients recovered and discharged in city on Friday