BMC, Deonar residents hope the firm operating the plant spewing pollutants will finally tear it down; first self-demolition order was issued in February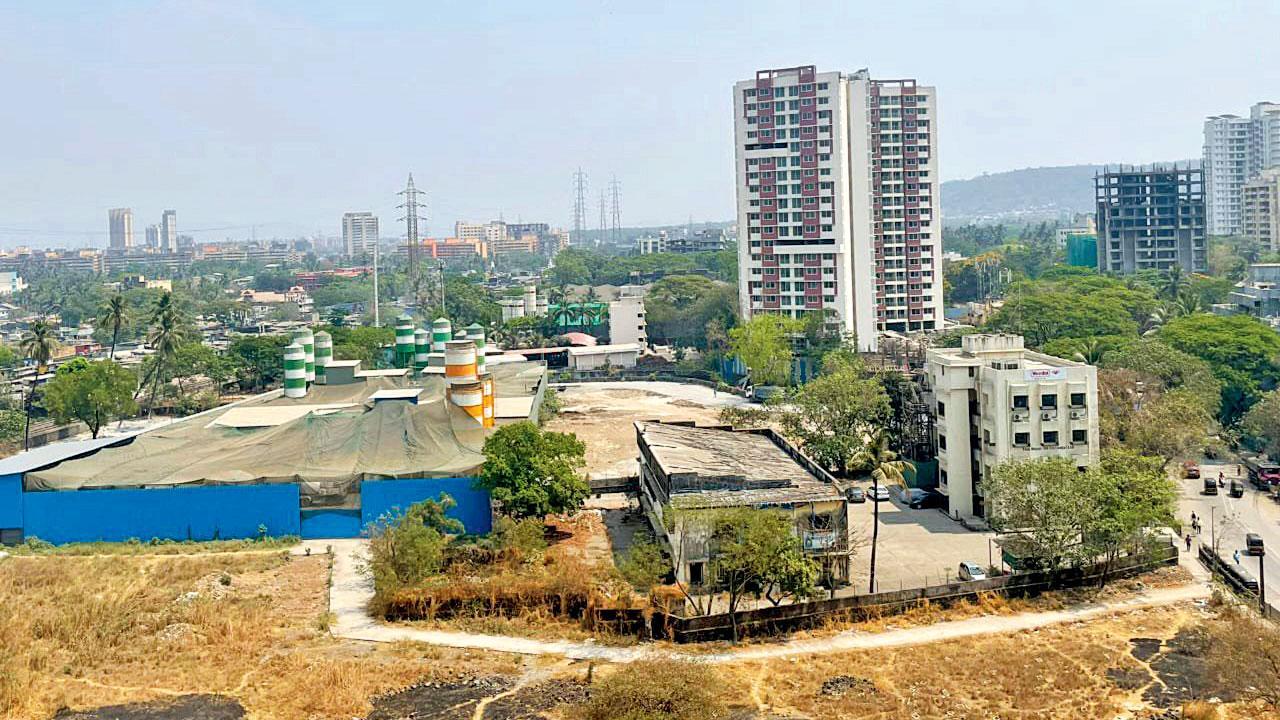 Govandi residents had demanded removal of all three RMC factories, but only one plant (painted yellow) has been issued notice, at Deonar
The civic body has given the company operating one of three ready mixed concrete (RMC) plants at Deonar in Govandi East a last chance to demolish the structure, which was declared unfit this January. Appropriate action will be taken as per law, the BMC has told the firm.
Residents of Neelkanth Gardens Co-operative Housing Society in Govandi East were the first to raise a demand for the closure of all the three plants. Later, other societies in the area joined them. The plants, which have been operating in their vicinity for a year, aggravated respiratory problems among residents and many suffered from bronchitis, they said.
ADVERTISEMENT
The complaints prompted a visit by officials of the Maharashtra Pollution Control Board (MPCB) in January. They found violations at just one plant and issued a notice for its closure. The Building and Factories department of M East ward in February issued a self-demolition order to Sachin Mogarkar and Shashikant Samudre, owners of Dev Infra RMC Partners. The BMC also disconnected water supply to the plant.
Also Read: Mumbai: National, state pollution bodies get 2 months to fix Govandi woes
"Despite a week's time (given on February 21), the firm failed to demolish the temporary RMC plant in February," a civic official said. The BMC issued a final notice on March 14, but it reached the company late due to some technical issues, the official said. On Wednesday, they were given an extension of another seven days. "This is a final chance for them to demolish the plant, otherwise action will be taken against them under the Mumbai Municipal Corporation Act," the official added.
Sources told mid-day that the BMC recently sent a letter to Adani Electricity Mumbai Limited, asking to disconnect power supply. Police have also been asked to keep a watch on the plant for any activities. Faiyaz Alam Shaikh, a resident of Shivaji Nagar in Govandi and founder-president of NGO New Sangam Welfare Society, said, "Govandi has been plagued with issues of air pollution. However, despite proof, neither the government nor the local public representative was able to get the matter resolved. Despite closure directions, the RMC plant continues to operate and pollute the area by violating environmental norms."
An RMC plant is a factory where cement mix is made in large quantities, mostly to be delivered to construction sites. In case of violation of safety and environmental rules, RMC plants can cause air and noise pollution. According to MPCB guidelines, an RMC plant must create a 100-metre buffer zone from residential areas and arterial roads. However, most factories do not follow this, including the Deonar plant.