The city - sliced, diced and served with a dash of sauce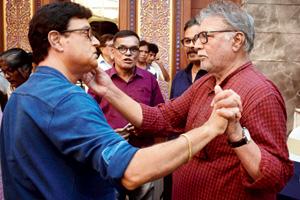 Hands-on experience
Actors Sachin Pilgaonkar (left) and Vikram Gokhale lock fingers at the trailer launch of an upcoming Marathi film in Juhu on Wednesday. Pic/Ashish Raje
ADVERTISEMENT

Parts of buildings in the Victoria Mills area were demolished in the aftermath of the Kamala Mills fire
Back to the maiden name
When restaurateur Priyank Sukhija first announced the location of his forthcoming ambitious project as Victoria Mills in April, several followers wondered where in Mumbai it was.

Sukhija's new property in Victoria Mills. Pic/instagram.com/ priyanksukhija
A little digging revealed that Victoria Mills is actually the area referred to as Kamala Mills Compound by restaurants in the space, such as Grandmama's Cafe, Lady Baga, Verbena, etc. Turns out, before the December inferno which cost 14 lives, every new property in the area wanted to be associated with the most buzzing food space in the city. But post the fire, all the new openings, such as Riyaaz Amlani's Flea Bazaar Cafe, are now using the original address of the space, which is Victoria Mills (also known as Oasis City), to avoid the dark history associated with the name. Name game aside, Sukhija's new space will offer three properties in one space; a retail restaurant where you can buy everything you see (cutlery or wall art too); a Rocky Star fashion boutique and a bar.

Daniel Bauer
Ouch, that hurt!
From Katrina Kaif, Deepika Padukone, Kangana Ranaut, Aishwarya Rai to Sania Mirza, hair and make-up artiste Daniel Bauer has worked with the biggies of the film industry and fashion weeks, and is a celebrity on his own. So when the artiste posted a photo of him from the hospital bed, his timeline was flooded with messages for a speedy recovery. We were told that he was experiencing severe neck pain due to acute slipped disc, which needed a surgery, but he will be up and running in no time. Get well soon, Daniel.

Rakesh Talwar
Flutter by in Bandra-Kurla Complex
We aren't sure if there is much space left in BKC to house another eatery, but if the names behind an upcoming property include restaurateurs who run multiple outlets of the popular Shiv Sagar and Mahesh Lunch Home restaurants, we believe they have done their homework right. Butterfly High is a new casual dining bar that will open its doors by the end of next week. True to its location, it will double up as a co-working and experiential events space. The menu is an ode to modern Indian cuisine and has been curated by celebrity consultant chef Rakesh Talwar and executive chef Vinayak Patil. Office goers can expect to tuck into dishes such as coriander pesto bajra pasta, and lamb hummus with ghee-rubbed khakhra and khichiya papad. Yum!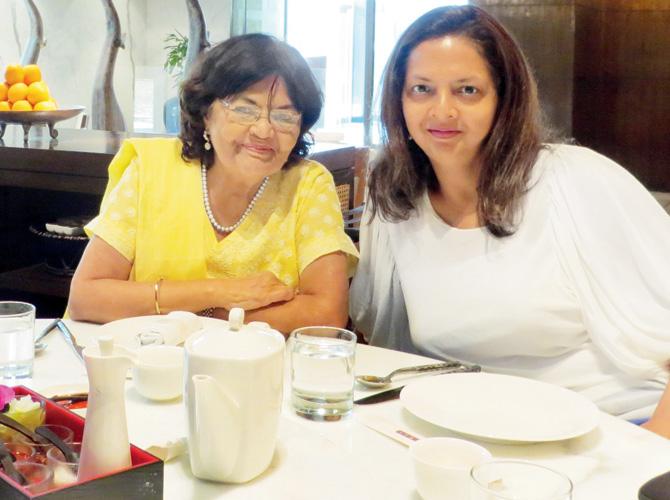 The other Dalal
The history of vegetarian food in India dates back to when civilisation began in this part of the world. But over the years, traditional dishes have come to share space with modern takes on veg cuisine, like couscous upma. Now, a new book — Modern Vegetarian Recipes — details recipes that fall under this new-age category. It's been penned by Renu Dalal, daughter of the late Tarla Dalal, one of the doyen's of India's culinary spectrum. Renu says that the vacuum that her mother's demise left in her life led her to write the cookbook, which is her first. She says, "My parents loved hosting friends and family over, and we used to follow the tradition of not repeating the same menus." While we certainly appreciate that custom, we also hope that Renu doesn't apply the same to her writing, and repeats the process with another book in the future.

Pic/litagentkanishka.com
Mercury rising
After Sanam Maher's homage to Pakistan's internet sensation, titled The Sensational Life and Death of Qandeel Baloch, Nadia Akbar's (in pic) latest book Goodbye Freddie Mercury, is an addition to the list of literary pieces breaking stereotypes in the country. A tale chronicling everything from general elections to the lives of a radio jockey and a young student fervently wriggling out of the cusp of an orthodox family, Akbar's novel is being hailed as something of a cult, accurately capturing drugs, sex and parties in the country we call our long-lost neighbour. To add to the allure, the book has even received a thumbs-up from famous indie-rock band Junoon's vocalist Ali Azmat and a gold star from Bapsi Sidhwa, author of Cracking India, Ice Candy Man and Water.
Catch up on all the latest Mumbai news, crime news, current affairs, and also a complete guide on Mumbai from food to things to do and events across the city here. Also download the new mid-day Android and iOS apps to get latest updates