The city - sliced, diced and served with a dash of sauce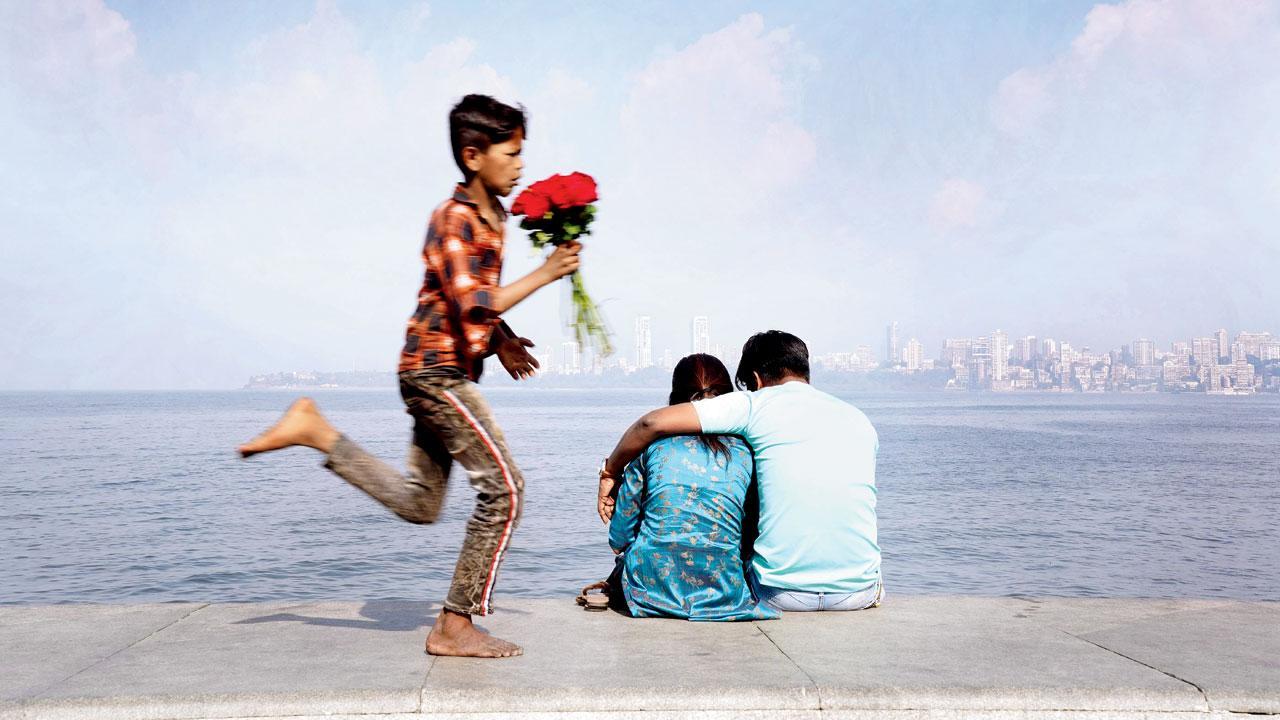 Pic/Aishwarya Deodhar
Stop and smell the roses
A young flower seller runs past a couple enjoying some quiet at Marine Drive
ADVERTISEMENT
When Dior serenades karigars
Have you ever seen a rendition of Kali with hands that look like those of Little Miss Sunshine, the zaniest character from Roger Hargreaves bestselling series? Madhvi ben Parekh's Kali is black; her pudgy hands and halo, yellow. Raktabija, the demon she slayed, lies horizontally flat under her, resembling an evil eye doll. The child-like wonder with which the veteran painter sees the world couldn't have been learnt at art school. The 71-year-old told a bemused audience of journalists, art patrons and fashion professionals gathered at Worli's Snowball Studios for the launch of the Mul Mathi (From the Roots) exhibit curated by Asia Society India Centre, that she learnt painting "aaste, aaste [slowly, gradually in Gujarati] thanks to her husband, who prodded her to play with colour, circles, triangles and squares when she was pregnant with her daughter. The man she talked about, Manu Parekh, is one of India's finest modernists and the product of this city's JJ School of Art.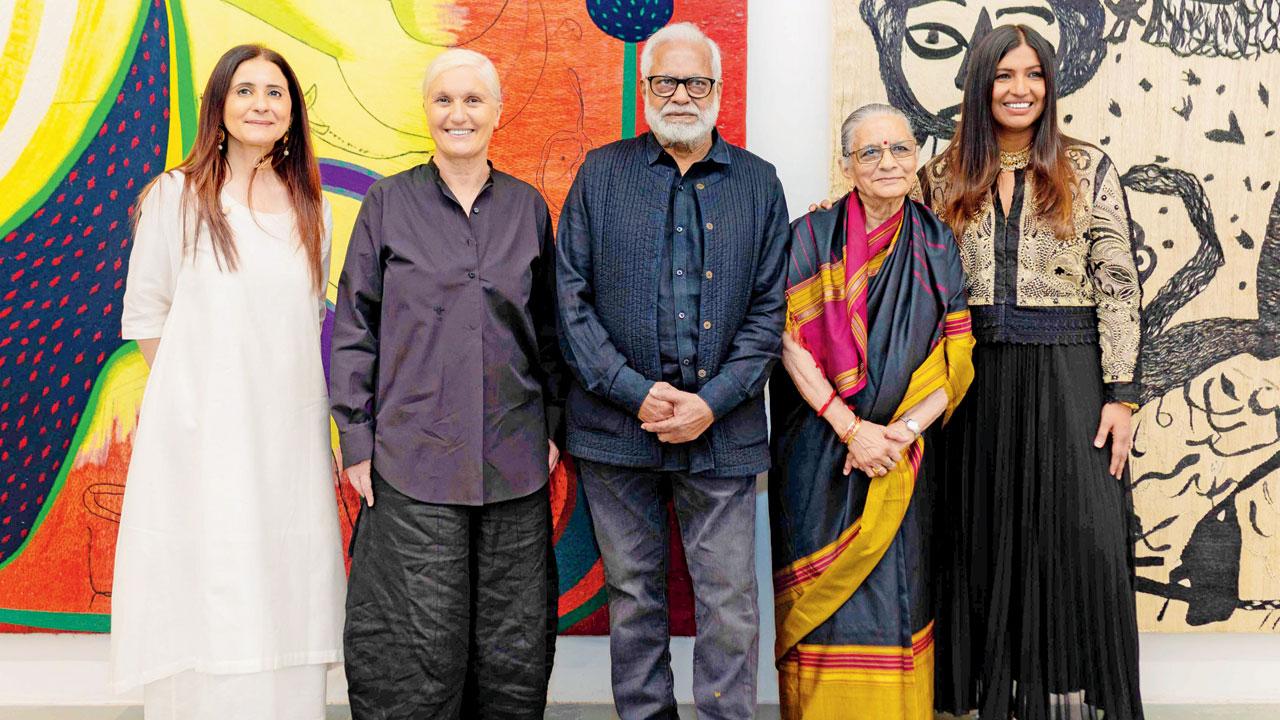 (From left) Inakshi Sobti, Maria Grazia Chuiri, Manu and Madhvi Parekh and Karishma Swali at the launch of Mul Mathi
Madhvi ben's early tryst with embroidery — the fallback to fantasy for every small town Indian girl — and Padma Shri Manu Parekh's two-decade-long association with textile doyenne Pupul Jayakar and the Weavers Service Centre, make this unassuming but innately powerful couple the perfect choice for a monumental artistic collaboration that sees Christian Dior and its creative director of women's collections, Maria Grazia Chuiri commission a series of textile artworks interpreted in craft by the ingenious Karishma Swali and 340 artisans from her Byculla-based non-profit Chanakya School of Craft. The 22 works, some of them floor-to-ceiling, have used jute, silk, cotton, nettle and chord in a variety of stitches — saddle, chain, tapestry, stem — and French knots to interpret original paintings by the couple.
Only a tight group of high-profile guests made it to the by-invite-only Dior Fall 2023 runway show at the Gateway on Thursday night. But, everyone and their grandmother are invited to Swali and Parekhs' hastkala party. Art, especially the kind Madhvi ben and Manu Parekh create, rooted in community and inclusion, can be as accepting as fashion can be isolating. It's this bewildering contrast that makes Mul Mathi a must-visit. Make a trip to the Worli venue before April 22.
Party hearty for the King

Alan Gemmell speaks at the party as Manisha Mhaiskar looks on
It was a party fit for a King. Actually, it had to be. The British Deputy High Commissioner for Western India, Alan Gemmell, hosted the King's Birthday Party, an annual celebration to mark the birthday of the British monarch, His Majesty King Charles III on Wednesday night at a Bandra hotel. The chief guest for the evening was Manisha Mhaiskar, State Govt Principal Secretary, Environmental and Climate Change. Gemmell remarked on, "the brilliant bond UK and India shared." We learn that The King's birthday falls on November 14, but his official birthday in 2023 will be marked on June 17, when The King's Birthday Parade (also known as Trooping The Colour) is held in London. So, why a party in March in aamchi Mumbai? Because the King's birthday party is celebrated across the globe, anytime between March to June. Whew. That's a plethora of parties from the real birthday, to the official birthday and a forthcoming birthday parade.
How to sketch a Miyake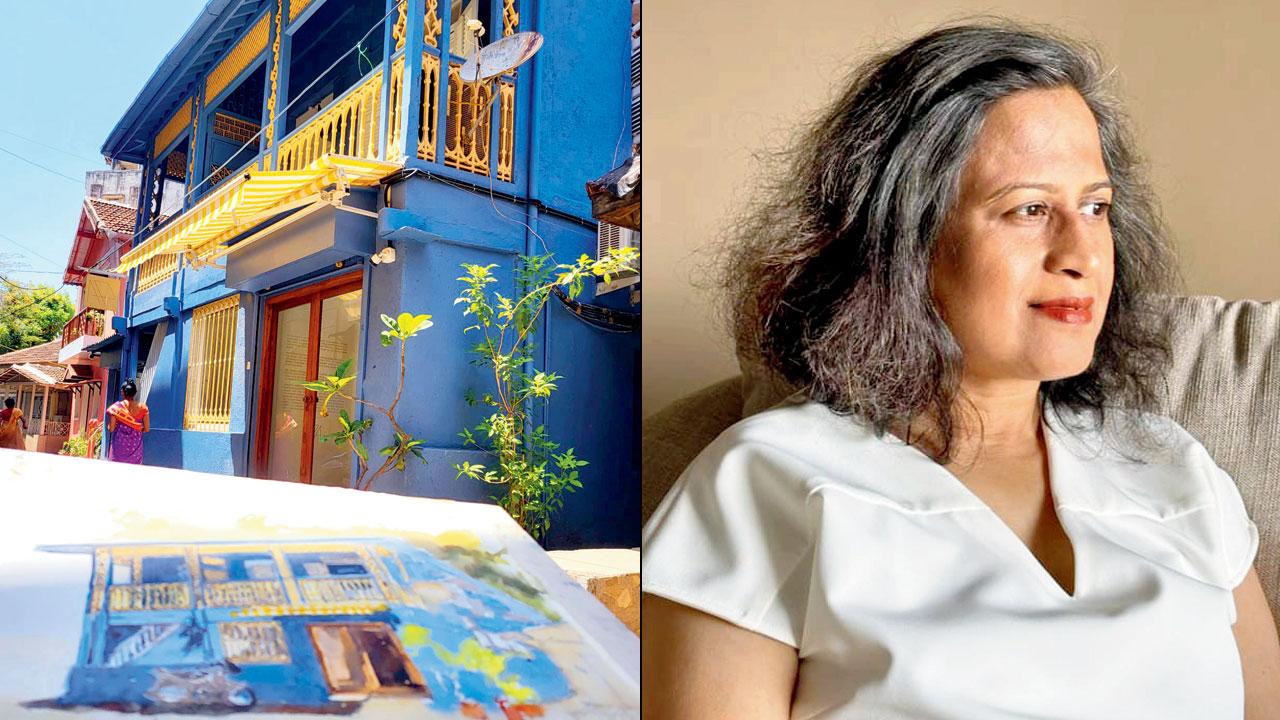 A watercolour sketch of Khotachiwadi's Gallery 47-A that was shared on their social media handle (right) Anita Alvares Bhatia
Urban sketcher and artist Anita Alvares Bhatia was excited to pay a visit to a Khotachiwadi gallery exhibition titled Clothes That Changed The World. The display was based on the late Japanese designer Issey Miyake's work. But this viewer had a different take on engaging with art. Fascinated by the work, Bhatia said, "I wanted to [capture the clothes] through the eyes of an urban sketcher." Armed with a minimal art kit, the Malad resident, who thought she'd manage painting while standing, was offered a seat by the gallery, and she began recreating Miyake's work in watercolours. "Every time I looked up at the displays, I would see new details too," she recalled.
Row local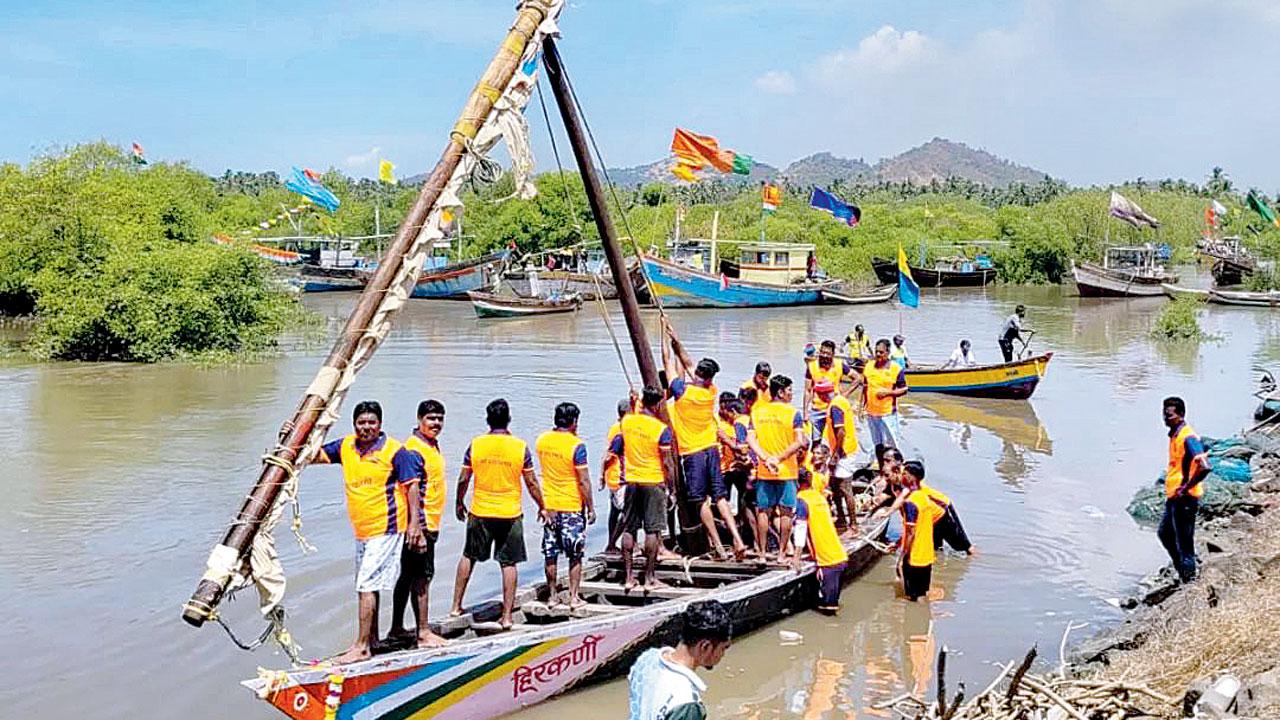 Moments from the race in 2022
The Ekvira Devi temple close to Karla Caves near Lonavala has an Agrav (in Alibaug) connection. Believed to be the maiden home of the deity, last week the Koli community from Agrav and neighbouring villages raced upstream of the Kundalika river alongside a boat with the deity's palanquin to celebrate Chaitra Navratri. "You can hop on another boat and watch the race," Siddharaj Thale, who shared pictures of the race, told us.
So long, Vivan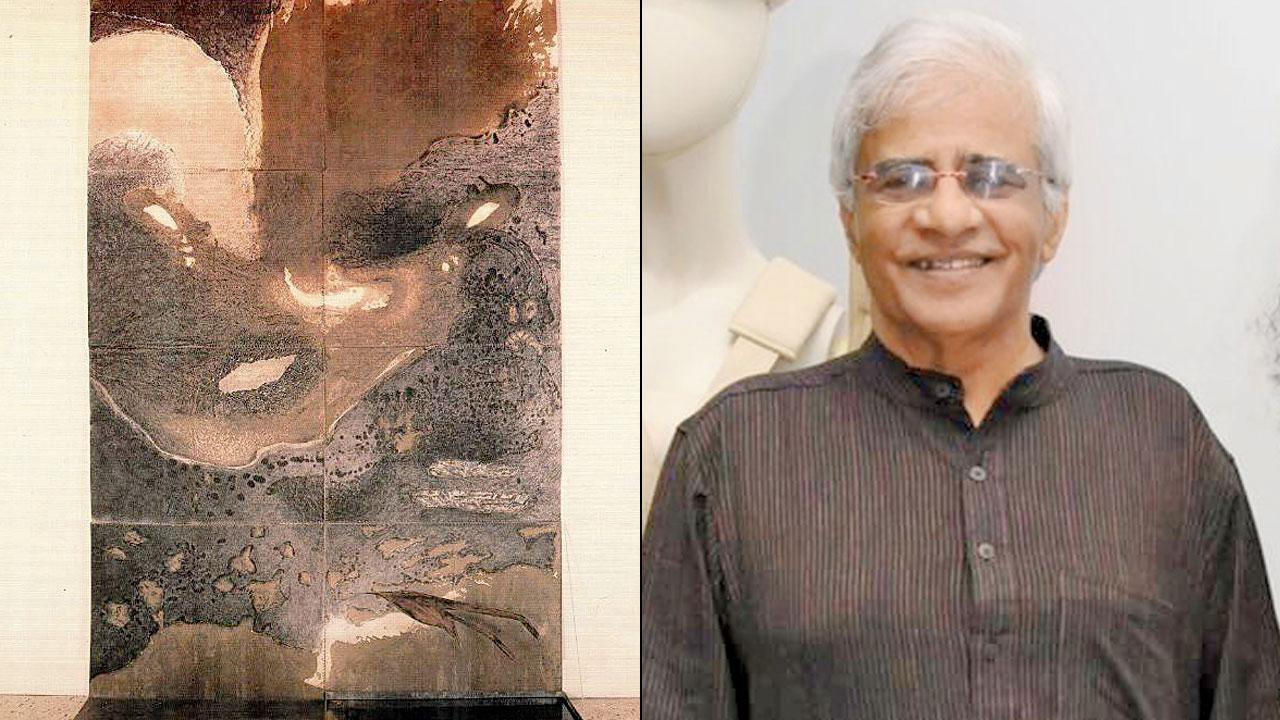 Sundaram's Engine Oil and Charcoal on the Gulf War. Pic Courtesy/Sakshi Gallery
Vivan Sundaram, who passed away earlier this week, was an artist of great awareness. He will be remembered as India's pioneering installation artist, shared Chemould Prescott gallerist Shireen Gandhy, his close friend and collaborator. Recalling his iconic representation of the 1992-93 Mumbai riots, Memorial, Gandhy noted, "It would easily be one of the first fully realised installation art pieces. The central image was one of a man lying dead in the middle of a riot, referenced from a photograph that Hoshi Jal captured for a newspaper. The image was etched into the minds of anyone who lived through that time in the city." Geetha Mehra, director of Sakshi Art Gallery, recalled his work on the Gulf War, and said, "He was an activist who used his art to project his concern, regardless of the material."