Doctors were unable to find cause of her intermittent stomach pain; doctor at Wadia hospital performs surgery to remove mass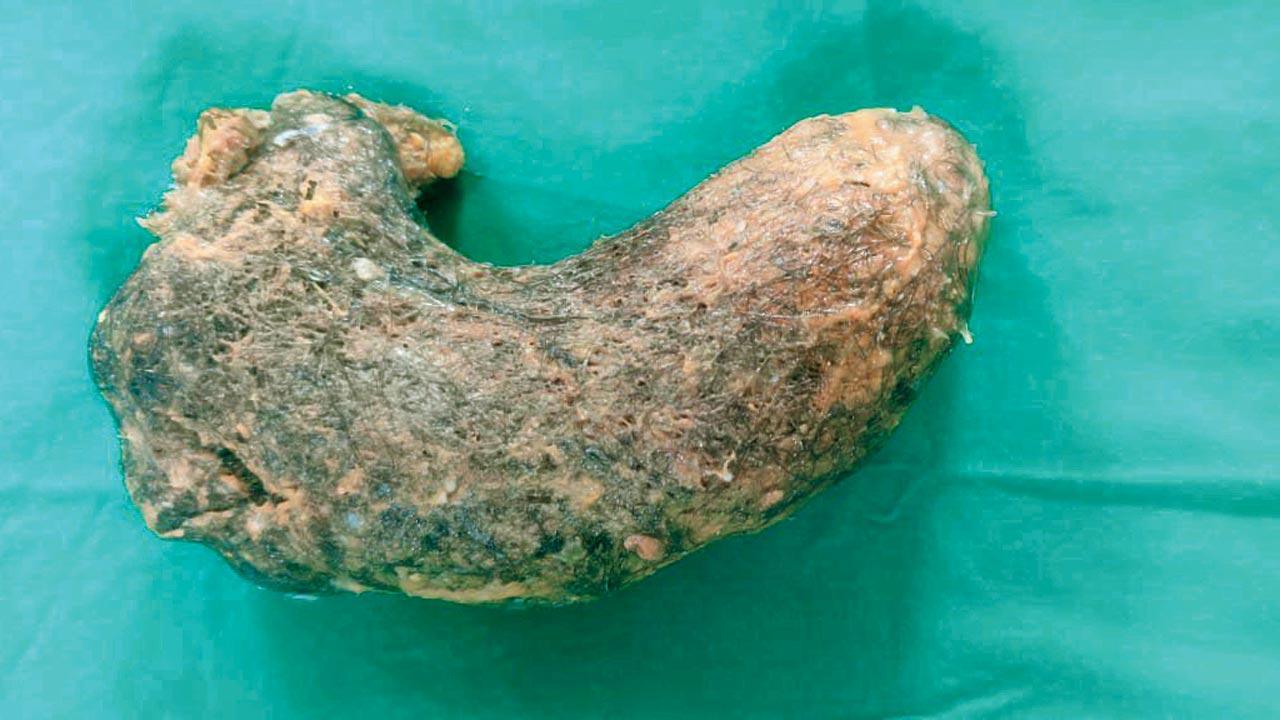 After removing the hairball, the doctor suggested the parents seek psychiatric treatment for the child
The intermittent stomach ache their 10-year-old daughter had been suffering from for a year had a Dadar couple worried. Many doctors failed to cure her. Her parents were shocked when they finally learnt the cause was a hairball in her stomach. She has trichopagia, wherein a person one eats his/her own hair. The hairball had to be surgically removed and the doctor suggested psychiatric treatment for the child.
"My daughter had intermittent abdominal pain which worsened over time. We were worried as the pain didn't stop even after giving her medication. We consulted many doctors but they failed to treat her. We were in for a rude shock when we learnt about the presence of hair in our daughter's stomach," said the girl's mother.
ADVERTISEMENT
Doctors at Bai Jerbai Wadia Hospital For Children operated on the girl and removed a 100gm hairball from her stomach.
Also Read: Mumbai: BMC gets hospitals to keep COVID beds ready
Family unaware
For over a year, the child had been eating her hair but the family was unaware of it.
The girl had been taking period medication as she got menses at the early age of 9. The patient experienced heavy bleeding followed by stomach pain for over a year, but it didn't interfere with her daily routine. She didn't have any other issues such as vomiting, loose motions, or weight loss, however, her stomach ache continued. Her parents consulted various doctors who performed certain tests but couldn't identify the reason behind the pain.
Her mother then took her to Wadia hospital for further treatment. Dr Parag Karkera, pediatric surgeon, Bai Jerbai Wadia Hospital For Children said, "On clinical examination, we could feel a lump in the abdomen and admitted the patient. Patients with pain in the abdomen come routinely but there is no lump present. We conducted a CT scan which showed a  trichobezoar which is a mass of hair in the stomach. Some part of the mass was going into the first part of the small intestine."
'Rare in children'
"Hair does not dissolve, so it remains in the digestive system, then it turns into a ball or mass, which keeps on growing. This is rarely seen in children. This patient had trichotillomania (a condition wherein one develops a strong urge to pull out their hair).  She was also suffering from trichopagia, a condition in which one eats his/her own hair.  We decided on removal of the mass," Dr Karkera added.
"On February 27 we operated on her and after two hours of surgery the 100gm hairball was removed. I suggested that her parents take her to a psychiatrist for treatment because if she does the same thing again, it will be a problem for her," he said. She was discharged on March 7 March and isdoing well.
A psychiatrist at Healthspring Wellspring, Dr Sagar Mundada said, "These are very rare cases. However, the habit starts early because it takes time for the accumulation of hair and medical symptoms might present after certain years. It is an impulse control disorder. Through medicines and some therapy we can trichopagia to around 70 per cent."
"Exciting news! Mid-day is now on WhatsApp Channels

Subscribe today by clicking the link and stay updated with the latest news!"
Click here!