Vehicles moving from Ghatkopar to Thane took more than an hour to cross the stretch; it normally takes five to 10 minutes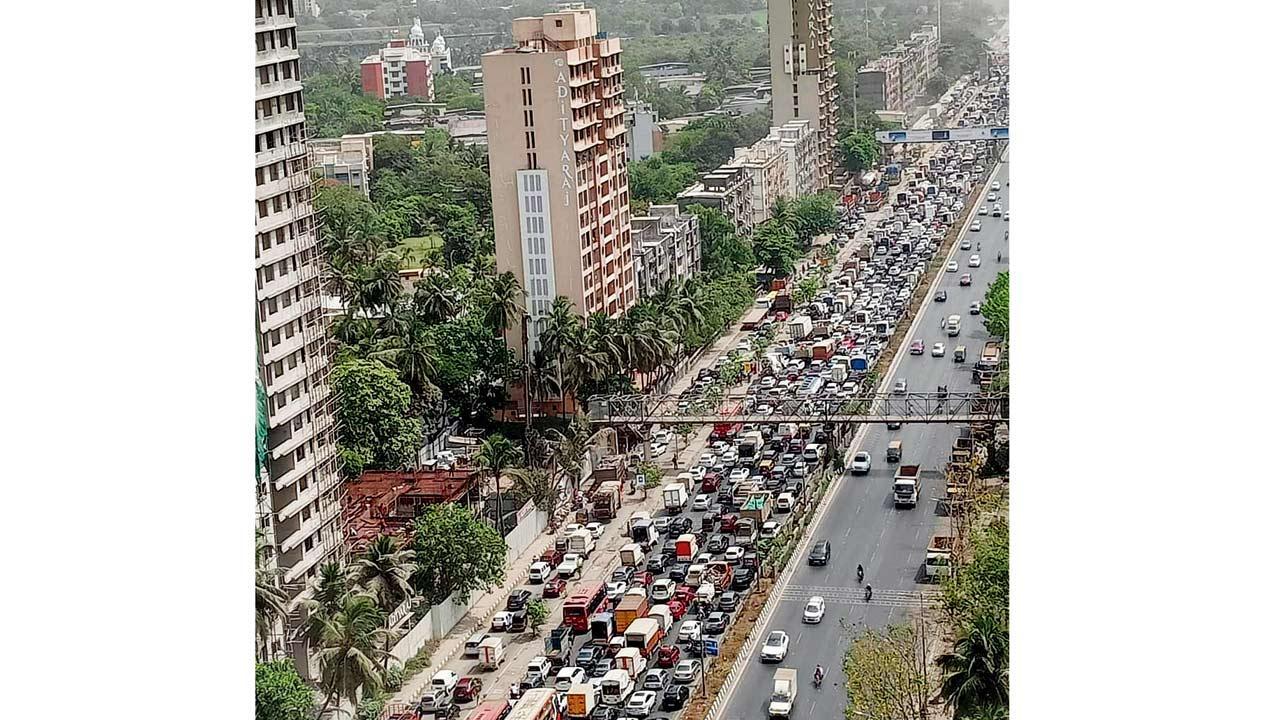 Due to the backlog at the Vikhroli area, the traffic movement was also hampered on Jogeshwari-Vikhroli Link Road
The closure of the Jogeshwari-Vikhroli Link Road flyover created harrowing traffic not only on the Eastern Express Highway, but also on JVLR, creating a backlog till Powai. The Maharashtra State Road Development Corporation (MSRDC) had initiated repair  works on the northbound arm of the flyover, due to which it had been shut off. The traffic snarl was witnessed on the northbound lane going towards Thane. The flyover will remain closed till May 24.
The Mumbai traffic division released a notification stating that the flyover would be shut for motorists from May 13 till May 24. The flyover was closed on the night of May 13 night and resulted in heavy traffic on Saturday morning. Vehicles moving from Ghatkopar to Thane took more than an hour to cross the stretch; it normally takes five to 10 minutes.
Jagjeet Singh, who was travelling from Ghatkopar, tweeted, "Very poorly traffic managed by Mumbai Police for traffic arriving from JVLR towards EEH . It took one hour to cross a kilometre. Hell, another 7 days to go (sic)."
Sanjil Dedhiya wrote on Twitter, "Took 90 minutes to travel from Ghatkopar to Mulund on the Eastern Express Highway. Atrocious if the flyover was shut taking note of traffic situation, and irresponsible if the flyover was shut without taking note of traffic situation (sic)." 
Due to the backlog on the Vikhroli area, the traffic movement was hampered on Jogeshwari-Vikhroli Link Road too. Bumper-to-bumper traffic was observed on the road from Vikhroli till Powai. The situation on the road remained similar till evening. 
Police speak
Vinayak Dhakne, DCP (East suburb)
"There is no other alternative route for commuters, apart from LBS, which also sees a lot of traffic jams. We appeal to citizens to avoid travelling on this route during peak hours till May 24."