Tambe Arogya Bhuvan owner Hemamalini Tambe (70) says she will be too old to re-open iconic Dadar eatery; her son, a CA, doesn't want to remain in the food business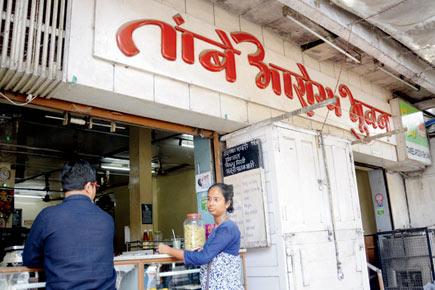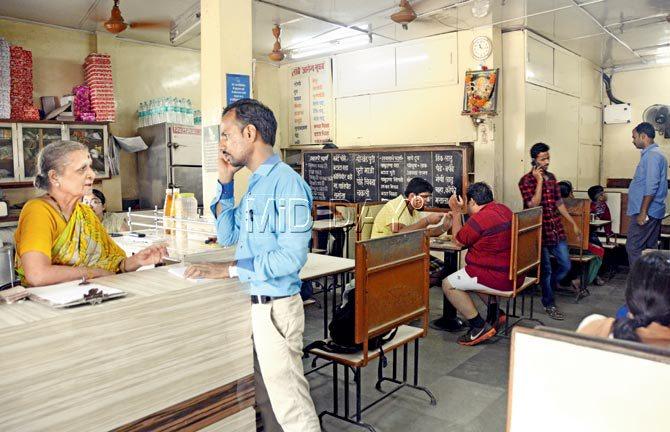 Seven-decade-old Tambe Arogya Bhuvan, helmed by 70-year-old Hemamalini Tambe, remains one of the few places that offers authentic Maharashtrian fare. Pic/Sneha Kharabe
Dadar has had Tambe Arogya Bhuvan longer than India has had independence. It was one of the few remaining places in the city where one could tuck into a satiating meal of Zunka Bhakri and Piyush under Rs 100. But like so many other landmarks in the city, it won't be long before this iconic vegetarian Maharashtrian eatery is also lost to history.
ADVERTISEMENT
To this day, the pre-Independence Tambe Arogya Bhuvan sits on the NC Kelkar Marg in Dadar, its signage hidden under the Peepal tree, frequented by actors and the regular Mumbaikar alike.
Established in 1941 by Shankar Tambe, today the eatery is run by the third-generation of the family - 70-year-old Hemamalini Tambe, who jokes, "But my husband wasn't Dharmendra!"
Also read - Mumbai food: Relish batata vadas, misal pav at this famous Dadar eatery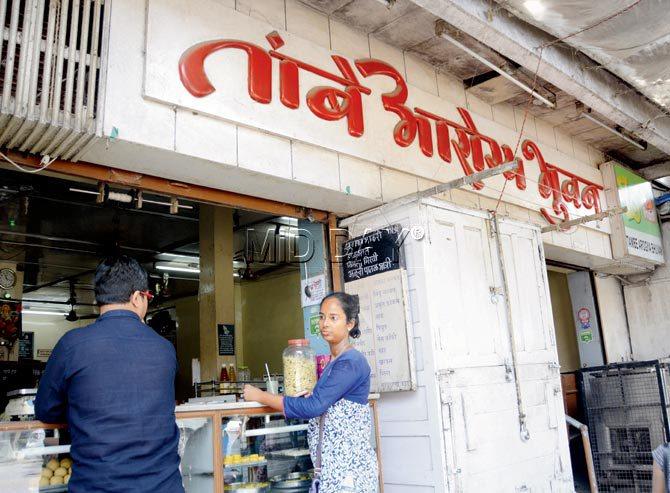 The takeaway counter at Tambe Arogya Bhuvan, which overlooks the footpath on NC Kelkar Marg
In the interest of safety
Age has taken its toll on the restaurant, located near the Dadar kabutar khana, on the ground floor of the Patil Niwas building, which will soon go under redevelopment. Pointing to a portion of exposed bricks, she says, "You don't know when the ceiling will fall. It is my responsibility to ensure the guests can enjoy their meal safely. So, the redevelopment is necessary. But I haven't thought about reopening Tambe Arogya Bhuvan in the new structure yet. I would have aged by a few years too."
Also read: Two-decade old Dadar eatery offers authentic, tasty Malwani fare
The new building will take two years to complete, said the builders, Vikrant Brahme and Bhalchandra Wadnerkar. "The building is close to 80 years old. We have received an NOC from MHADA and are in the process of getting other permissions. Within two months, it will go under redevelopment," confirmed Brahme.
A signboard hanging on a wall of the 650-sqft, no-frills eatery, proclaims it as Grade II Eating House allotted by the Public Health Department.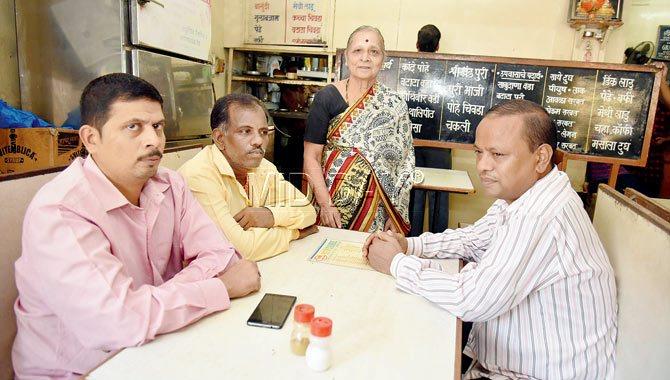 Hemamalini Tambe with the staffers, (from left) Mangesh, Chandrakant and Ankush, who have been working in the premises for over two decades. Pic/Shadab Khan
Past forward
Married into the Tambe family in 1962, Hemamalini (née Prabha) joined the business back in 1982. While her father-in-law, Sadashiv Tambe, was instrumental in the sustenance of the eatery, she has kept the legacy alive since he passed away four months ago at the age of 102. The eatery offers a traditional menu with popular items such as thalipeeth and zunka bhakri, as well as seasonal specials like modaks, kairi daal and aamras puri.
This is also the home of the famous Maharashtrian drink, piyush, which was, in fact, first invented in the Tambe kitchen. "It was our family that created the recipe of piyush and called it so because of its piyush-like (nectar) taste. Till date, we only add nutmeg and saffron, and no colour in it. Our milk products were so popular, that veteran actors like Ramesh and Seema Deo would come here to buy our loni (butter) and jalebi made using pure ghee," said Hemamalini.
Also read: Century-old Irani cafe B Merwan & Co downs its shutters
In fact, the Tambes are responsible for shaping a considerable part of the city's food map - other family members started the iconic Aram Restaurant at CST, as well as B Tambe Ltd (now known as Sujata Uphar Griha) in Girgaum along with Kona, supposedly the first Maharashtrian restaurant in the city.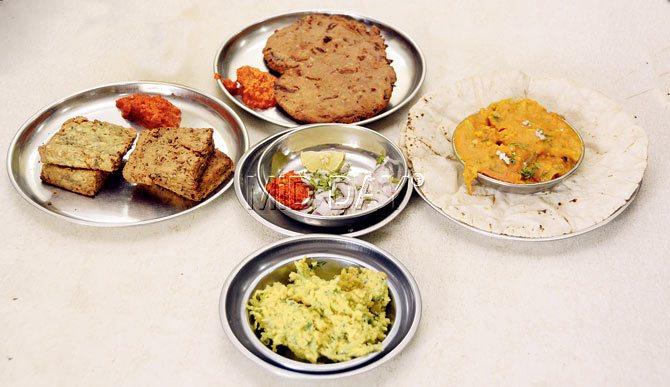 The Maharashtrian eatery's bestsellers include (clockwise from left) Kothimbir Vadi, Piyush, Thalipeeth, Zunka Bhakri with kachumbar (centre) and Kairi Dal. Pics/Sneha Kharabe 
Money and space issues
"I follow family recipes. But due to inflation, we've had to increase the prices. A glass of Piyush that would cost Rs 12 in the '90s is now priced at Rs 36. We need to pay staff salaries, too. Sustaining the business has its challenges, but neighbouring kirana stores have been supportive," she said.
Also read: Why Dadar eatery Cafe Colony is popular with Mumbaikars
Tambe Arogya Bhuvan employs 15 staffers, some of whom have worked there for over two decades. Will they be let go of when the restaurant shuts? "I plan to absorb them in my establishments, which includes a new space where I'm looking to expand my business," says Hemamalini's nephew Kaustubh Tambe (36), third-generation owner of Aram. He informed that in the new structure, his aunt will get a 1,100-sq-ft space, but on the first floor. "Opening a restaurant there may not be feasible, since there won't be an entrance from the road. With the consent of my aunt, we may turn it into a banquet hall," he said, while Hemamalini leaves it at, "It's too early to confirm."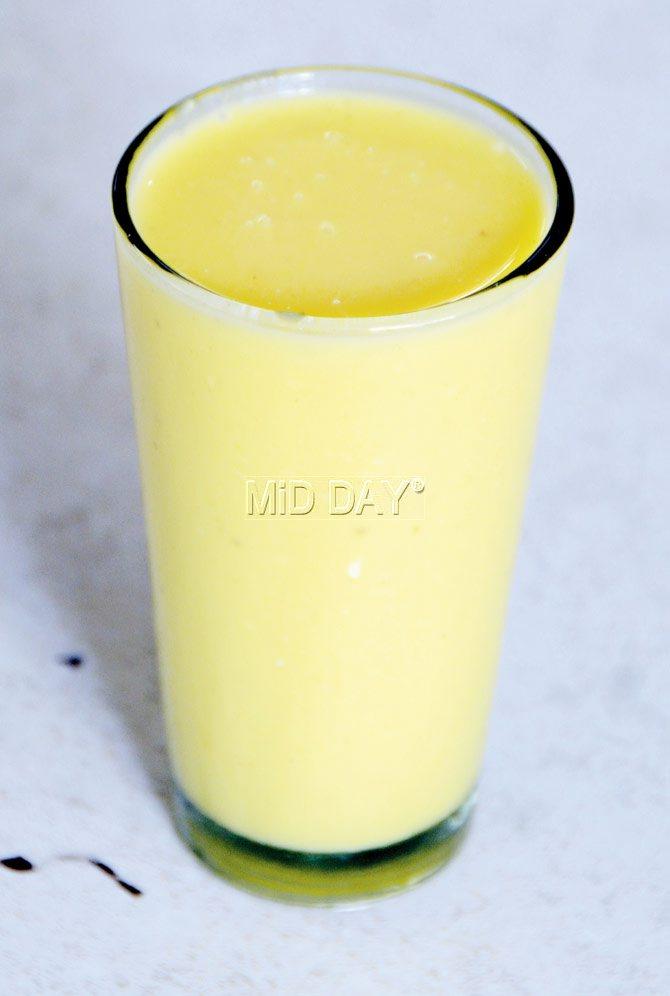 This is where piyush was first created and named for its nectar-like taste
A grim future
In the last few years, several long-standing eateries have fallen prey to the necessary evil of redevelopment. A recent case in point: Matunga's famed Mani's Lunch Home, which fortunately found a new space in Chembur, when the original building went under construction. However, at a steep rent of over Rs 1.5 lakh per month, is Tambe Arogya Bhuvan also looking at a temporary relocation? "The high rents make it impossible to sustain a restaurant these days. It would also mean setting it up from scratch, and I don't know if my aunt would be up for it," admits Kaustubh.
Also read: The many legends of Mumbai that went the Cafe Samovar way
What makes things tougher is that Hemamalini is the sole torchbearer of the legacy. Her son prefers to focus on his work as an Chartered Accountant. With its future shrouded in uncertainty, it's time to make a trip to Tambe Arogya Bhuvan to mop up the well-seasoned zunka with fluffy rice flour bhakris or wash down crisp, multigrain thalipeeth with the cooling piyush while you can.
"Exciting news! Mid-day is now on WhatsApp Channels

Subscribe today by clicking the link and stay updated with the latest news!"
Click here!