A new programme by Godrej Culture Lab aims to give students a chance to explore a career in culture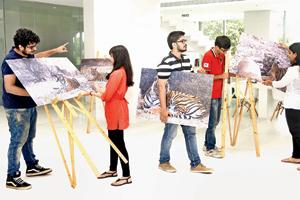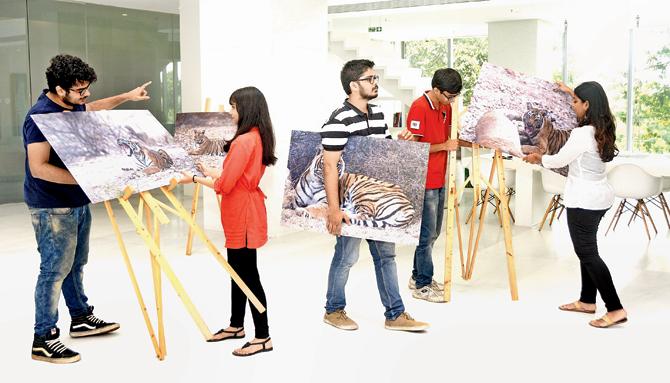 During the internship, the participants will be interacting with collaborators and heads of cultural institutions across the city. Pics/Sneha Kharabe
It was sometime last year that Rohini Kottu, a student of Sion's SIES College of Arts, Science and Commerce, first heard of the Godrej India Culture Lab, an experimental ideas space in Vikhroli. At the time, the lab founder, Parmesh Shahani, and his team were at the college to talk about their new leadership programme, where students from various backgrounds would get a month-long internship at the centre. "When I found out about the contemporary issues and social causes that they were working on, I was hooked," says the 18-year-old, who plans to major in psychology.
Honing culture bugs
Today, Kottu and six other students have been selected from a pool of 100 applicants for the lab's new initiative that aims to familiarise students with the cultural scene and enable them to explore a career as curators and producers of culture. "Each year we try to come up with a new project on how we can serve the city better. We keep getting requests from students who want to intern with us, but we thought of making this more systematic and attracting people who are interested in humanities," says Parmesh Shahani, a TED Senior Fellow, who founded the lab seven years ago. "The idea was also to cross-pollinate by bringing together vastly contrasting people from different fields," he adds. Therefore, there are students from architecture, technology, design and so on.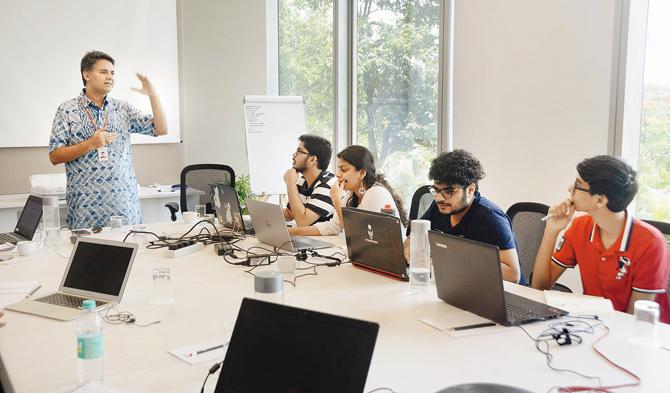 Godrej Culture Lab founder Parmesh Shahani's with the students
Pallavi Khare, a student of Tata Institute of Social Sciences, Chembur, says what drew her to apply for the internship was the lack of opportunities in the culture space. "The issues that the lab has been engaging in, such as caste, politics and gender are subjects that I have always been interested in," says Khare, who has also studied journalism at Kamala Nehru College, Delhi.
Turning curators
The process for the internship began over a year ago when students were asked to submit an application stating the changes they would like to see in the city and how they planned to go about it. This was followed by personal interviews. Harsh Vohra from School of Environment and Architecture, Borivli, one of the selected students, said in his application he talked about how the city could do with more sensitivity and inclusion. "I had earlier volunteered with the Sassoon Dock Art Project and Remembering Partition: Museum of Memories, which is when I started feeling strongly about social and cultural issues," he says.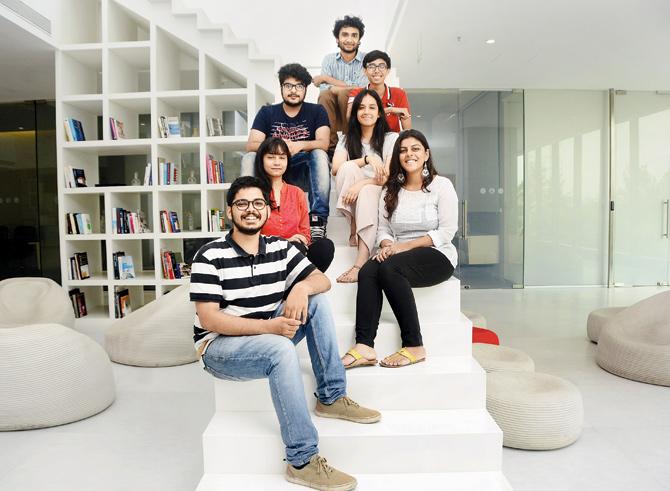 The seven students were picked from 100 applicants.
During the internship, the participants will be interacting with collaborators and heads of cultural institutions across the city. Recently, they met Mortimer Chatterjee, director of Chatterjee & Lal, a gallery for contemporary and historical material, who spent two hours with them. "The cultural scene in Mumbai is quite inward looking and it can be hard for young people to feel they are a part of it. Through such an initiative, they are being introduced to us and vice versa and by this osmosis they become part of this bigger cultural community of the city," he says.
The course will culminate in a gala event put together by students titled Urdu Culture Now on June 8. "We came up with this after a lot of brainstorming. An event on reviving Urdu culture in the city got the thumbs up," says Ansh Shah, a student of Industrial Design Centre (IDC) at IIT Bombay.
Catch up on all the latest Mumbai news, crime news, current affairs, and also a complete guide on Mumbai from food to things to do and events across the city here. Also download the new mid-day Android and iOS apps to get latest updates