The Kalyan-bound slow trains will now use the new platform in Parel, which will help in reducing the pressure on the existing platform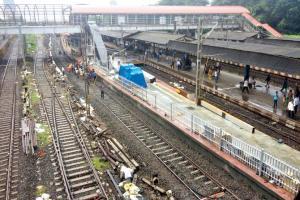 The new platform, which will cater to Kalyan-bound local trains, will reduce pressure on the existing one
After working on commissioning the new platform at Parel station since Sunday morning, Central Railway officials finally opened it up for commuters, with temporary connectors in place, by evening. The Kalyan-bound slow trains will now use the new platform, which will help in reducing the pressure on the existing platform.
Parel exclusively for slow trains
Explaining the project, which is worth Rs 51 crore, railway officials said that the station would also be remodeled as part of it, so that it could be utilised to the maximum. The old Parel slow line platform number 2 will continue to cater to CSMT-bound slow trains, while the new one will be exclusively for Kalyan-bound slow trains.
The track in the middle of the two platforms, likely to be completed by December, will cater to Parel terminus, where local trains originate and terminate. This will have three benefits — the crowd at the existing Parel station will reduce, the platform width will increase by 1.5 metre and the new bridges will get connected.
Unburdening Dadar
Speaking to mid-day, a railway official said, "The main aim was to take the load off Dadar terminus and provide relief to commuters at Parel. The Parel terminus will exclusively handle slow trains."
Also read: Central Railway all set to roll out 'waterproof' engine to move marooned rakes in rains
Catch up on all the latest Mumbai news, crime news, current affairs, and also a complete guide on Mumbai from food to things to do and events across the city here. Also download the new mid-day Android and iOS apps to get latest updates