The centres will also operate all days a week as the BMC plans to reach the target of vaccinating 1 lakh senior citizens daily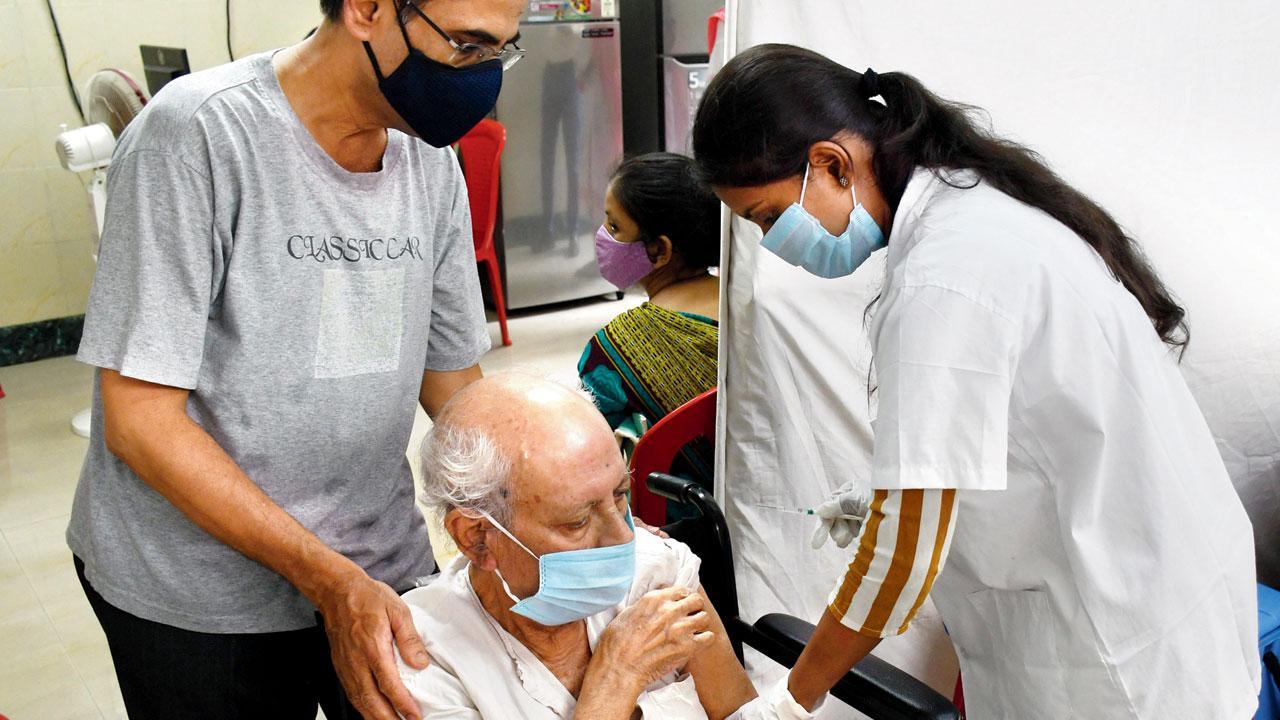 A senior citizen gets vaccinated at the Mahim Maternity hospital on Wednesday. Pic/Ashish Raje
In a bid to reach the target of inoculating 1 lakh people each day, the Brihanmumbai Municipal Corporation (BMC) has approved to operate the vaccination centres at private hospitals 24/7 all days a week. Meanwhile, a total of 42,702 people got vaccinated on Wednesday, out of which 28,978 were senior citizens and 3,813 were people with comorbidities.

A senior citizen receives the jab at Babasaheb Ambedkar Municipal General Hospital in Kandivli on Wednesday. Pic/Satej Shinde
Over the past one week, the number of people getting vaccinated daily increased from 20,000 to over 45,000. The existing immunisation centres in the city operate for about eight to 12 hours a day and vaccinate about 35,000 to 45,000 people. Many private hospitals have shown interest in starting 24-hour vaccination centres. In a meeting held under municipal commissioner Iqbal Singh Chahal on Wednesday, a decision was taken to increase the capacity by allowing centres to operate 24/7 all days a week. Representatives of private hospitals were present in the meeting. "There are around 30 lakh senior citizens in the city and if 1 lakh people are vaccinated daily, most of the senior citizens will receive the jab within a month," said Chahal in the meeting. He also said that the corporation had already sent a proposal to the government to start vaccination centres in another 29 hospitals. The hospitals that have not started vaccination centres despite being approved by the central government would be derecognised.
Meanwhile, over 42,702 people received their vaccine shots on Wednesday, which was slightly less than the previous day. The doses are being administered at vaccination centres set up at 30 public hospitals and 41 private facilities. So far, 4,18,207 people have taken their first dose, including 1,21,503 health care workers, 1,12,630 frontline workers, 1,65,034 senior citizens and 19,040 people with comorbidities. A total of 58,546 health care and frontline workers have got their second dose.
Age eligibility issue discussed at meet
The issue related to the age limit of citizens eligible for the vaccines in the second phase of the drive was discussed at the meeting on Wednesday. All those who have completed 60 years of age and people between 45 and 59 years of age with comorbidities are currently being vaccinated. The beneficiaries who meet the age requirements as of January 1, 2022 are to be considered for vaccination for both the groups. According to this, even if a person is 59 years and 3 months old and someone with comorbidities is 44 years and 3 months old, they would be eligible for the vaccines.