Fifteen-year-old Shiveka Jain utilised her summer vacations to learn fluid painting and has raised Rs 2.5 lakh through the sale of her artworks, the proceeds are being donated to a Mumbai-based NGO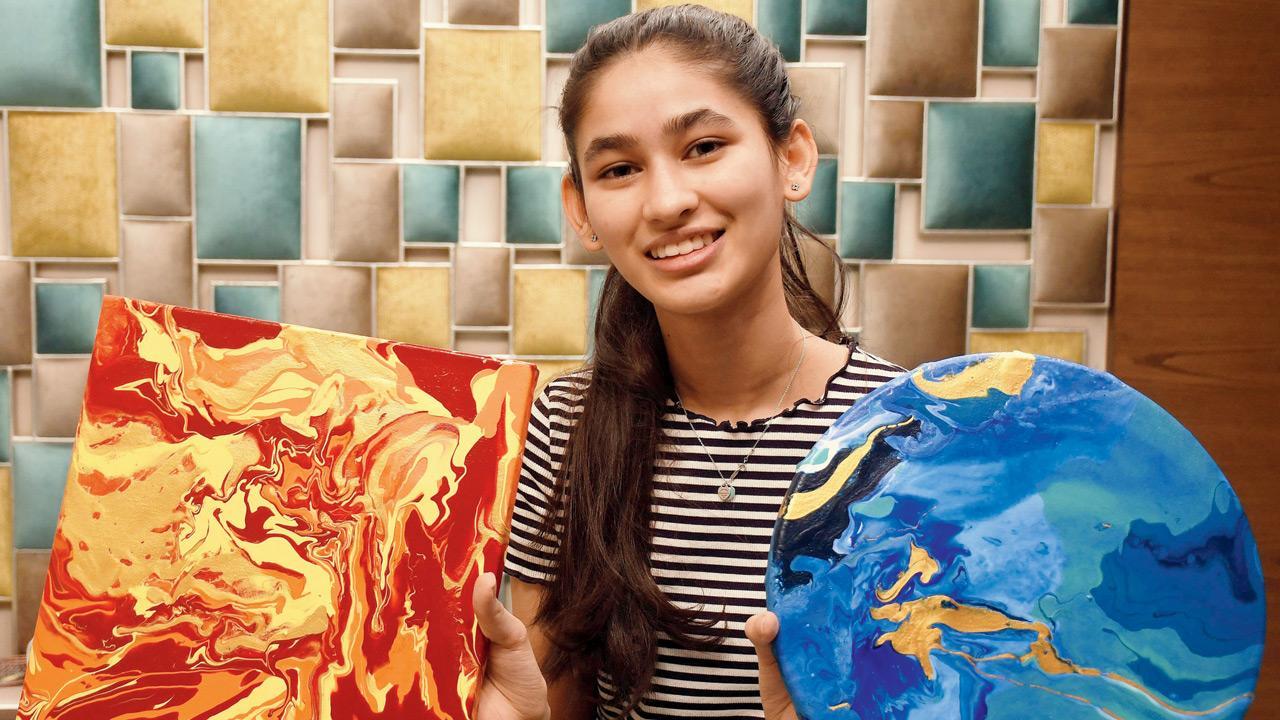 Shiveka Jain with her artworks. Pic/Ashish Raje
A Std X student found a novel way to spend her summer vacations amid the lockdown — creating art to raise money for the poor. Shiveka Jain, 15, taught herself to learn fluid paintings on YouTube and made around 100 pieces during vacations. She is utilising the Rs 2.5 lakh she earned through an NGO engaged in Covid-19 relief.
Jain was inspired by her painter and art consultant mother, Triptee. "The death toll amid the pandemic has been high and poor people were at the receiving end. I wanted to help the needy. I started learning fluid painting via YouTube around May-end. So far, I have created around 100 paintings. Each costs Rs 2,500," Jain said.
An introvert, not going out amid the lockdown was the perfect setting for Jain to devote her time to painting, Triptee said. "We used to go during summer vacations. Amid the lockdown, Shiveka was upset about the deaths everywhere. She wanted to help those in need. So I showed her a way to learn painting and sell her art to raise funds," said Triptee.

Suman Jain of NGO Mahavir International who is helping Shiveka utilise her earnings for Covid-19 relief
Shiveka spent three to four hours a day learning and painting. By May-end, she had 10 pieces which she advertised on WhatsApp groups comprising family and friends and on Instagram. "One of our family friends from Kolkata liked my work and purchased all 10 pieces for Rs 25,000," Jain said. "I was overwhelmed by the response. The paintings were put up at their office. This encouraged me to devote more time and effort. I learned more tricks related to fluid art," Jain said.
Utilising the funds
The Jains have a family friend, Suman Jain, who runs an NGO, Mahavir International, that has been engaged in Covid-19 relief and also works for the environment by planting trees in Mumbai. "I will donate my earnings to Mahavir International who will make it reach needy people," Jain said.
She also plans to assist another NGO that organises blood donation camps.
Triptee added that Jain also helped raise funds for residents of rural Maharashtra through a school project. The project involved equipping water containers with long handles so that village women wouldn't have to do heavy lifting, and could push the drums instead.
Jain also likes dancing, yoga and travelling. She resides with her parents in Prabhadevi, while her elder brother is studying abroad. "I want all privileged people to help the poor people who have been facing a lot of difficulties. Daily wage earners and those living hand-to-mouth are in an insecure position. The middle-class must be suffering too as their savings must be gone amid the lockdown," Jain said.
Suman, who is the zonal chairperson, Mumbai zone, for Mahavir International, said, "Since Shiveka is a student, we are planning to utilise the money more in the welfare of needy students and children in Palghar's tribal areas and in plantation drives. Since she also wants to get associated with us, we are also planning a Kishore Centre where students can join our plantation drive."