Good news for kids as the one-year-old revamp is over; the old woman's shoe and Kamla Nehru Park await you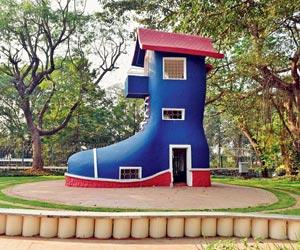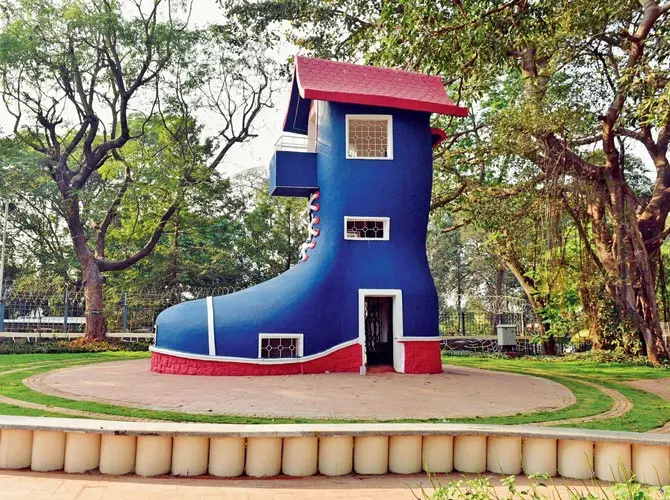 The restored and re-painted shoe at the park. Pic/Bipin Kokate
It's open sesame for the iconic Kamla Nehru Park at Malabar Hill. The Park opens today a few days ahead of its March 2018 deadline. The makeover began in 2017, and it has taken a little less than a year to complete.
BJP corporator Jyotsna Mehta confirmed the opening, which will be in the presence of "special guest, Mumbai mayor Vishwanath Mahadeshwar". Mehta said, "The accent is on kids. We have nursery rhymes for different apparatus at the park. These are both in Hindi and English. There is a walking track for adults and a viewing gallery, where one can see the sunset over Chowpatty. We also have a gazebo which is decorated with the galaxy within, constellations, the stars, and the moon to enhance aesthetic appeal."
The Kamla Nehru Park's Kodak moment though remains climbing into its most loved and famous feature, the old woman's shoe. The shoe's re-opening will be especially heartening. The shoe had been closed for years even though the park was open earlier, because it had suffered extensive damage by lightning. For months now, the first indication that the park was closed for repairs, was the shoe encased in a green cover, with workers heads peering above it. Now, one of Mumbai's most beloved symbols and a monument in its own way to an age of innocence (it was inspired by the nursery rhyme: 'There was an Old Woman who lived in a Shoe; She had so many children she did not know what to do; She gave them some broth without any bread and whipped them all soundly and put them to bed') is open for kids to climb to the top again.
Also read: Mumbai's iconic Old Woman's Shoe expected to re-open in March 2018
A few months ago, Sanjay Mukherjee Addl. Municipal Commissioner, Projects, had told this paper with reference to the park revamp, "We are moving at a steady clip. In fact, the revamp pace is before deadline." Mukherjee had stressed the educational aspect of the park saying, that the aim was to green it even more and remove concrete. He had stated, "Each tree will also have signage, so that children can learn a little about it."
What is heartening is that two smaller gardens adjacent to Kamla Nehru Park, including one for mentally challenged children, will open together along with the revamped park today.
One man will be smiling along with kids as the old woman's shoe resounds to the shouts of children again. That is the designer of the shoe, Soli Arceivala who passed away in November last year. Arceivala, a former BMC environment officer, who was VJTI vice principal for 15 years, died on Nov 12, aged 91. While guests will cut ribbons and throw open the park today, Arceivala will also be present in spirit, at least.
Catch up on all the latest Mumbai news, crime news, current affairs, and also a complete guide on Mumbai from food to things to do and events across the city here. Also download the new mid-day Android and iOS apps to get latest updates