Maharashtra Housing and Area Development Authority has launched an investigation against a construction firm for claiming to be selling flats in Virar at 'less than MHADA rates'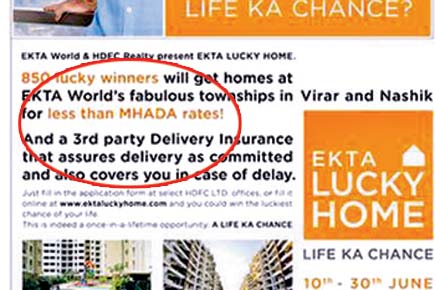 Maharashtra Housing and Area Development Authority (MHADA) is furious with a construction firm. Not because it cheated anyone or encroached upon any piece of land. But, because it claimed, in an advertisement, that it is offering flats in Virar at rates cheaper than that of the housing authority, which is supposed to be selling properties at the cheapest prices.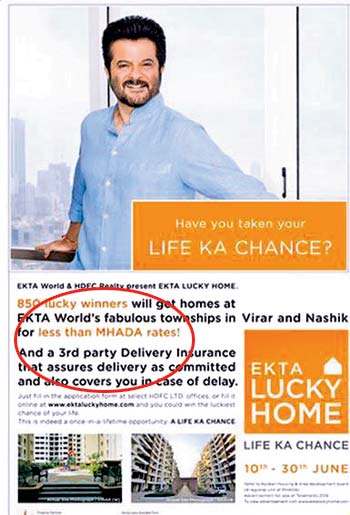 Ekta World's ad that was published in various newspapers recently
The firm, Ekta World, had recently launched an ad campaign with an image of Anil Kapoor, who is endorsing the brand, claiming that it's selling flats at rates cheaper than MHADA's. Ashok Mohnani, the owner of the firm, claimed that while in Virar MHADA's latest homes were sold at Rs 6,500 per sq ft, the rates of his project are Rs 5,500 per sq ft.
MHADA officials have asked their Vice President S S Zende to initiate action against the firm for misguiding people. Zende said the proposal to initiate action against the builder has been moved to the vigilance department. However, the builder claimed that he is not in the wrong here. "If MHADA serves me notice, I will reply to it," Mohnani told mid-day.
"My campaign is based on the data that's available on MHADA's website. MHADA is my competitor and we have stated the fact. We have got a very good response with more than 6,500 leads from the people. When MHADA-held lottery in February sold flats at prices higher than the market rate, we decided to launch such a campaign," the builder added. However, a senior MHADA official claimed that the advertisement is misguiding and has asked their technical team to look into it. "We have given homes to more than 6 lakh families, we have a goodwill and it cannot be tampered with," the official said.
"We have referred to certain sections from Advertising Standards Council of India, that talk about fair competition, in our file. Now, the technical department will see if the prices and the areas of both the projects are the same and if not, then the advertisement will prove to be misguiding," the official added.
The Ekta World's website has a comparison drawn between their rates and the housing authority's in Virar. According to their calculation, the per square meter rate the builder is quoting is R63,418, while MHADA sold the same at Rs 73,816.