SGNP field director says the big cat is radio collared and its activity is being monitored, there is no need to panic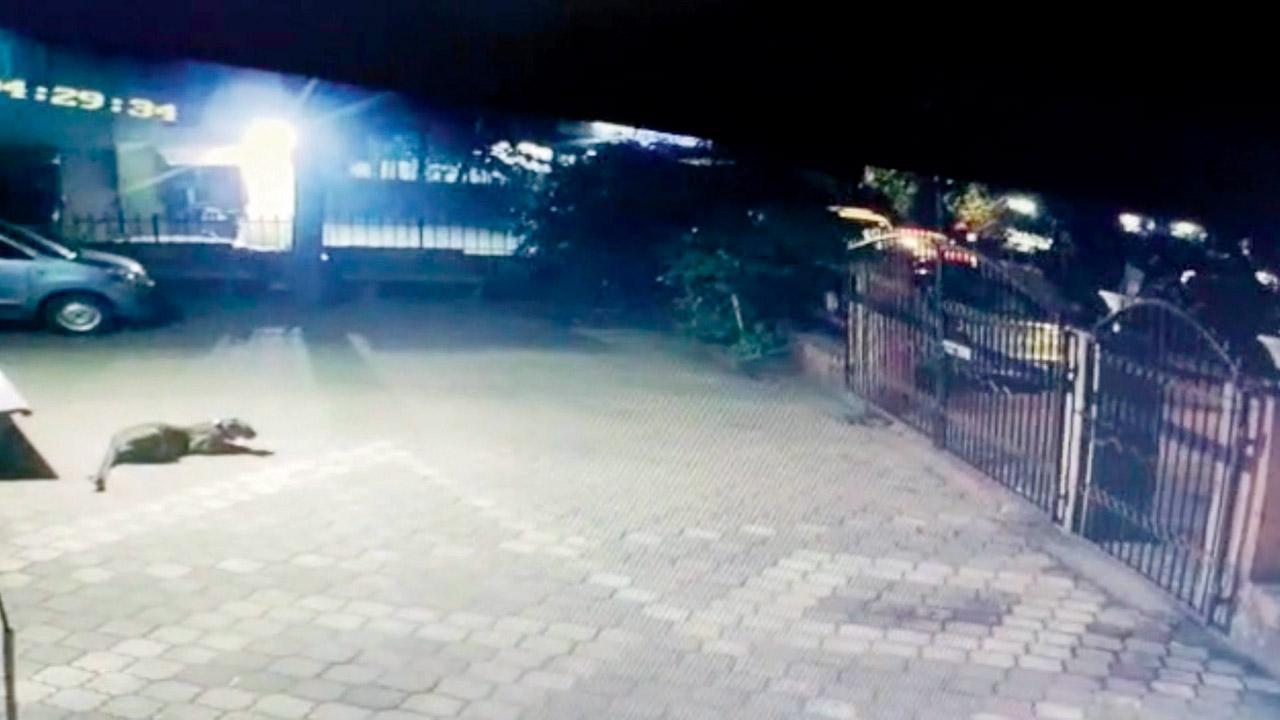 C33, the leopard seen in the CCTV camera footage, had been caught last year as it was suspected to be the one attacking people, but was radio-collared and released into its natural habitat after it was confirmed that she wasn't targetting humans
Buildings in Gokuldham, adjacent to the Aarey Milk Colony, had an unusual visitor recently. A leopard was spotted in the CCTV  camera footage of one of the buildings. It has come to light that the animal was C33 Delta—one of the radio-collared leopards—from Sanjay Gandhi National Park (SGNP). A Forest Department official said its activity is being monitored and there is no need to panic. The video of the leopard taking a stroll in the premises of a building has gone viral on several social media platforms and WhatsApp groups.
SGNP Field Director G Mallikarjun said, "We have come across CCTV camera footage of a leopard roaming in the premises of a building in Gokuldham area in Goregaon East. The animal spotted in the video is the radio collared leopardess C33 Delta. A team of researchers is continuously monitoring its activity and there is nothing to panic as the leopard is avoiding humans. Forest Department teams have been instructed to patrol the area and create awareness about the animal. We request everyone to co-operate with the Forest Department."
According to Forest Department officials, C33 Delta, is the sibling of the leopard C32 that was trapped from Aarey Milk Colony after attacking nine people last year. C33 was caught as it was suspected to be attacking people, but was radio-collared and released into its natural habitat on November 12, 2021, after it was confirmed that she wasn't the one targetting humans. A team of researchers including Biologist Nikit Surve along with Thane Forest Department (Territorial) and Sanjay Gandhi National Park (SGNP) team is monitoring the activity of the collared animal. Biologist Dr Bilal Habib's team from Wildlife Institute of India (WII) along with the support of SGNP administration collared the leopard.
'Nothing to worry'
Local Shiv Sena leader and Shakha Pramukh Sandeep Gadhave said, "The CCTV  camera footage of the leopard initially caused a bit of panic among residents. We have conveyed that there is nothing to worry as a team of the Maharashtra Forest Department along with researchers is continuously monitoring the movement of the leopard. After the video went viral, the department is conducting an awareness session, which is a good thing. But we expect them to inform us about the activity of the leopard in our area so that the residents and people around can take proper care." On Tuesday, the Forest Department along with NGO Mumbaikars for Sanjay Gandhi National Park will hold an awareness session in the area.