A bus carrying over 30 passengers nearly fell off a slope at the Sanjay Gandhi National Park (SGNP) but a clutch of trees prevented it from crashing into the shallow ravine below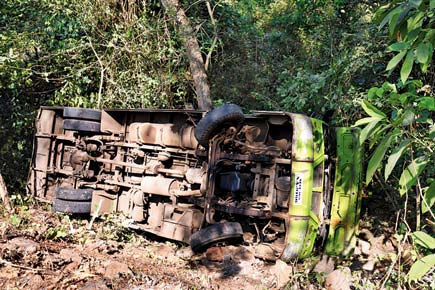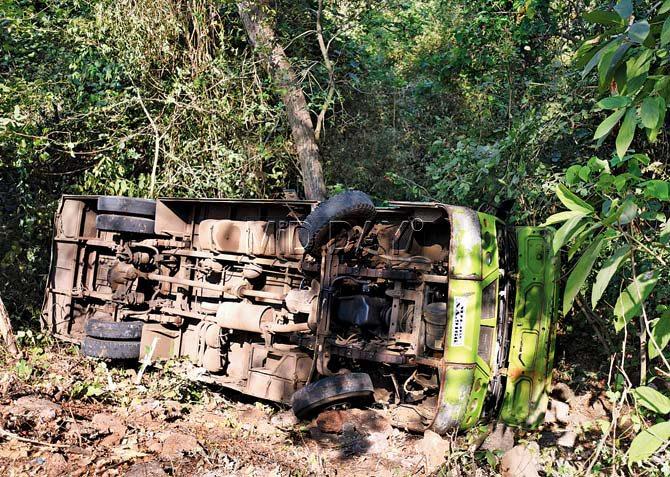 The overturned tourist bus near Kanheri Caves, SGNP. Pic/Nimesh Dave
A bus carrying over 30 passengers nearly fell off a slope at the Sanjay Gandhi National Park (SGNP) on Saturday. The forest department bus was ferrying tourists to Kanheri Caves when its brakes failed. It overturned but a clutch of trees prevented it from crashing into the shallow ravine below. Ten passengers were injured, of whom two sustained fractures. The incident took place at 10 am. The 30-seater tourist bus regularly runs inside SGNP. In an attempt to make sure that other vehicles behind the bus were not in harm's way, the bus driver had the presence of mind to take a sharp left. However, the bus toppled once and fell on its left side. Chief conservator of forest and SGNP director, Ahmed Anwar, said, "The bus' speed was less on the slope and, when the driver put it in first gear, realised that there was a brake failure. The bus then began going in the reverse direction."
ADVERTISEMENT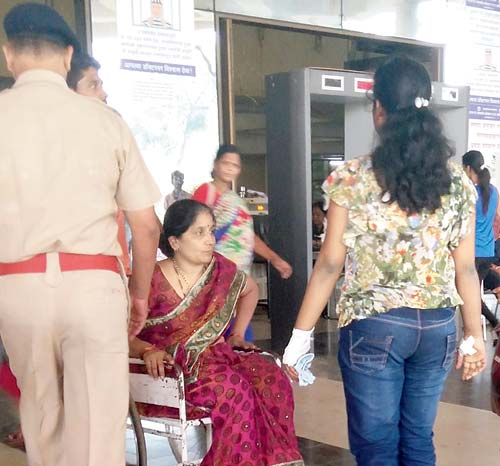 Sujata Patil, who was visiting with her family, suffered a fracture to the right hip
One of the officials on the spot said, "Fortunately there were trees on the spot that stopped the bus from falling any further. Had it rolled down the slope, it would have grievously injured the passengers." Among the injured persons, eight were taken to Babasaheb Ambedkar Hospital in Kandivli while the remaining referred to a doctor within the group. So far, none of the passengers have been hospitalised.
Kiran Dabholkar, assistant conservation officer, told mid-day, "Soon after the incident, help reached at the spot. Thankfully, nobody is seriously injured. A report will be sent to higher authorities from where it will be declared if there is going to be any compensation to the persons involved."
The worst hit among the passengers were Sujata Patil, a homemaker from Nerul, and the bus cleaning staff. Patil's right hip was fractured and has been advised to take complete bed rest for a month. Patil was visiting SGNP with her extended family, which had come over from Pune to celebrate the new year. Her son, Sagar, who was also among the passengers, said, "When the bus started slipping down the slope, we noticed a car behind us. We started shouting in an attempt to warn the driver. In a fraction of a second, the bus overturned. My mother and sister were on the left side of the bus and they were injured badly. My cousin sisters were on the right and I was seated in the middle, which is why we have minimum injuries." The cleaner has fractured his right hand; the bus driver suffered bruises to his back.
The situation started turning chaotic at the main gate of the park as visitors were stranded for more than an hour.
Nobody was allowed inside for a while. With the private bus damaged, the forest department's patrolling vans and a lion safari bus were used to ferry passengers. However, passengers complained of having to make the 5 km walk from the gate to Kanheri with the lack of transport facilities.
"Exciting news! Mid-day is now on WhatsApp Channels

Subscribe today by clicking the link and stay updated with the latest news!"
Click here!