The 40-year-old bought a takeway salad wrap at McDonald's in Ghansoli, and found the tape inside; the manager told her to come all the way from Goregaon to exchange it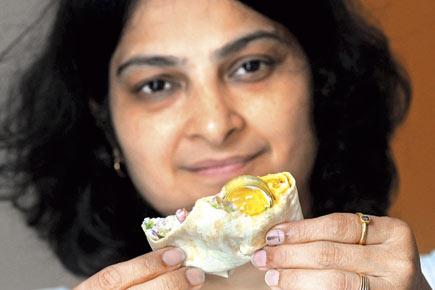 Deepali Sathe has decided not to eat from McDonald's again. The graphic designer (40) was shocked after she discovered a roll of adhesive tape inside her salad wrap that she had ordered from the world's largest fast food chain McDonald's.
Also Read: Man orders McDonald's meal, gets screw in fries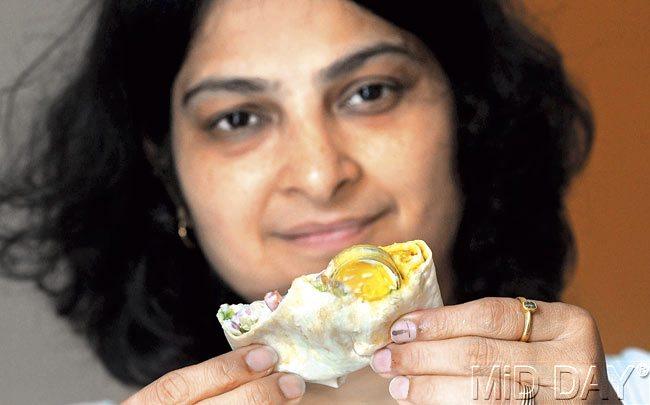 Deepali Sathe found an entire roll of adhesive tape inside the salad wrap she had ordered from the Ghansoli outlet of McDonald's. Pic/Nimesh Dave
Sathe, with her family and friends, was returning from a two-day vacation in Lonavla. While coming back on Sunday night, they decided to get takeaway food from the eatery. Around 9.40 pm, the group stopped at the Ghansoli outlet and ordered for food, including the salad wrap.
"As I was eating the wrap, I felt that I couldn't take a bite. I checked to see what was wrong and found a complete roll of tape in the wrap. Thankfully, none of the seven kids ate it. My husband contacted their call centre and took the outlet's number."
However, Sathe was shocked to see the casual approach of the managers. "When we spoke to the outlet manager, he took it lightly. We asked him for an exchange from any outlet in Goregaon (where the family stays), but he bluntly refused and said exchange will only be possible from the Ghansoli outlet," recalled Sathe, adding, "I will make sure that my kid never eats from McDonald's again."
Deepali's husband, Sanjivkumar Sathe, said that they want people to be aware about this incident, who blindly trust the eatery. "We want McDonald's to accept their mistake and be more careful while serving their customers. If such a corporation can be irresponsible, then one must think before buying their products," he said.
When mid-day enquired whether they would approach the consumer court, a member of the family said they are still discussing what to do next, but admitted that after this incident, they would find it really hard to eat at the restaurant again. Responding to the incident, a spokesperson from McDonald's said, "We are investigating the matter internally."