The Kandivli resident was on her way to a nearby hospital when the autorickshaw got stuck in traffic; mother and child were discharged from the hospital yesterday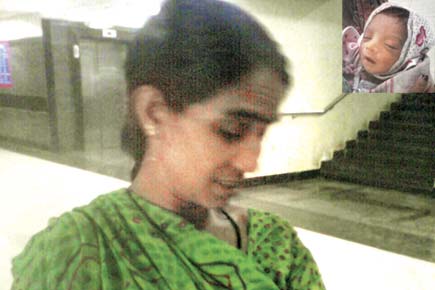 A 25-year-old pregnant woman was forced to give birth to her first child in an auto rickshaw in Kandivli recently, after she failed to reach the hospital on time due to a traffic deadlock. However, both mother and child were declared healthy by doctors and discharged from the hospital yesterday.

While Manju Sharma is thankful that the baby is healthy, she hopes to forget the ordeal she went through while giving birth in an autorickshaw in a full-fledged traffic jam in Kandivli. Both Manju and the baby were declared healthy, and were discharged from the hospital on Sunday
On November 20, Manju, a resident of Ganesh Nagar, Kandivli, went into labour a little past 10 am. Her mother-in-law was the only relative available at the time, and both immediately left for the nearby hospital around 10.30 am. They were heading towards Shatabdi Municipal Hospital, which is barely fifteen minutes away from their home.
However, they soon discovered that the street leading out of their residence was jam-packed with vegetable vendors and their carts, leading to choc-a-bloc traffic on the already narrow lane. They had barely covered 100 metres when the auto rickshaw came to a standstill.
Helpless and stranded, Manju had no choice but to give birth to her baby right there, in the stationary three-wheeler. "I was petrified at that moment. Before I could realise what was happening, Manju's situation worsened.
She finally gave birth to the child on the spot. However, thanks to the Almighty, there were no medical complications whatsoever," said Sunita, Manju's mother-in-law, who was accompanying her.
The brave duo then returned home, to clean up and change, before they headed out to the hospital a second time. "I asked Manju to change her clothes. We wrapped the baby in a blanket and then again started the journey to the hospital again," Sunita told mid-day.
They finally reached the hospital around 11.15 am, where the mother and child were kept under observation for three days. "She (Manju) was admitted approximately 20 minutes after the delivery.
We kept her and the baby under observation to check for any probable complications, and relieved them after three days," said the gynaecologist at Shatabdi Hospital.
Manju, while relieved that her baby is safe, doesn't intend to reminisce about the miraculous birth. "Our family is very happy to have the baby. What is important for us is that the baby is healthy. How it unfolded is better forgotten," she said.