CM announces opening of local trains for fully vaccinated people, an idea first mooted on these pages; here's what you can expect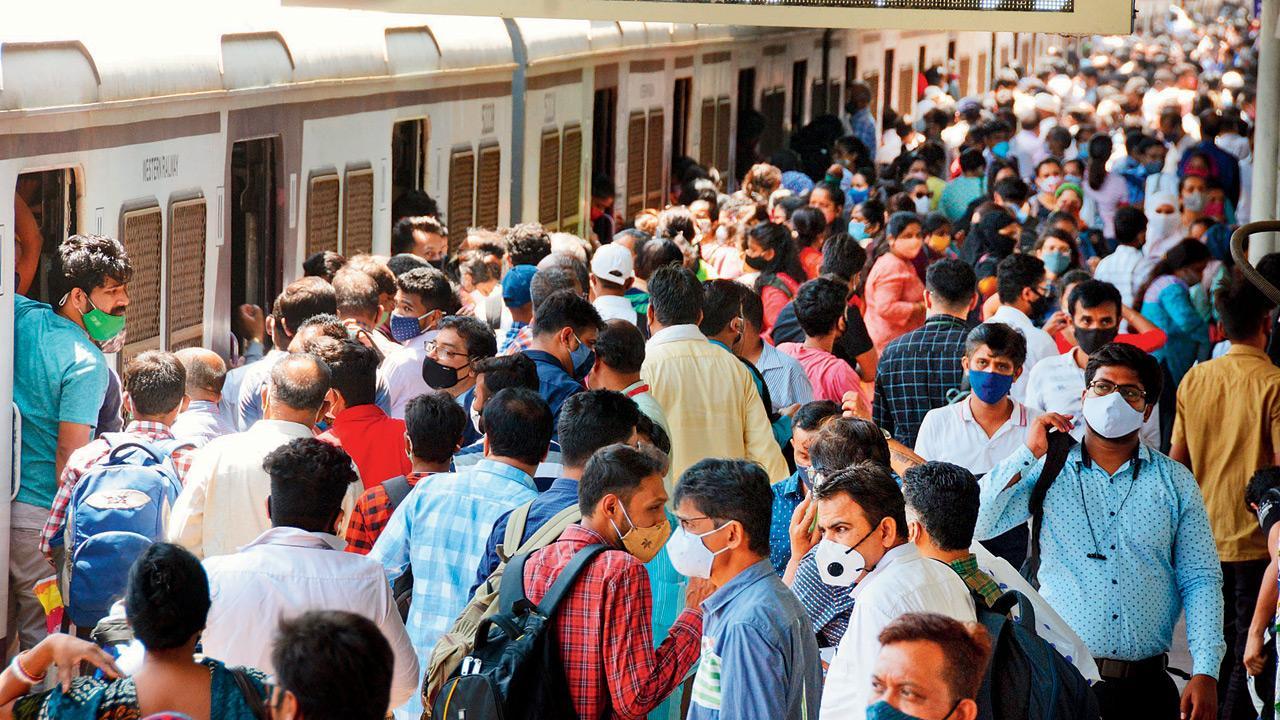 Commuters at Borivli railway station on April 5
Fully vaccinated commuters will be allowed to travel on the local trains from August 15, announced Chief Minister Uddhav Thackeray on Sunday. Thackeray said a digital app has been developed to facilitate applications from fully vaccinated commuters who will be issued photo passes after verifying their vax status. The idea of letting the fully vaccinated commute on trains was first suggested by mid-day in its May 25 edition. However, restaurants, malls and places of worship will have to wait for another week to get a positive decision from the State, he said.
Those who have taken the second dose 14 days before the travel date will be eligible to commute. The app will be available in a couple of days.  Designated municipal offices in the city will issue offline passes for those who don't have smartphones, said Thackeray. A QR code on the government passes will help the railway booking staff to verify their authenticity. "We will unlock things in a phased manner," he said, adding that the decision on extending the working hours of restaurants, the opening of malls and places of worship will be taken after considering the State Covid-19 Task Force's recommendations on Monday. However, he said at least seven to eight days will be needed to make this decision.
Also read: Covid-19: More relaxations on way including decision on local train travel, says Maha CM Uddhav Thackeray


Women on a local train near Santacruz station on February 27. File pics
The CM cautioned the state about the possibility of a third wave hitting and appealed to the people to pledge to fight the variants of Coronavirus by following Covid-appropriate behaviour and avoiding the misuse of relaxations wherever given.
While making the trains available, CM said offices have been asked to work 24 hours, stagger working hours and industries have been told to make lodging arrangements for the workforce near the factories to keep production running even if a lockdown is imposed in the future. "The workers will not go back to their homes if such arrangements are made. The government will assist you," he told industries.
"We have learnt our lessons from the second wave and are preparing the state to meet any eventuality. This time around, we will impose a lockdown, if needed, only after considering the speed of infection and beds available. But I request you to not behave in a manner that will invite the virus. Remember that Covid is not over yet," he said.
Thackeray urged people not to fall prey to instigation by some people (read political parties). "Don't lose patience. You have followed the government's advice in fighting the virus. They have ranked me as Number 1 CM in the country and appreciated the Mumbai model at an international level. This isn't my credit. You made it possible," he stated further.

People board a train at Ram Mandir station on May 9. File pic
The CM also spoke about long-term measures that the State wants to implement to prevent flood situations and landslides. He said Prime Minister (PM) Narendra Modi had accepted his suggestion that the states' right to give social reservations be reinstated, but asked the PM to also relax the 50 per cent cap on the quota if the provisions were to be of any benefit to the people who are demanding reservation.
Why the permit from State?
"After the BJP's agitation, the CM finally allowed Mumbaikars on local trains. But why is there a condition of getting separate permissions from the State when the Centre's Aarogya Setu app has already registered the vaccinated people?," BJP's chief spokesperson Keshav Upadhye said.
No increase in services
Central Railway (CR) and Western Railway (WR) officials said they were all set to follow the guidelines of the Maharashtra government and were awaiting further instructions. Of the 3,141 daily train services on CR and WR, about 88 per cent, that is 2,779 are collectively running right now. "As of now, there is no immediate plan to increase suburban services. We will assess the situation and then make a timely decision," an official said.
BMC's official statistics stated that till August 7, there were about 18.69 lakh fully vaccinated citizens in Mumbai. Adding a few more corporations like Virar-Vasai, Thane, Navi Mumbai, Palghar and Panvel, the figures may run into a few more lakhs at the last count. Though some passenger associations questioned the need for a separate app, officials said that the app would only authenticate the CoWIN QR code to verify if a person is actually fully vaccinated to avoid fake certificates. However, there was no immediate clarity on the matter.
On May 25, mid-day reported the idea of allowing those fully vaccinated to travel by local trains, which has now been picked up by all political parties and endorsed by the Maharashtra government. Shailesh Goyal of Western Railway Zonal Users' Consultative Committee, who had originally pitched the idea, said that even Maharashtra Health Minister Rajesh Tope agreed to it in May itself.
2,779
Total services currently running on CR and WR