The Navi Mumbai Metro is going to miss its deadline, yet again as the City and Industrial Development Corporation (CIDCO), is yet to obtain clearances from various agencies to take the project ahead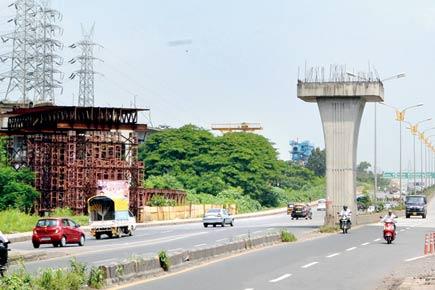 A pillar of the proposed Metro stands unfinished on the Sion-Panvel Highway near Belapur. PIC/DATTA KUMBHAR
The Navi Mumbai Metro is going to miss its deadline, yet again. Though the 11.10-km-long Phase 1 of the project was supposed to be ready by January 2016, its nodal agency, the City and Industrial Development Corporation (CIDCO), is yet to obtain clearances from various agencies to take the project ahead.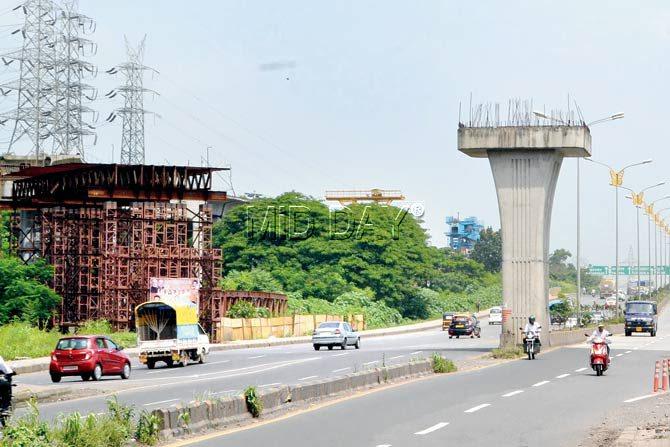 A pillar of the proposed Metro stands unfinished on the Sion-Panvel Highway near Belapur. Pic/Datta Kumbhar
The project missed its original deadline of December 2014, which was further extended to January 2016 due to technical delays, changes in metro coach size, and a delay in announcing the winning bidder. A fresh deadline of May 2017 has been chalked out. Meanwhile, the project cost has escalated from Rs 1,985 crore (2010) to Rs 3,000 crore (2014).
Three critical issues have stalled work which began in 2011. Firstly, the Central Railway needs to approve the construction of a 100-metre steel bridge over the railway lines near Taloja. Senior officials at CIDCO say that after several rejections and changes, the design approval process is now in its final stage. Secondly, permissions from concerned authorities are needed to extend the height of a high-tension wire between Belapur and Kharghar to let the metro rail pass below. Lastly, the Metro, which will start from CBD Belapur, needs construction across the busy and traffic-heavy Sion-Panvel Highway. CIDCO is awaiting an approval from the traffic department for traffic diversions on the highway to expedite the work.
Arvind Salve, DCP (Traffic), Navi Mumbai, said, "The Sion-Panvel Highway is used by several motorists daily. During Ganesh Chaturthi, there will be heavy traffic flow and hence permissions have been stalled. Besides, we have to conduct trials of roadblocks in Belapur before we actually put them into action to divert traffic."
The 23.40-kilometre long Metro is planned in three phases and will include 19 stations. The proposed route will link Belapur, Kharghar, Taloja, MIDC, Kalamboli, Khandesh-war, and ending at the proposed Navi Mumbai International Airport. When contacted, VC Kamble, superintending engineer of CIDCO, said, "Permissions for majority of the hurdles are underway, and all remaining work will be completed in the stipulated time. The Metro will not miss its 2017 deadline."