"Approach SC after HC rejects request by community to open all 700 derasars in the city; Paryushan begins today"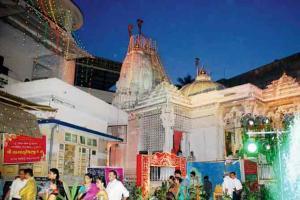 Gyanmandir Atmakamal Labdhisurishvarji Derasar, Dadar
The Supreme Court on Friday ruled in favour of the Jain community, allowing the devotees to visit temples for two days. However, they are unhappy as only three temples, one each in Dadar, Byculla and Chembur, have been allowed to open today and tomorrow. 
The Jain community said there are more than 700 Jain derasars or temples in the city. "The Supreme Court gave permission to open only three Jain derasars, which is not acceptable. Paryushan starts tomorrow, so the government should let us open all the Jain temples. Where will the devotees at other places go for darshan?" asked Praful Shah, the advocate and trustee of Gyanmandir Atmakamal Labdhisurishvarji in Dadar and Motisha Sheth in Byculla.
Shah had, on August 7, filed a petition in the Bombay High Court seeking the reopening of all the temples for Paryushan. However, the HC rejected his as well as other trust's petitions. Chembur-based Shri Parshvatilak Shewtambar Murtipujak Jain Trust then filed an application in the SC, requesting permission to open the temples.