Government apathy leaves Ulwa village homes shaken to their foundations as CIDCO begins work on Navi Mumbai airport project despite promising it wouldn't until all villagers had been moved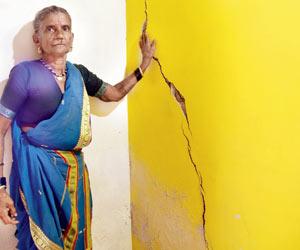 Every single family in the village of Ulwa lives in fear of the roof collapsing on their heads while they sleep. The cracks in the walls, thanks to the work being carried out on the Navi Mumbai airport nearby, are a painful reminder of CIDCO's broken promises to the 10 project affected villages in the vicinity. CIDCO (City and Industrial Development Corporation) is the nodal agency for the Rs 16,000-crore project.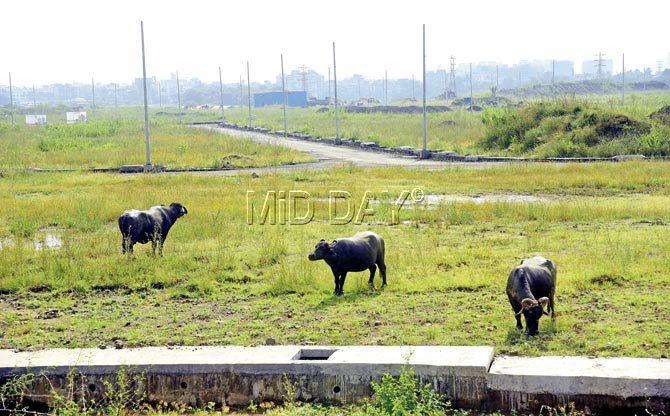 The site allotted by CIDCO to the villagers of Ulwa has an incomplete road and only poles with no streetlights, with domesticated animals grazing on the land there
'Tall promises'
In 2013, the villagers were offered a tempting deal to give up their land for the proposed airport — three times the land they owned, one-and-a-half FSI and Rs 1,000 per square foot of the land they owned. Nata Patil, president of the International Airport Committee (IAC), which comprises MLAs, Ex-MPs and Ex-MLAs who are demanding justice for the 3,500 project-affected villagers, said, "Months after we agreed, they told us each family would get one house, which means, if a couple has two houses in their name, they will get only one in the newly allocated space. Also, it does not matter if the house is big or small, we will get only 700 sq feet per family," Patil said.
Also read: Villagers to stop Navi Mumbai airport work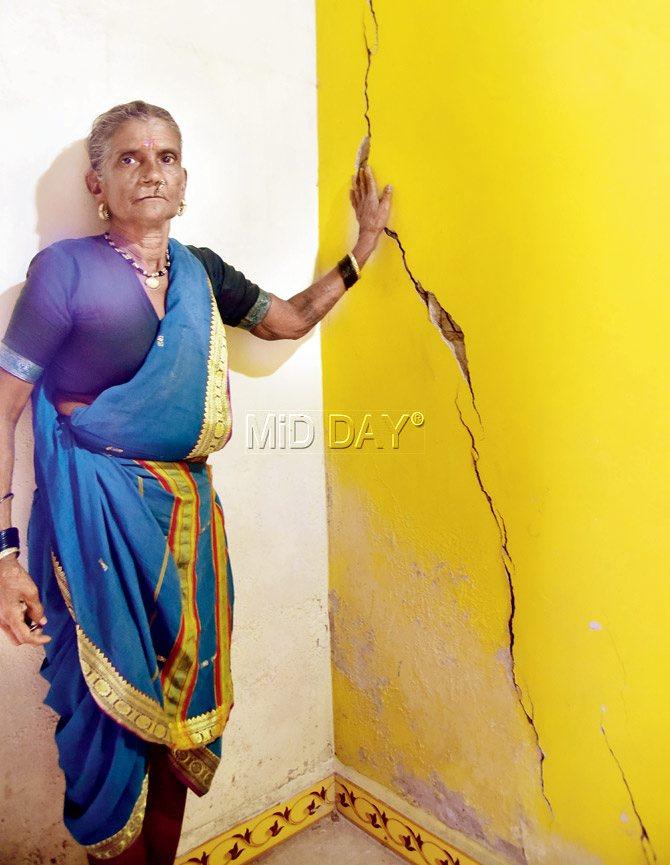 Anusaya Jadhav Madvi, who has been living in the village for 60 years, says the houses there never developed cracks except until now. Pics/Sameer Markande
'No roads or electricity'
Villagers said the new plot was barely a kilometre or two away and was just open space. "We have been allocated plots there, but without roads or streetlights. The authorities have been telling us to move to this new plot since October 2016. They are paying us rent of Rs 12 per square foot on the current property we own and are asking us to sign the agreement and shift. We have to build our new homes on the new plot in 18 months. They have given us land, but permission to build on it will take almost six months. When will we be able to then build and move in? We don't want to leave our current residences yet, as we are not sure how the government is going to cheat us next," said Sanjay Patil, secretary, International Airport Committee.
Also read - Navi Mumbai: 3 months on, NAINA's development plan still not in sight
Ram Seth Thakur, ex- MP and IAC member, said, "The villagers were supposed to move in by June, this year. At this rate, how can they? We will fight to ensure the villagers get what is due to them."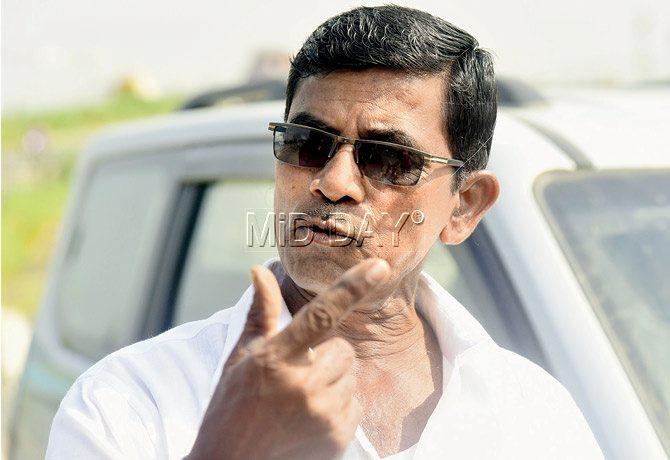 Nata Patil, president of the International Airport Committee
'Another blast, another crack'
Thrice a day, explosives are set off to level the hills around Ulwa, which has 3,000-odd residents. These hills are barely 100 metres, 500 metres and 1 kilometre from their homes. Anusaya Jadhav Madvi, 75-year-old resident, has been living here for 60 years. "In 1986, we built a single floor house. We have not had a single crack in all these years. But, in the past three months, the house has been full of cracks because of the explosions. We are scared out of our wits by the sudden blasts. We live in fear of the house collapsing on us."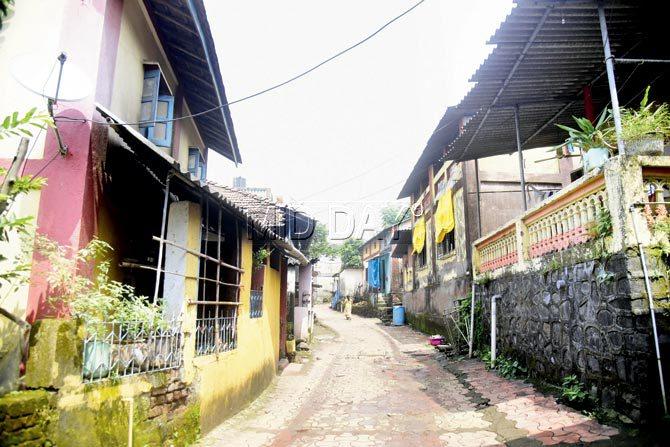 Nata Patil Current homes in Ulwa village
Suresh Jadhav, Anusaya's son, is scared to sleep at home. "We wake up very early, so most of us take a nap in the afternoon. But, for the past few months, even that's not possible. There are three blasts — one each in the morning, afternoon and evening. Our walls vibrate from the impact. What if one of the elderly suffers a heart attack from the sudden sound?"
Sudakar Koli, 40, another resident, has even recorded the blasts and wants to show it to the authorities. "This is the not the first time. In 1982, the government took some of our land for a project that never saw the light of day, and now this. We are not opposing the airport, but it should not be the cause of our deaths," Koli said.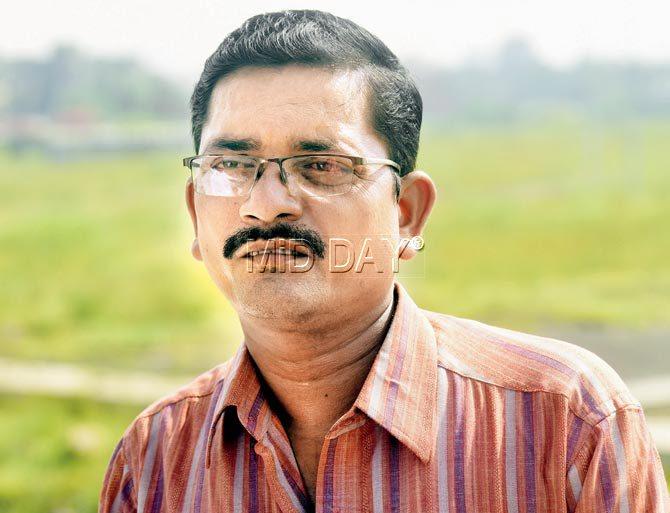 Sanjay Patil, secretary, International Airport Committee
'Stones flying into school nearby'
Rupesh Patil, Ulwa grampanchayat member, said, "The explosions cause stones to fly 100 to 200 metres away. The school is nearby, what if it injures one of the children?" The Changunabai Dnyandeo Thakur educational society and English Medium Primary and Secondary School is barely 200 metres from the blasting site. Shubhangi Gharat, the principal of the school, said, "We have now trained them to get to a safe place in case the blast causes damage to the school building or if it collapses. We have also shifted the secondary school to the ground floor as it was too close to the site."
Also read: Maharashtra government comes out with GR to handover forest land for NMIA
On Thursday, Rupesh Patil led 5,000 villagers to protest the ongoing work, saying they would not allow work to resume till the authorities give them a proper alternative place to move into.
---
Also view - Pallavi Purkayastha murder: All you need to know about the gruesome crime