Multiple Sclerosis (MS) 'warriors' marked upcoming World MS Day, later this month, with much laughter, a few tears and rousing determination to fight on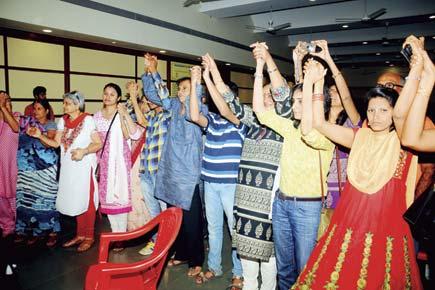 Mumbaikars battling Multiple Sclerosis (MS) came together and shared their stories at an event organised by the Multiple Sclerosis Society of India's (MSSI) Mumbai chapter at SIES High School, Matunga recently. It was part of the MSSI's month-long series of events held across India to observe World MS Day on May 27.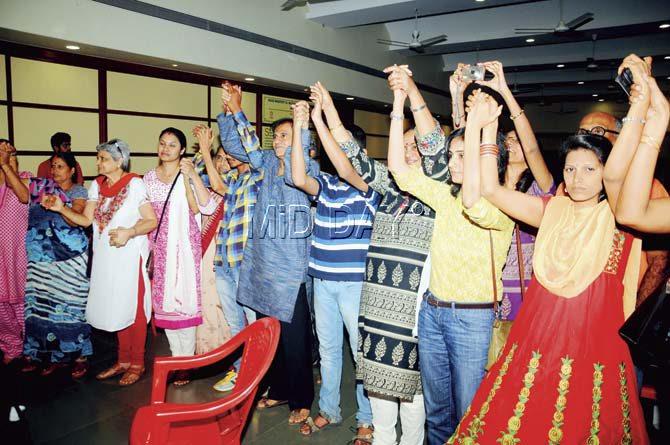 The chain of strength. Pics/Satyajit Desai
The event began with Dr Rahul Joshi leading the audience in prayer. The audience joined in with a rhythmic clapping of hands as Joshi, a homeopathic doctor who also organises music therapy sessions, urged everyone to do so. Dr Satish Khadilkar then came on stage to explain what Multiple Sclerosis is with the help of a presentation.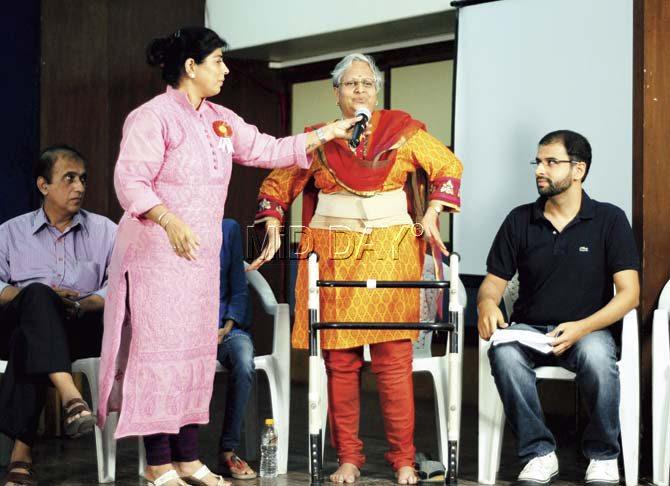 Sudha Kulkarni, an MS warrior, shows easy-to-do exercises as fellow warriors Raj Dhyani (left) and Nakul Gaur (right) look on
Dr Khadilkar is the head of the Department of Neurology at JJ Hospital and is closely associated with MSSI, often giving free consultations to patients. "MS is a chronic inflammatory demyelinating disease of the brain and spinal cord," he said.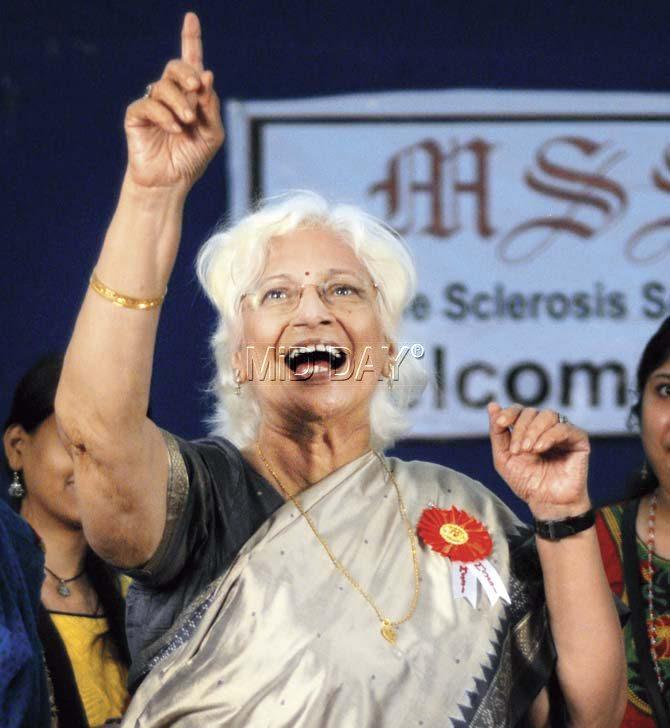 Sheela Chitnis, in the service of MSSI
"Areas affected by MS are the brain, spinal cord and the optic nerves. We don't know for sure what causes MS, some genetic factors and some environmental factors. Not everyone with genetic risk will get MS." He added that it is diagnosed through MRI scans, blood tests, spinal taps and other tests.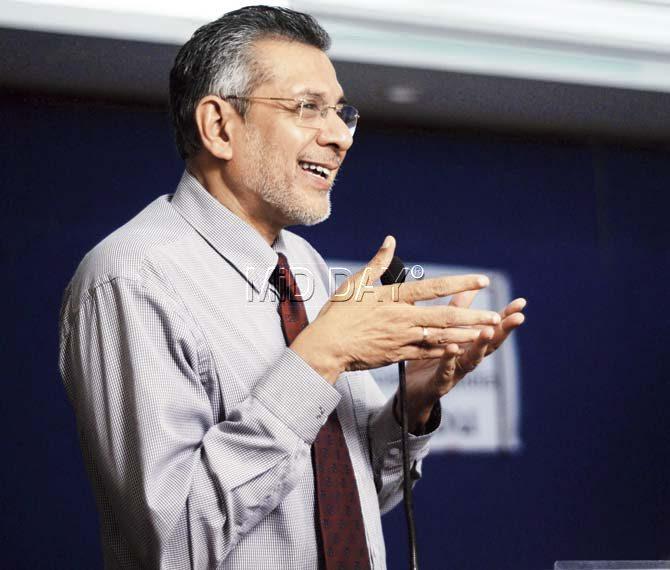 Dr Satish Khadilkar states his case
It is treatable with drug therapy and psychosocial support but there is no complete cure for it yet. "MS is not totally conquerable but the flame of hope should never go out of your life," he concluded to much applause.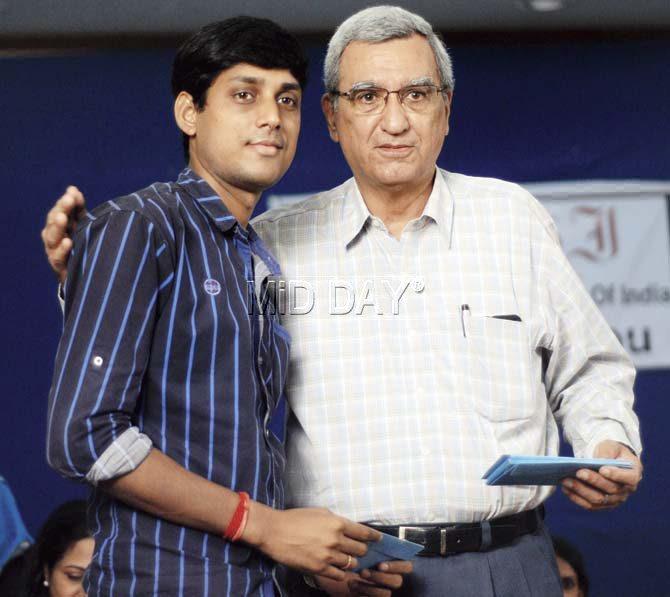 Dr Sarosh Katrak felicitates MS warrior Rahul Gupta
Oops
The grim mood lightened considerably when the event's emcee introduced MSSI founder member and vice president, Sheela Chitnis as Sheila 'Dikshit'. As the audience laughed and applauded the gaffe, Chitnis took to the stage and poked fun at the former Delhi Chief Minister, "Previously I used to be very happy in being called Sheila Dikshit but no longer."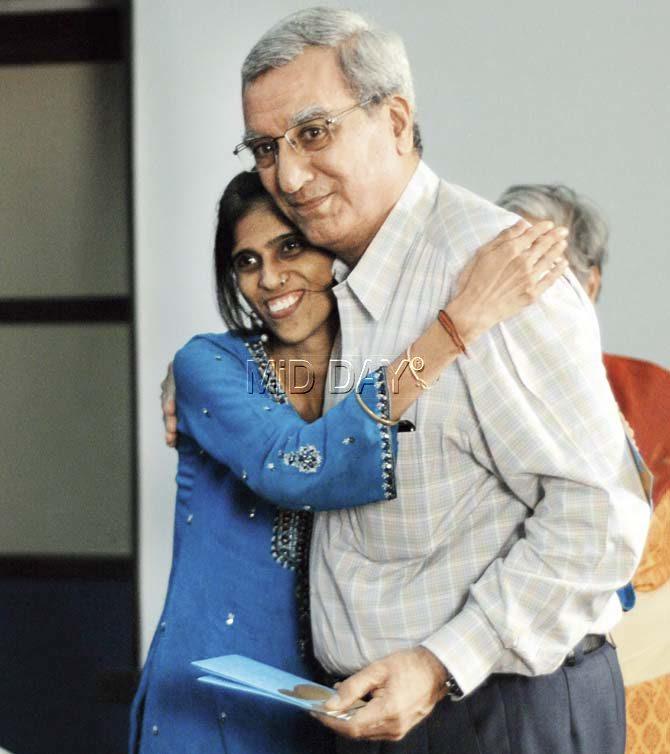 MS warrior Jigna Chanpura hugs Dr Katrak
Chitnis then went on to explain how society misunderstands and discriminates against MS sufferers. "MS patients have loss of balance but people mistake it for drunkenness," she said. "Fatigue is mistaken for laziness." She added, "MS is not contagious. I want to say this again and again as people get scared."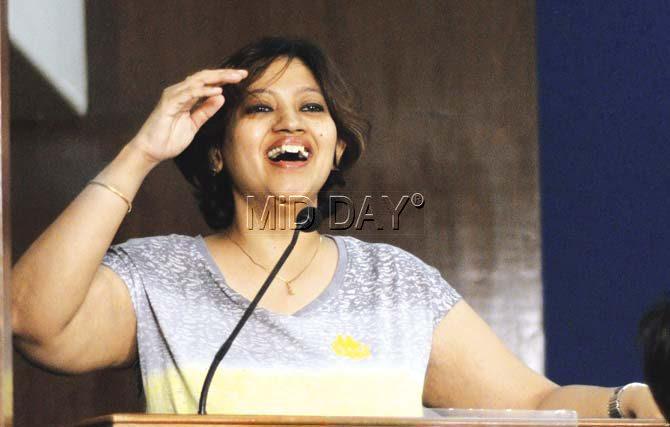 Sohini Banerjee shares her story with the audience
Felicitations
Chitnis then introduced the event's chief guest, Sucheta Dalal. Dalal's Money Life Foundation has worked closely with MSSI over the past five years. Dalal then felicitated Dr Sarosh Katrak, director, Department of Neurology at Jaslok Hospital, who has been associated with MSSI for many years.
Next to be felicitated was Dr Khadilkar, whom Chitnis described as "not only an excellent doctor but also a wonderful human being, he has always treated MS patients with sympathy." Dr Khadilkar began with a joke. "I have been trying to remember how long I have been with MSSI," he said. "Then I saw a photo (in Chitnis' presentation) where my hair is black.
Now my hair is grey. But why are you retiring me with this felicitation? I want to work more with the MS group." On a more serious note, he said that his work with MS patients and other groups such as muscular dystrophy gave him a complete view of medicine and taught him how to understand the human being, thereby helping his personal growth.
"Please don't retire me, I will come for further (medical) camps," he ended. To which Dr Katrak, whom Dr Khadilkar acknowledged as his teacher, said, "If I am not retired, he cannot retire," drawing much laughter from the audience. After that, it was Dalal's turn to address the audience. "Let us be an extended part of the MS family," she said.
Warriors' tales
Once the official speeches ended, the stage was redressed to accommodate 12 MSSI members battling the disease. The MSSI calls them 'warriors' and after listening to their stories, it was clear why. Sohini Banerjee 39, Andheri resident, talked about how she was diagnosed 10 years ago after she fell down during her morning walk and could not get up.
Banerjee, then a sales trainer with an MNC, decided, "I will still move on with my passion." She now runs a positive healing club that has 6,000 members across the globe. "MS is the atithi (guest) in my body," she said. "Science and technology will progress and one day this atithi will have to take off."
Lakshmi Gupta was diagnosed with MS at the age of 10 and was unable to finish school. She completed a nursing course but couldn't handle the daily duties as the needles and medicines reminded her of her horrifying days at the hospital. She works at the MSSI, coordinating patient care, medical camps and other administrative work.
The determination to succeed is what drives Jigna Chanpura, 40, Sion resident. That, and some motivation from model-actor Milind Soman, who is closely associated with MSSI. Eleven years ago, Chanpura had a comfortable job at a corporate company when she was diagnosed with MS. It was tough for her to walk even for 10 minutes.
That's when she met Soman. "Thanks to his conviction and confidence in me" she not only finished the half marathon (21-km) at the Mumbai Marathon in 2012, but has now taken to cycling with the Bandra Cycling Club. "You will have people to support you but only you have to put in the efforts," she advised. "You will see the results. Live your life and don't just go with the flow."
Milan Pandhi, 34, from Mulund, was diagnosed in 2004. He proudly said, "I have problems walking but I feel normal." He is the administrator of a motivational WhatsApp group that has more than 70 members from Mumbai, Pune, Ahmedabad and Surat. He said "MS aaya hai toh marna thodi hai? (Because we have MS we don't have to give up on life). Enjoy your life."
Support structure
"As an MS person, you become unnecessarily hard on yourself," said Nakul Gaur, 30, Wadala resident. "You completely shut out the caregiver." He should know. Gaur and his wife Taruna had been married only a year when he was diagnosed with MS, three years ago. He referred to Theory of Everything, the film that looks at Stephen Hawking's struggles with Amyotrophic Lateral Sclerosis (ALS) from the perspective of his wife Jane.
"As much as Hawking suffered, his wife also suffered," said Gaur. "I had a dialogue with my wife and we decided that I'll take her help at certain times and not at others." He added, "If you open up to your caregiver, become vulnerable in front of them, both of you become stronger." During their speeches, many warriors gave credit to Geeta Mirchandani for changing their lives.
Mirchandani is a social worker at MSSI and has supported, encouraged and helped several members. At the event, she was the first to reach one of the warriors who broke down while telling her story on stage, and consoled her. "When I see them, I see happiness, I see courage," she said after the event. "Initially, it was hard, but then I realised I have to overlook my emotions and put myself in their shoes, look at their emotions. It has been a beautiful journey."
Dreams unlimited
Mirchandani has a project called Mera Sapna, where she fulfills the small dreams the warriors have, such as going on a ride in a fancy car or visiting the Siddhivinayak Temple in Prabhadevi. Families are so overwhelmed dealing with the bigger picture that sometimes, the smaller dreams, which can bring so much joy, tend to get overlooked, she said.
The warriors are a source of inspiration to her. "I learn from them every day," she said. "I learn to keep up my strength, be happy and face situations that otherwise seem like a dead end." The stories of the MS warriors touched hearts. Dr Katrak walked up to the stage and said, "You have opened my eyes to a different aspect of MS.
I salute you for your bravery, courage, fortitude for fighting this disease." It was now time to form the human chain. More than 40 MS warriors, their families, doctors and MSSI officials who were present in the auditorium came together to link hands. They formed an oval shape and raised their joined hands as they vowed to fight the disease. The message was clear: Together, we are stronger than MS.