They will be part of 92 flying squads across Maharashtra to enforce traffic regulations, each vehicle has Automatic Number Plate Recognition cameras, speed radar and alcometers besides other equipment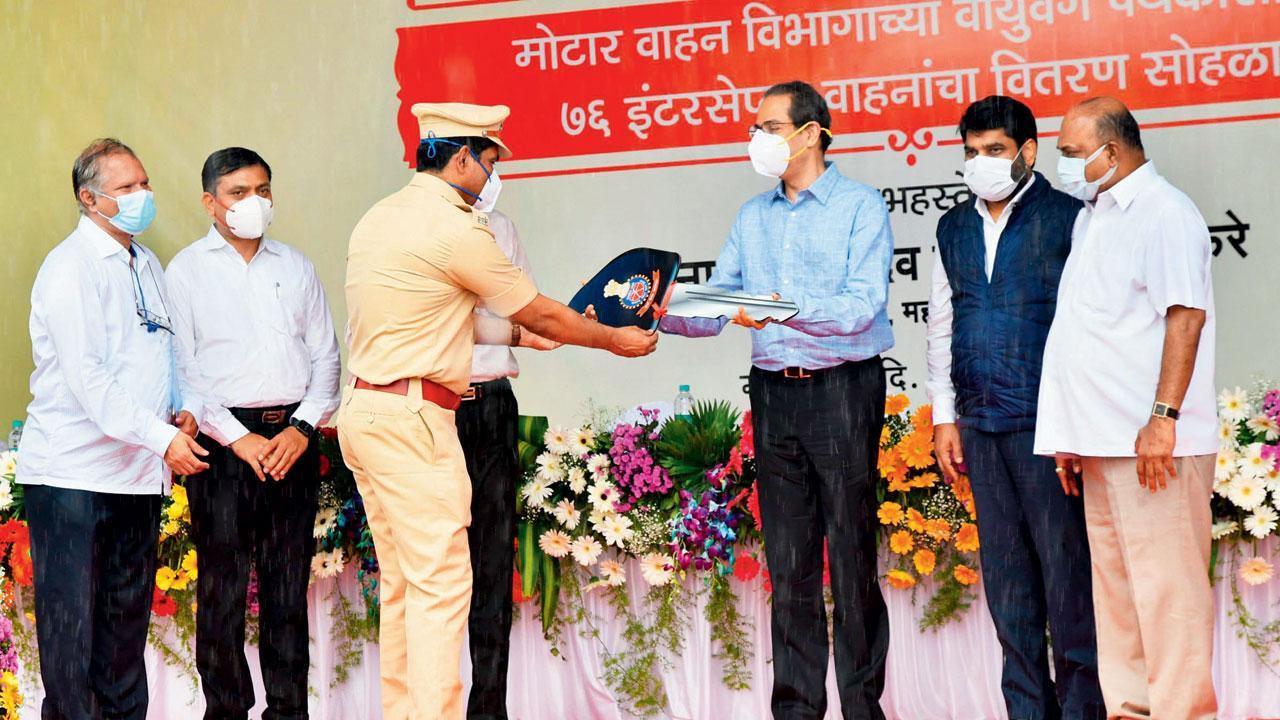 The vehicles were handed over to the transport department by Chief Minister Uddhav Thackeray. Pic/Bipin Kokate
The Maharashtra transport department on Tuesday got 76 Mahindra Scorpio S5 class interceptor vehicles equipped with speed guns, breathalysers, tint metres and integrated cameras. The vehicles will be part of 92 flying squads across Maharashtra to enforce traffic regulations. They were handed over to the transport department in presence of Chief Minister Uddhav Thackeray on Tuesday.

The Automatic Number Plate Recognition camera gets details of vehicle registration
"Speeding vehicles have been leading to a rise in accidents and these vehicles with speed guns will help nab offenders in time," Thackeray said. "Unfortunately, the number of accidents in Maharashtra has been on the rise and vehicles like these should positively help the RTO to implement regulations," Transport Minister Anil Parab said.
An interceptor vehicle is equipped with Automatic Number Plate Recognition (ANPR) cameras to get the details of vehicle registration, speed radar to check the speed from 1.5 kilometers away, an alcometer to measure the alcohol content in a breath sample, Lux Meter to measure brightness, tint meter to check the type of sun film used on glass windows and sound-level metre to measure decibels.  The cameras installed on top of the interceptor can detect number plates at a range of 500 metres.
Mainly on highways
"Procured at a cost of Rs 13.7-crore, the 76 vehicles will be deployed mainly on highways and arterial roads to check for speeding, flouting of rules and prevent drunk driving," Transport Commissioner Avinash Dhakne said.