Motormen have to manually switch between AC and DC currents at 17 stretches between Mulund, Kalwa stations; failure to do so may result in overhead equipment getting tangled, the trigger for yesterday's rioting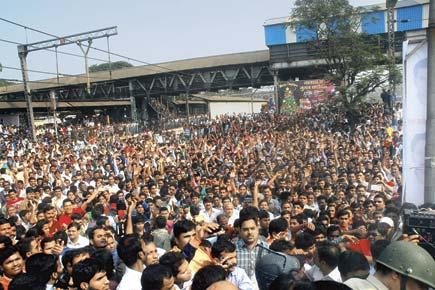 Motormen, passengers, rail roko, protested, services, broken pantograph, RPF, lathicharge, people, demonstrations, Diva station, overhead equipment damaged, Thane, Diva
For every Central Railway (CR) commuter, yesterday was a nightmare. But those hoping that the nightmare has ended are probably looking at being disappointed a lot in the next few days.
Rail disruption: The real reason behind the chaos at Diva railway station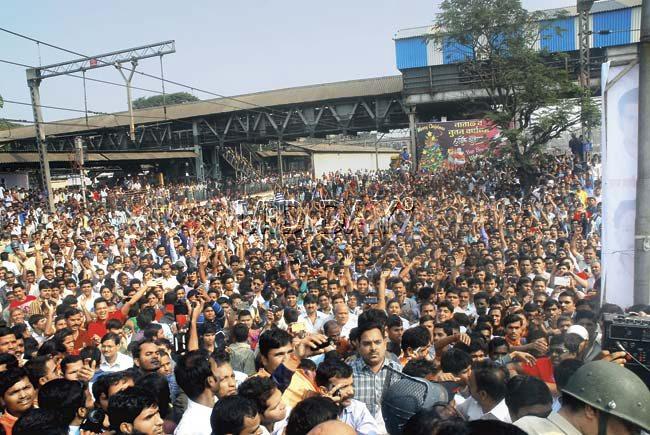 All it took was a broken pantograph to bring the lifeline of the city to a grinding halt. Livid passengers protested the break in services at Diva station with a rail roko, and the station became the epicentre of demonstrations. The crowd at Diva swelled to nearly a thousand and police had to be called in to control the situation, which worsened when RPF decided to lathicharge people. Pics/Sameer Markande and Shrikant Khuperkar
While CR has been gloating over its successful trial of the conversion from 1,500-volt DC to 25,000-volt AC between Thane and CST last month, what officials are not telling you is that there are several stretches between Mulund and Kalwa stations where motormen have to constantly switch between AC and DC.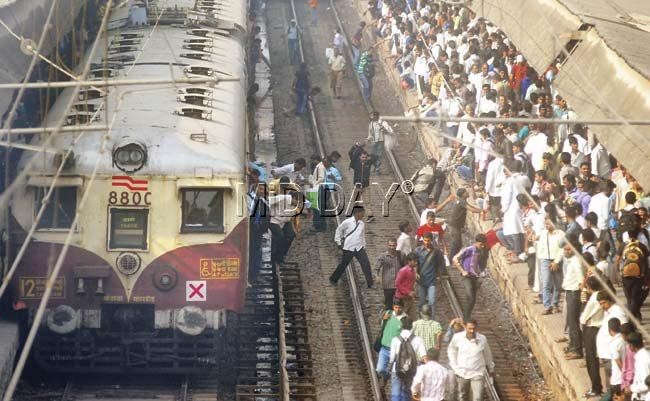 Meanwhile, at Thane, passengers took to walking on the tracks after waiting for long periods for a train to arrive
There is a very small margin of error in the manual switching, and any mistake can lead to the pantograph being entangled in the overhead wires or breaking which is what kicked off the chain of events at Thakurli station yesterday.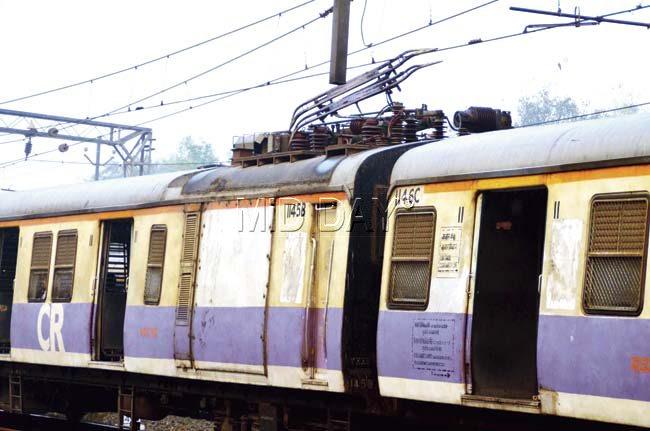 And, while yesterday's incident was most probably caused due to old equipment, the fact is that the CR's delay in converting the entire Kalyan-CST stretch to AC has left the network vulnerable to more such mishaps in addition to the troubles that have been plaguing it for some time now.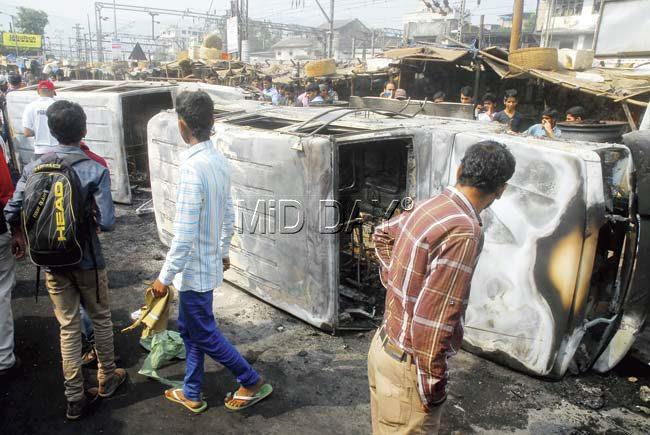 The furious crowd at Diva unleashed its anger by pelting stones and breaking the windshields of local trains. They also torched three vehicles outside the station a motorcycle and two police vans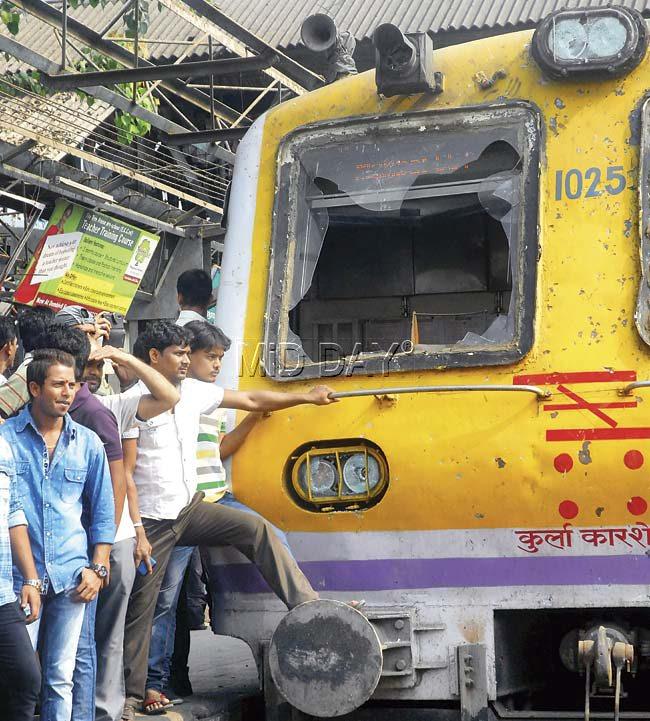 How it works
On paper, the stretch between Thane and Kalyan is on 25,000-volt AC and between CST and Thane is on 1,500-volt DC. Thus, a motorman should ideally have to switch from DC to AC once after crossing Thane on its way towards Kalyan.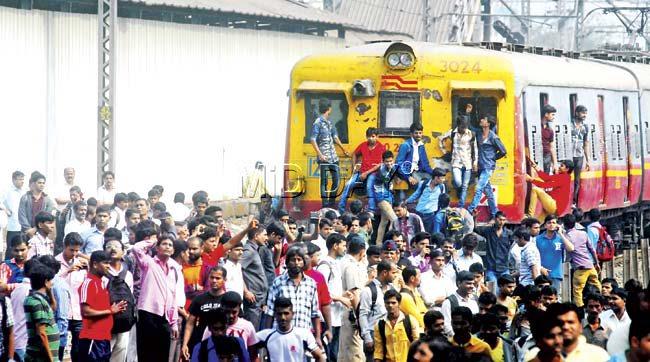 There are, however, as many as 17 stretches between Mulund one station before Thane and Kalwa one station after where motormen have to keep switching between AC and DC as the conversion work is not complete.
"While entering AC territory, motormen need to switch on AC circuit breakers, and switch off the DC circuit breakers. If this not done in time, there is every chance of the pantograph breaking or overhead equipment (OHE) getting damaged," said a CR official on condition of anonymity.
"The switching has to be done while the train is in motion, and the train passes neutral stretches between the DC and AC ones on its own momentum, without any current. The margin of error is very low and, thus, there is a high chance of incidents like Friday's getting repeated," he added.
While these stretches are on both the slow and fast lines, most of them are on the former, which is critical and caters to the stations of Kalwa, Mumbra and Diva which see a lot of rush, and where most of the violence took place yesterday.
Officials said the stretch between Thane and Kalyan is crucial also because most of the trains are delayed there, and any problem on this stretch leads to chaos and severe commotion on the sector.
Glitches galore
While S K Sood, GM, Central Railway, said that they are expecting the permissions for the power upgradation between Thane and CST by January 31, he admitted that most of the assets are old and technical glitches on CR will continue to occur sporadically until the necessary improvements are made.
The Kalyan-Thane stretch is especially prone to technical failures with eight instances, including derailments and OHE failures, taking place in November and December alone. "We are expecting permissions from relevant authorities by January 31 for the power upgradation."
Once the upgradation is complete, the CR will condemn 100 coaches that are 32 years old seven years beyond their codal life and replace them with new ones. Officials agreed that if the new Bombardier rakes had come by now, the technical failures would have probably been reduced.
"There has been no major replacement work of assets (tracks, sleepers, electrical equipment) for the last three years due to financial shortfall," added Sood. CR requires Rs 244 crore for civil work and another Rs 70 crore for electrical work and work inside local EMU trains.
A part of this money is expected by January 15, which will be used to carry out major repair work. "Major improvement will be felt once the necessary replacements are made. But sporadic failures will continue to occur," Sood told mid-day.