A Congress turncoat inducted into the Shiv Sena-led Maha Vikas Aghadi ministry at the expense of old party loyalists is making waves as 1994 Saamna front page linking him to Dawood surfaces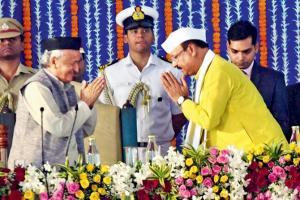 Abdul Sattar was sworn in as a minister in Uddhav Thackeray's cabinet on December 30. Pic/ Suresh Karkera
A lot of what the Shiv Sena has stood for and been vocal about in the decades of its existence seems to all be returning to haunt the state's saffron party. The latest is a 1994 front-page report in Saamna, the Sena's mouthpiece, that had allegedly blamed Congress turncoat and newly minted cabinet minister Abdul Sattar of having close ties with the Dawood Ibrahim gang. Last week, Sattar, a Sena MLA, was made cabinet minister in Chief Minister Uddhav Thackeray-led government.
A day after the cabinet expansion was announced, the 25-year-old Saamna article went viral on social media platforms. Published on June 11, 1994, the article titled 'Shaikh Sattarche Dawood Gangshi Nikatche Sambandh' (Shaikh has close links with Dawood gang) made headlines in the paper after a Sena candidate lost the local council elections to the Congress.
Sattar, who represents the Sillod Assembly constituency in Aurangabad district, quit the Congress in 2019 after the Congress denied him a ticket for the Lok Sabha elections. The Marathwada leader joined the Sena immediately after and contested the Assembly polls on a Sena ticket. He has now been inducted as a cabinet minister in the Thackeray led tri-party government.