While state is under drought's tight grip, BMC finds no takers for sewage treated water in the city and releases 3-4 million litres of it in the sea every day
While Board of Control for Cricket in India's (BCCI) last bid to retain IPL matches in the state was to offer using sewage treated water for its pitches, Brihanmumbai Municipal Corporations' appeal to Mumbaikars to use millions of litres of treated water produced every day in the city has found no takers.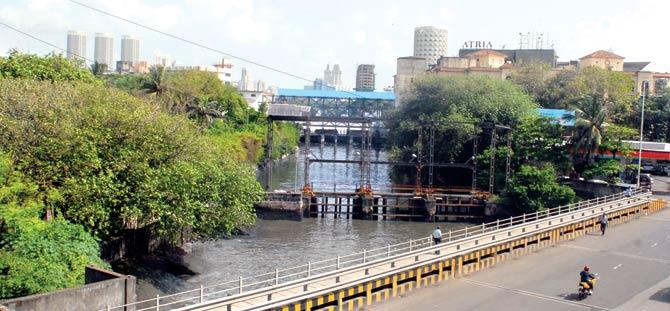 Lovegrove pumping station alone has three sewage treatment plants that produce three million litres of water per day. File pic
ADVERTISEMENT
Mumbai requires at least 3,700 million litres per day (MLD), but currently has access to only about 3,200 MLD. While the civic body currently has six sewage treatment plants that produce 5.55 MLD, other than two organisations, nobody has opted for it despite the BMC inviting bids and publishing advertisements in newspapers. This means 3-4 MLD go to waste every day.
"We had even published advertisements in newspapers asking people to buy this water since we do not have the resources to lay pipelines. So bigger organisations can lay pipelines at their own cost while smaller ones will have to get tankers filled. If places like gymkhanas approach us, we will give them treated water. This will save them tremendous amounts of fresh water. But we have not found any takers yet," said a senior BMC official.
The drought-hit state could use this treated water for non-potable purposes when residential areas are getting 15% less water since October and commercial establishments get 50%. People have to resort to measures like calling for tankers and buying bottled drinking water, standing in long queues for tanker water and community wells.
How it works
Mumbai's six sewage water treatment plants include three in Lovegrove pumping station, and one each in Mahim, Colaba and Banganga. One each in Dadar and Charkop are in the planning stage . Together, they have a capacity of treating about 5.55 MLD. Since they can't let raw sewage into the sea, they have to treat it even if there are no takers. If commercial organisations or a cluster of housing societies do not ask for it, the water goes straight into the sea, which currently comes to 3-4 MLD.
Currently, only two organisations — Mahalaxmi Racecourse and Willingdon Club — buy this water for around Rs 10 per kilolitre. They have laid pipelines from Banganga plant up to Willingdon. Also, three organisations — RCF (Chembur), Bharat Petroleum and Hindustan Petroleum — buy raw sewage from BMC and that means everyone else uses fresh water from a well or borewell for non-potable purposes that could have been used for other purposes.
The BMC had invited bids in December but no one approached them and now, they plan to make another attempt soon.

'Don't drink well water'
While the IPL case was on, the HC had asked the BMC if well water could be used for drinking purposes. "We said no as well water might have certain bacteria that could be harmful. But their water can be used for other purposes as the city has around 18,000 wells," said A S Tawadiya, chief hydraulic engineer in BMC.
"Exciting news! Mid-day is now on WhatsApp Channels

Subscribe today by clicking the link and stay updated with the latest news!"
Click here!