Girgaum NGO logs on to fueladream.com to raise funds for children of Mumbai 26/11 terror attack victims, to improve their lives. Here's how you can help!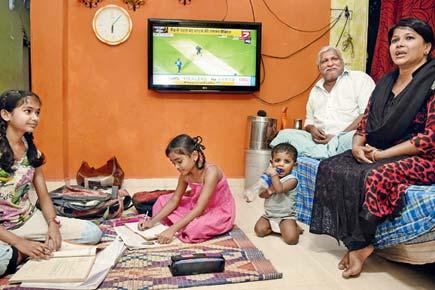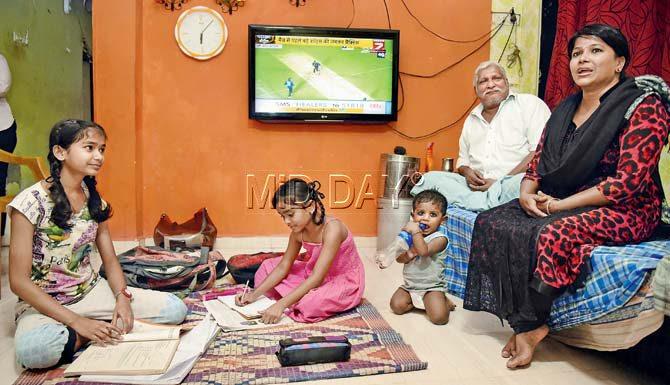 Anjali Gupta (14) and Nikita Gupta (9) with their mother Savitri Gupta at their residence in Pant Nagar, Ghatkopar. Pic/Shadab Khan
Inâu00c2u0080u00c2u0088a dark and narrow bylane in one of Mahim's slums is a small 270 sq ft dimly lit room where 45-year-old Hussaini Bi is sitting with her two sons, Abdul Karim, 21, and Abdul Azis (18) and daughter Sameera (19). They still recall November 26, 2008 — the most dreadful day in their lives. It was the day Hussaini's husband Peer Pasha Mehboob Ali Shaikh died after he was shot in his chest by terrorists at Leopold Café where he worked as a waiter.
ADVERTISEMENT
With the state government's compensation of R5 lakh per family not being enough to fund the education and life of her and her five children, Hussaini Bi decided to move back to Yadgiri, her hometown in Karnataka.
Around 10 kilometres away in Pantanagar, Ghatkopar (East), is a 400 sq ft room where Savitri Gupta lives with her parents and two daughters, Anjali and Nikita, aged 14 and 9. Anjali was just seven years old and in Std 2 at LD Doshi Gurukul, Ghatkopar (E) and Nikita was just a year old when their father Vinod Gupta succumbed to bullets when terrorists opened fire at Chhatrapati Shivaji Terminus. A garage worker, Vinod was escorting his mother to the station. A bullet hit his head, killing him instantly. His mother, Malati, was also was hit by a bullet, but survived.
Both women were unsure how they'd cope financially, especially their children's education. These worries were put to rest when Girgaum-based organisation Ratna Nidhi Charitable Trust (RNCT) stepped in.
Today, Muneera, Hussaini Bi's eldest daughter, is a fashion design graduate and married. Abdul Karim, 21, is in his final year of BCom. Sameera has completed Std 11 and plans to pursue a nursing course. Shakira and Abdul Aziz attend junior college. "I do not know what we would have done had RNCT not called us," says Karim. "Without this sponsorship, we would probably have been doing some menial job,"
he adds. Karim is the man of the house taking care of his mother, his younger brother and two younger sisters. Hussaini Bi also gets a monthly salary of R7,700 from Leopold management.
In 2003, the 24-year-old non-profit started the Education Sponsorship Program under which the finances for the education of children who couldn't afford it due to various reasons was covered. So far, the NGO has sponsored the education of 300 children, of which 181 were those affected by the 26/11 attacks.
"We are currently in phase II of the project, and aim to help 60 children out of the total [300], who are still in the process of completing their education," says Rajiv Mehta, the trustee of RNCT, which started reaching out to the children in 2003.
While RNCT has been raising funds through traditional methods by reaching out to communities, corporates and organisations such as Rotary and Lion's clubs, it has now given a shot at a crowdfunding platform, Fueladream.
Crowdfunding for a cause
The campaign, titled Re-building the lives of kids of Mumbai Terror attack victims, aims to raise R1 lakh which will support the educational requirements of five children, with each receiving R20,000 as an education scholarship. Abdul Aziz, Abdul Karim, Shakira Shaikh and Anjali Gupta will be four of the recipients.
In just 30 days, the organisation has raised Rs 70,000. There are only three more days for the campaign to end.
"This is not the first time that we are using a crowdfunding platform, however, we are definitely new to this medium of raising funds. What we liked about Fueladream is that it gave personal attention to the campaign and has also helped us promote the campaign," explains Asha Mehta, Trustee of RNCT.
Ranganath Thota, founder and CEO of Fueladream, says before the firm takes on an NGO's cause they do a detailed due diligence. "Secondly, we curate campaigns which involve storytelling. We invest in the stories with social media marketing and lastly, we partner with a communication firm to do all the necessary communication and PR around the campaigns," says Thota. In the six months that Fueladream has been live it has given a platform to more than 50 campaigns of which causes and charities would account for 35. In all it has raised Rs 2 crore.
A new light
It may be small contributions. Even Rs 100 will do, but it's made a great change in the lives of the recipients.
Floyd Martis was just 15 years old and preparing for his SSC examination in November 2008. His father, Faustin Basil Martis, 49, was an employee at The Taj Mahal Palace when terrorists took siege. Like many, Martis was killed in the attack. RNCT funded Flyod's education; he is now an engineer.
RNCT's funding for her daughter's schooling has also prompted Gupta, now a Class IV railway employee, to educate herself. She enrolled herself in a night school and completed her SSC. Today, she has applied for a Class III job at the Railways and is awaiting its results.
"Exciting news! Mid-day is now on WhatsApp Channels

Subscribe today by clicking the link and stay updated with the latest news!"
Click here!