Transgender activist alleges that 3 policemen solicited her for sexual favours on Bandra bridge. In her complaint she said that they threatened her, telling her she had to have sex with them or they'd beat her up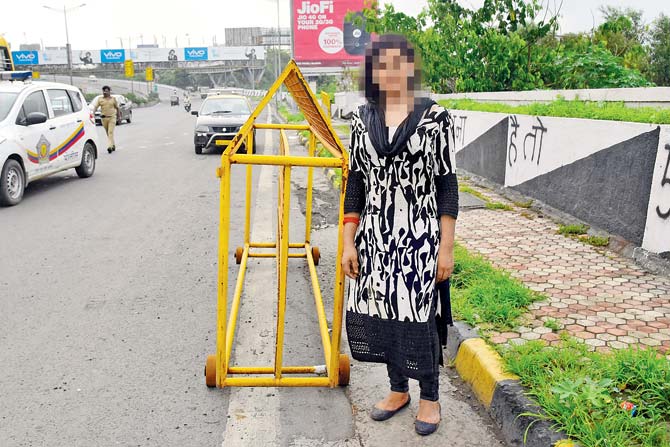 Durga Chaphekar (name changed) at the spot on Bandra bridge where the three policemen harassed her. Pic/ Atul Kamble
A 27-year old transgender, who has worked on United Nations Development Programme events in the city, was allegedly molested and threatened by three policemen on patrol duty. The incident occurred on the bridge that connects Bandra east to west around 2.30 am, when she was walking back home from a function in Mahim.
According to the complaint (a copy of which is with mid-day) filed by Durga Chaphekar (name changed) at Kherwadi police station, the perpetrators were two constables and an officer, standing next to their patrol van.
Dark night
"As I was walking on the bridge, one of the policemen stopped me and said 'chal, gaadi me baith' (come, sit in the van). When I protested, he grabbed my breast and said 'dekhne de mujhe ye asali hai ya nakali' (let me check whether this is real or not)," she alleged.
"One of the other two then threatened me, saying I would have to have sex with them, and when I said no, they said 'aayegi nahi toh dande se marunga' (If you don't come, I will beat you with a stick). I got scared and ran away from the spot as fast as I could. After reaching home, I called up the police," she said.
The Nirmal Nagar police immediately sent a van. Later, the case was handed over to the Kherwadi police as it fell in their jurisdiction.
Protectors turn harassers
Chaphekar has a MCom from Mumbai University and lives with her parents in Nirmal Nagar. She is currently working as a programme coordinator with the NGO Kinner Maa Trust, which works for the welfare and upliftment of transgenders in the city.
She has also worked as a programme manager for the United Nations Development Programme for welfare of transgenders and other issues.
Shocked and traumatised after the incident, she said, "The police are for citizens' protection, not to molest and harass them. I am shocked by this behaviour; I want the culprits to be arrested and given strict punishment, so that they don't do this with anyone else."
A senior officer from Kherwadi police station said, "We are investigating the matter. We will check all records of vehicles patrolling at the time of the incident as well as CCTV footage."