Two Independent candidates on Friday joined the Shiv Sena at party president Uddhav Thackeray's residence 'Matoshree', thereby taking its total tally to 86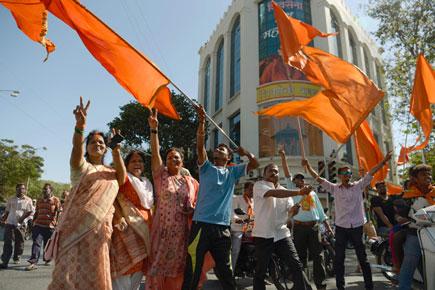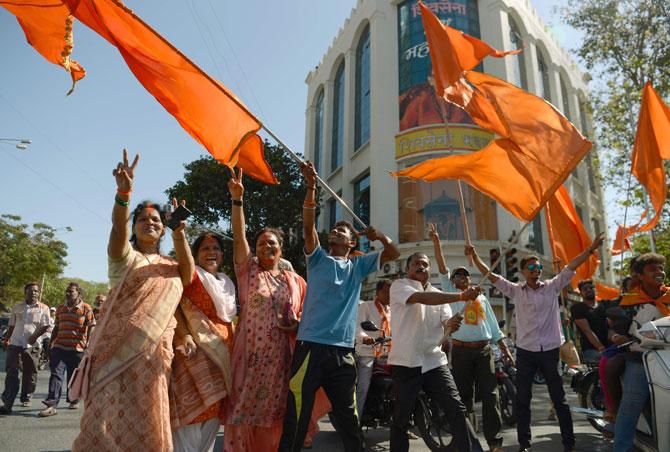 Shiv Sena celebrates outside Sena Bhavan in Dadar, Mumbai. PicPTI
Two Independent candidates on Friday joined the Shiv Sena at party president Uddhav Thackeray's residence 'Matoshree', thereby taking its total tally to 86.
Thackeray, told reporters after the induction of Snehal More from Vikhroli and Tulsiram Shinde from Dindoshi wards, that he has not thought about an alliance with any party to wrest power in the cash-rich Brihanmumbai Municipal Corporation (BMC) as yet, but maintained that the coveted Mayor's post will be held by Sena only.
In the fiercely contested BMC polls, the ruling BJP finished close second to Shiv Sena, while it pulled off a stellar performance in other civic and local bodies polls winning in eight out of the 10 municipal corporations.
According to sources in the Sena, Thackeray will hold a meeting of all senior party leaders and newly elected corporators at the Shiv Sena Bhavan tomorrow to decide on the future course of action.
Meanwhile, senior leaders from both parties claimed the support of the remaining three independent corporators. "BJP has got support of Rahbar Khan. Two more independent corporators are willing to give support to BJP in the coming days," a senior party leader said.
BJP's core committee meeting is expected to be held in two to three days, where the party's future course of action will be charted out. Senior Sena leader Manohar Joshi has already said that his party is not considering an alliance with BJP and that the
final call will be taken by Thackeray.
In the counting of votes held yesterday for the BMC polls, Shiv Sena won 84 seats, BJP secured 82, Congress was relegated to the third position with 31 seats, whereas the NCP and Raj Thackeray-led MNS got 9 and 7 seats, respectively.