Three days after the bodies of two Lonavala college students were recovered from a desolate spot between Bhushi dam and a training naval station, the Lonavala city police met students of Sinhagad Engineering College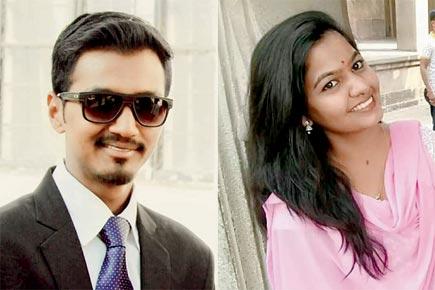 Sarthak Waghchore and Shruti Sanjay Dumbre
Pune: Three days after the bodies of two Lonavala college students were recovered from a desolate spot between Bhushi dam and a training naval station, the Lonavala city police met students of Sinhagad Engineering College yesterday.
According to police sources, several students rushed to the crime spot after news of the alleged murder of the two engineering students made headlines, which prompted the police to take the investigations to the campus.
The brutality
On Monday, two bodies — completely disrobed and with multiple injury marks — were found by a tribal cattle herder on a mountain between Bhushi dam and INS Shivaji.
A local resident, Sunil Yegulkar, alerted the police. The deceased were identified, on the basis of their college identity cards, as Sarthak Waghchore (24), hailing from Rahuri in Ahmednagar district, and his girlfriend, Shruti Sanjay Dumbre (22), of Otur in Junnar taluka, Pune.
While Sarthak was a final year mechanical engineering student, Shruti was in the fourth year of computer science course.
Campus probe
After a meeting with the students, the police learnt that the isolated spot is popular among college-goers. Speaking to mid-day, one of the officers investigating the case said, "The bodies were recovered from an isolated area, so we were shocked to see that students from the same college had found their way to the spot. During an initial probe, we found this area is popular among local drug abusers. We also spoke to some students and procured more information about the two deceased. We are questioning local history-sheeters to get more clues in the case."
Police sources said there was a cultural event in the college on Monday that the duo had decided to skip, and instead headed out to the desolate spot.
"We presume they reached the spot around 6 pm. Shruti called her roommate around 9 pm saying she was at a relative's residence for dinner and that she would return soon. The murder may have taken place between 10 pm and midnight," the officer added.
Post-mortem report
Post-mortem reports of the duo, conducted at Sassoon General Hospital in Pune, revealed that the deaths were caused by assault with a blunt object.
A doctor from the hospital, who conducted the post-mortem, said, "The deaths were caused by injuries to the head. The deceased were assaulted with a stick or a rock. The girl was gagged and her hands were tied, but we have ruled out any rape attempt. Some of her teeth were also shaken and broken. We have collected samples to conduct some tests and are awaiting reports."