As 'BJP man' is held for attack on Rahul's car, protests erupt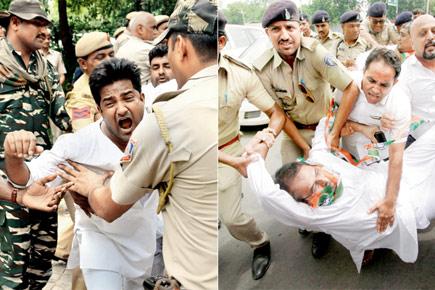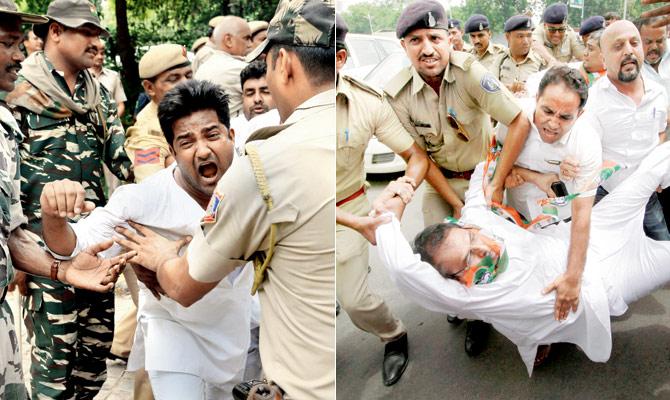 Police personnel detain Congress activists in Delhi and Ahmedabad on Saturday as nationwide protests erupted against the attack on Rahul Gandhi's car in Gujarat a day prior. Pics/ AFP & PTI
The police yesterday arrested a person for allegedly throwing a stone on the car of Congress vice-president Rahul Gandhi in Banaskantha district when he was on a visit to the flood-hit areas of Gujarat.
Banaskantha Superintendent of Police Niraj Badgujar identified the accused as Jayesh Darji alias Anil Rathod. Congress leaders claimed that he was a local office-bearer of the BJP's youth outfit.
"We have arrested one person named Jayesh Darji alias Anil Rathod for allegedly throwing a stone at the vehicle in which Gandhi was travelling," Badgujar said. "We arrested Darji after his name was given by Congress members during the course of investigation."
"We will interrogate him about the incident. More names may come up as investigation progresses," he added.
The Congress claimed that Darji was belonged to BJP Yuva Morcha and he was behind the incident yesterday. "Jayesh Darji is the secretary of Banaskantha district BJP Yuva Morcha. He is the man who threw the stone at Rahul Gandhi. We have also submitted names of three more persons who conspired along with Darji to throw the stone at Gandhi's vehicle," claimed district Congress general secretary Prithviraj Kathwadia.
The police added section 332 of the Indian Penal Code (IPC) (for voluntarily causing hurt to deter a public servant from his duty) in the FIR registered in connection with the incident after confirming that an SPG jawan was hurt, Badgujar said.
The FIR against unknown persons was filed under sections 337 (causing hurt by act endangering life) and 427 (mischief causing damage to property) of the IPC. "We have confirmed that an SPG jawan who was travelling in the vehicle with Rahul Gandhi and was on the back seat of the vehicle sustained minor injuries from the glass that broke after getting hit by a stone," he said.
The matter is being investigated by Additional Director General of Police Mohan Jha.
Gandhi escaped unhurt after some unidentified persons threw a stone at the car in which he was travelling, breaking the glass pane of the rear window of the vehicle. The incident triggered sharp protests from the Congress. Gandhi was on a visit to the flood-affected town.